Concerts & Events in Greenfield
---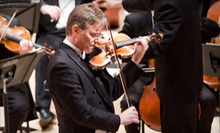 Esteemed orchestra performs Bernstein's melodic version of the story of the prophet Jeremiah and Schubert's majestic ninth symphony
---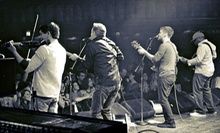 Wildly popular Dave Matthews Band tribute act gives throngs of fans their jam-band fix with deep cuts and radio staples
---
Recommended Concerts & Events by Groupon Customers
---
Lizz Wright is a gospel-trained contralto, born in Georgia and now based in New York. As Stephen Holden of the New York Times articulates, "Her voice, luminous and smoky and perfectly pitched, is one of the most wondrous rhythm-and-blues instruments of our time." Lizz wrote the majority of her latest album, Orchard and, like her other releases, it's as smooth and mysterious as butter melting over butter. Equally as impressive are her interpretations of classics including Patsy Cline's "Strange," Ike and Tina Turner's "I Idolize You," and Led Zeppelin's Korean Conflict protest ballad, "Thank You." Mitchell Park, which allows Lizz Wright's sultry vocalizations to float to lawn-lounging ears unimpeded, also features sustenance options from Haute Taco, North Star American Bistro, Loaf & Jug, and Bella Caffe.
19805 W Capitol Dr.
Brookfield
Wisconsin
Skaters circle around Slice of Ice in Red Arrow Park—part of the Milwaukee County Parks system—amid trees strung with lights and the arched façade of the 1000 North Water Street building. The refrigerated oval rink accommodates 100 skaters at a time, making it ideal for family outings and confusing games of super-hockey. And inside the rink's warming house, visitors can hide from the chill with a cup of coffee.
524 S Layton Blvd.
Milwaukee
Wisconsin
The longest running professional soccer franchise in the United States, the Milwaukee Wave debuted in 1984 as one of the six charter members of the American Indoor Soccer Association. Now, nearly three decades later, and as part of the Major Indoor Soccer League, the club builds upon a history that already includes six league championships–most notably, back-to-back titles in 2011 and 2012.
Off the field, the Wave's positive impact ripples into the community through an educational program, Making Waves, which sends players to more than 70 schools annually to discuss why healthy habits are good and why mistaking a referee for a zebra could be bad. The club maintains those community-inspired good vibes during its home games at U.S. Cellular Arena, where frequent promotions and mascot Brad Beach keep fans of all ages entertained.
400 W Kilbourn Ave.
Milwaukee
Wisconsin
414-224-9283
Originally founded as the Seattle Pilots in 1969, the Milwaukee Brewers have brought Major League Baseball to Wisconsin since 1970. The team played its first 30 seasons at Milwaukee County Stadium; Miller Park opened its gates in 2001, featuring field dimensions mapped out by legendary Brewer Robin Yount. Today, up to 41,900 fans pack into Miller Park to cheer on their home team as well as The Famous Racing Sausages and Bernie the Brewer, who soars down his iconic slide to celebrate home runs or cheer himself up after burning popcorn inside his elevated left-field clubhouse.
1 Brewers Way
Milwaukee
Wisconsin
414-902-4000
One of 12 indoor 400-meter ovals in the world and the only sea-level oval in the United States accessible to athletes, the nonprofit Pettit National Ice Center has become an essential destination for speed skaters training for the 2014 Olympic Games. Practicing skaters join the ranks of Apolo Anton Ohno, Chad Hedrick, and Shani Davis, all of whom have competed or trained at Pettit, participated in the last five Winter Olympics, and beaten an avalanche into submission. With its 155,000-square-foot arena and 97,000 square feet of ice, the Olympic training site has hosted the 2005 U.S. National Short Track Championship and eight international speed-skating competitions.
In addition to Olympic-caliber sportspersons, Pettit accommodates nearly 400,000 annual visitors for public-skating sessions and lessons in skating, figure skating, and speed skating. Skating clubs, hockey leagues, curling, and wheelchair- and special-needs-skating classes commence on two 100'x200' rinks. Meanwhile, spectators and Olympic torches on their day off can sidestep the ice by contemplating infinity while resting in a lounge overlooking the arena, or jogging around the 443-meter track circling the ice oval.
500 S 84th St.
Milwaukee
Wisconsin
414-935-4778
The Slaughter's roots are planted firmly in Chicago soil. Since its founding in 2006, the franchise has consistently opened roles for the city's gridiron stars, both on the field and in the front office. This Windy City loyalty has been apparent before the team even played its first snap; Slaughter is a nod to the city's working class and to the old Chicago stockyards.
In 2009, the Slaughter rewarded the Second City with a championship during an undefeated season as part of the Continental Indoor Football League. A year later, the team joined the Indoor Football League, where it remains today, playing all of its home games at Sears Centre Arena. There, frequent promotions help create a party-like atmosphere, and spacious concourses let fans spread out and play their own pickup games using wadded-up slices of deep-dish pizza as the ball.
5333 Prairie Stone Pkwy.
Hoffman Estates
Illinois
847-649-2222
---