Greenfield, WI Health and Fitness
---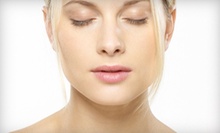 PCAB-accredited pharmacy treats chronic pain and boosts circulation with soothing, invigorating sessions in far-infrared sauna
Use Today 9:30am - 6:00pm
---
Recommended Health & Fitness by Groupon Customers
---
Though they hail from different corners of the world, Drs. Chuan Li, DMD, and Gerald F. Eagan, DDS, both pursue the universal goal of bright, healthy smiles. Doctors and staff—all members of professional dental associations and the Toothbrush of the Month club⎯stay up-to-date by taking continuing-education courses.
Inside treatment rooms equipped with digital sensors and intraoral cameras, patients can look out at Wauwatosa from ninth-floor windows as technicians perform gum treatments or place crowns on power-hungry teeth.
2300 N Mayfair Rd. , Suite 920
Wauwatosa
Wisconsin
414-257-1230
Goodyear Chiropractic Health Center's lobby is a well-shadowed place, with dark-brown walls and slates of polished wood paneling surrounding leather booths and a bubbling aquarium. Perhaps that reflects the initial feelings of their clients, who arrive seeking relief from the everyday aches that can slow life to a crawl. The darkness gives way to light just beyond the front desk, where a modern training room awaits with weights and treadmills. Private treatment rooms come next, filled with warm massage beds keeping company with clay-colored walls and colorful modern art. Visitors should watch their steps, though—without care, they may run into limber shapes shifting through yoga poses, body-fusion groups sloughing away pounds, or loose-limb postmassage frames floating blissfully past.
Such are the obstacles of a tour inside Goodyear Chiropractic Health Center's sprawling facility, where the road to wellness passes through chiropractic treatments, family-fitness exercises, acupuncture tables, and massage beds. Owned by Dr. Corey J. Schneider, whose achievements and specialties are as vast as a poet's list of metaphors for underemployment, the facility's staff of doctors, acupuncturists, physical trainers, and nutritionists all utilize their respective expertise and the veritable playground of resources around them to help their clients overcome pain, injury, and stress.
5261 N Port Washington Rd.
Glendale
Wisconsin
414-332-6001
The chiropractors at Care Health Center help keep vertebrae in line so that their patients can enjoy a life free from pain and dysfunction. Doctors of Chiropractic Kurt and Robert Simons facilitate the body's natural ability to heal itself by adjusting the two dozen bones that shield the spinal cord and offering lifestyle counseling. Licensed massage therapist Kristin Becker, meanwhile, provides a complement to their services by soothing achy muscles with a range of modalities. Conditions such as sciatica, fibromyalgia, and ice-cream headaches have been known to dissipate with their healing touch.
N53 W24950 S Corporate Cir., Suite 2
Sussex
Wisconsin
262-246-3000
The chi masters at this trinity of acupuncture and health centers seamlessly weave Chinese medicine stretching back 3,000 years with modern medicine's focus on disease and pathology. At Apex Acupuncture & Natural Health Clinic, third-generation acupuncturist Nancy Yuan Luan adds express lanes to the body's energy highways through the shallow insertion of pre-sterilized, disposable needles at precise points. In addition to her mastery of ancient Chinese techniques, Yuan Luan's expertise led her to cofound the AcuBeauty anti-aging system, the AcuFit weight-loss system, and the AcuRelief pain-management system, which all blend acupuncture methods with specially selected herbal remedies. A pivotal component of the AcuBeauty system, the microcurrent Acu-FaceLift treatment gently transmits electrical impulses and AM radio signals into facial cells to help increase the production of elastin and collagen to combat signs of aging. Dr. Chuan Liu tends to patients with a parallel approach at Milwaukee Acupuncture & Health Center and Ozaukee Acupuncture & Health Center. Trained his native China, Dr. Liu helps patients manage pain and stress, restore energy, and obtain optimal health through therapies including the AcuRelief and AcuHealth systems, which he helped found.
6510 W Layton Ave., Suite 102
Greenfield
Wisconsin
414-727-4640
---