Greenfield, WI Outdoor Activities
---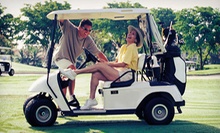 Wedged between Browns Lake and the Fox River, a 6,449-yard course boasts elevated greens and a miniature Golden Gate Bridge
Use Today 6:00am - 8:30pm
---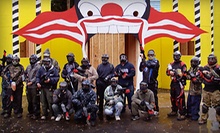 Warriors hunch behind obstacles in an indoor arena and areas designed to resemble pirate ships, a government secret base, and an oil field
Use Saturday 10:00am - 6:00pm
---
Recommended Outdoor Activities by Groupon Customers
---
Like mobile Knights of the Round Table, bikers sit in a circle on Science and Fun's seven-person conference bikes. One rider steers while all passengers pedal, powering bikes as they cruise through the city or serve as low-key parade floats. Groups with sufficient manpower for two bikes can turn open, paved spaces or Bucketworks' indoor arena into bicycle basketball courts. Each bike constitutes a team, and both teams launch a barrage of foam balls at their opponent's bike-mounted hoop during four-minute rounds in a game adaptable to all ages and pending NBA contracts. While advance bike reservations ensure a circular steed, Science and Fun happily reschedules or cancels reservations that coincide with inclement weather.
2602 E Hampshire St.
Milwaukee
Wisconsin
414-364-2893
The longest running professional soccer franchise in the United States, the Milwaukee Wave debuted in 1984 as one of the six charter members of the American Indoor Soccer Association. Now, nearly three decades later, and as part of the Major Indoor Soccer League, the club builds upon a history that already includes six league championships–most notably, back-to-back titles in 2011 and 2012.
Off the field, the Wave's positive impact ripples into the community through an educational program, Making Waves, which sends players to more than 70 schools annually to discuss why healthy habits are good and why mistaking a referee for a zebra could be bad. The club maintains those community-inspired good vibes during its home games at U.S. Cellular Arena, where frequent promotions and mascot Brad Beach keep fans of all ages entertained.
400 W Kilbourn Ave.
Milwaukee
Wisconsin
414-224-9283
Brew City Bike Tours offers pedal-pushing participants an opportunity to experience the city and its bountiful beer offerings on two wheels without welding a keg to the back of a tandem bike. Tour participants will glean illuminating knowledge about Milwaukee's brewing past (it was once home to four of the world's largest breweries) while sampling some of the city's most notable microbrews. Each tour lasts approximately 3.5 hours and includes two to three samples of beer at three different stops. When logistically possible, one stop will be a tour of Lakefront Brewery, a microbrewery housed in a former Milwaukee Electric Railway and Light Co. power plant. Bike rentals are not included in this Groupon, so thirsty adventurers should bring their own bike, rent one for an extra charge ($31.68), or attempt to commandeer a wild bronco. BYOHelmet too; they're required for the tour.
2108 North Farwell Avenue
Milwaukee
Wisconsin
Originally founded as the Seattle Pilots in 1969, the Milwaukee Brewers have brought Major League Baseball to Wisconsin since 1970. The team played its first 30 seasons at Milwaukee County Stadium; Miller Park opened its gates in 2001, featuring field dimensions mapped out by legendary Brewer Robin Yount. Today, up to 41,900 fans pack into Miller Park to cheer on their home team as well as The Famous Racing Sausages and Bernie the Brewer, who soars down his iconic slide to celebrate home runs or cheer himself up after burning popcorn inside his elevated left-field clubhouse.
1 Brewers Way
Milwaukee
Wisconsin
414-902-4000
Hosted by Shaker's Ghost Tours, Dahmer Tours grants a spine-chilling glimpse into the life of Jeffrey Dahmer from within his hunting grounds. The guides, who are neither insensitive to the victims' families nor approbating of Dahmer's monstrous acts, narrate thoroughly researched information about the crimes and their historical impact over the course of a one-mile walk. The company crosschecks all their material with former members of Milwaukee's legal community and several unturned stones to ensure that every fact and trail is credible. As guests' feet cover the very tracks that Dahmer stalked upon, guides dissect his mad world to grant access into the mind of a serial killer.
418 S Second St.
Milwaukee
Wisconsin
One of 12 indoor 400-meter ovals in the world and the only sea-level oval in the United States accessible to athletes, the nonprofit Pettit National Ice Center has become an essential destination for speed skaters training for the 2014 Olympic Games. Practicing skaters join the ranks of Apolo Anton Ohno, Chad Hedrick, and Shani Davis, all of whom have competed or trained at Pettit, participated in the last five Winter Olympics, and beaten an avalanche into submission. With its 155,000-square-foot arena and 97,000 square feet of ice, the Olympic training site has hosted the 2005 U.S. National Short Track Championship and eight international speed-skating competitions.
In addition to Olympic-caliber sportspersons, Pettit accommodates nearly 400,000 annual visitors for public-skating sessions and lessons in skating, figure skating, and speed skating. Skating clubs, hockey leagues, curling, and wheelchair- and special-needs-skating classes commence on two 100'x200' rinks. Meanwhile, spectators and Olympic torches on their day off can sidestep the ice by contemplating infinity while resting in a lounge overlooking the arena, or jogging around the 443-meter track circling the ice oval.
500 S 84th St.
Milwaukee
Wisconsin
414-935-4778
---