Shopping in Greensboro
---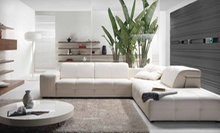 Contemporary Scandinavian bedroom sets, Italian leather sofas, and other international furniture are featured in a 30,000 sq. ft. show room
Use Today 12:00pm - 6:00pm
---
Recommended Shopping by Groupon Customers
---
A treadmill might not be the first thing you'd picture in an athletic store, but for the skilled staff of Charlotte Running Co., it's a key step in the art of finding the perfect fit. After lacing up or sweet-talking on a pair of shoes from Adidas, Nike, Saucony, or Brooks, patrons hop aboard the treadmill, and the 'gait analysis' begins. Aided by a video feedback system, the specialists analyze each both the customer's strides and the performance of the shoes to identify the ideal levels of support and cushioning, as well as the perfect fit–a process made much more precise by seeing the fancy footwear in action.
In addition to running shoes that can help increase speed and safety, Charlotte Running Co. can outfit its patrons in other jog-friendly gear. The FuelBelt keeps much-needed fluids at the ready on long runs, while shirts from Nike and Asics help to keep bodies cool, reducing runners' need to jog in the penguin habitat at their local zoo.
124 Trade Ct., Suite B
Mooresville
North Carolina
704-799-1400
One Christmas when Skinny Wheels founder Eric Phillips was young, his dad bought the entire family 10-speed bicycles for Christmas. Nearly every weekend after, he rode with his brother and father five miles into town for a biscuit breakfast before enjoying a leisurely ride back home. After years of riding for fitness and participating in races, he began a cycling club in Mocksville to encourage casual cyclists to explore Mocksville's back roads and small-town geography. After finding that the lack of a local bike shop deterred riders who worried about getting a flat or repairing their own bikes, Phillips opened Skinny Wheels Bike Shop to fill that inconvenient gap.
Through the Skinny Wheels store, weekly summer rides, and cycling advocacy, Phillips hopes to nurture a casual cycling culture in Mocksville and encourage those who remain wary of cycling after being bitten in their youth by wild bikes. The shop's mechanics custom-build bikes and tackle mechanical problems on everything from high-end cycles to department-store bikes. Fuji, Terry, Breezer, and Kestrel bikes cater to men and women traveling on the road, biking over dirt trails, or competing in triathlons, whereas used bikes provide an affordable starting point for new cyclists. Phillips summarizes cycling's appeal by saying, "You experience life more on a bicycle than in a car," whether you're inhaling the fresh breeze over an open field or finding beauty in neighborhoods that a driver may ignore.
119 N Salisbury St.
Mocksville
North Carolina
---