Museums & Galleries in Greensburg
---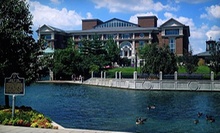 State history explored through 3-D re-creations of photos and events with historical actors, interactive experiences, and a conservation lab
---
Recommended Museums & Galleries by Groupon Customers
---
More than 50 years old and 8,500 members strong, the Percussive Arts Society (PAS) strives to promote percussion through education, research, and performances across the world. To carry out this mission, the organization includes more than 50 chapters in the US and 28 chapters abroad, all of which communicate online via resources such as lessons, free practice exercises, and annual events. Each year PAS hosts the annual Percussive Arts Society International Convention—the largest of its kind in the world—in which exhibitors convene to showcase the newest developments in percussion technology, instruments, and publications. The convention also includes over 120 clinics and performances with lauded artists covering all genres and styles of music.
110 W Washington St., Suite A
Indianapolis
Indiana
US
317-275-9030
In 1909, a group of local art enthusiasts banded together to foster a community appreciation for art and further the practice of creating art. More than three decades later, they moved from their home at the old Water Tower, and now fill their new space with workshops, classes, and exhibits. Louisville Visual Art Association remains dedicated to promoting local artists, artistic styles, and contemporary culture.
A team of instructors instills painting and sculpting skills in children of all ages with the Children's Fine Art Classes program, which lets kids hone their understanding of color and technique during nearly 40 classes and camps. They also teach adult art classes, and help economically and socially disadvantaged students exhibit their artwork through Open Doors. Six to eight annual exhibitions often showcase work from these programs, but may also display fabric and knit pieces from local artists, or house events such as custom plates, cups, and utensils fashioned by 16 national ceramics artists to recreate Salvador Dali's themed dinner parties. Each year, staff also fill two galleries with up to 800 works from its children's programs, and celebrate local restaurants and music at the annual Bacon Ball.
3005 River Rd.
Louisville
Kentucky
The firefighters of Engine Company #45 Firehouse extinguished their last blaze in 1962 after 56 years of fearless public service. Although the team dissipated, the elegant, 1906 firehouse—with Renaissance Revival details and three doors wide enough to accommodate horse-drawn fire engines—remained, languishing as a city storehouse until 1980, when the Fire Museum of Greater Cincinnati moved in. The building was recognized on the National Register of Historic Places and filled with special exhibits acknowledged by Fox19.com and 365 Things to do in Cincinnati. It was also filled with antique firefighting gear that is in excellent condition in spite of years of smoke inhalation.
The collection reveals early 19th-century firefighting tactics with an alarm drum that once warned of fire from the roof of a carpenter shop and was later used to provide rhythm during disco infernos. In the Safe House exhibit, families diagram their homes and create personalized emergency plans while learning tips about fire prevention.
315 W Court St.
Cincinnati
Ohio
513-621-5553
The Drake Planetarium & Science Center captivates young minds with educational shows as well as after-school programs that teach creative problem solving and teamwork. Planetarium shows cover a wide range of topics and teach audiences to recognize seasonally changing constellations, planets, and lunar foliage. Starry Nights at the Cincinnati Astronomical Society invite stargazers to peep into the universe through the facility's powerful telescopes or highly magnified monocles, and laser light shows also grace the planetarium dome with 2-D, 3-D, and abstract animations choreographed to classic rock and holiday-theme recordings.
2020 Sherman Ave
Cincinnati,
Ohio
US
Red steel plates that seem to be taking flight, a warped obelisk, and a dome made of metal dragonflies—these are just a few of the 64 statues nestled among the gardens and meadows at Pyramid Hill Sculpture Park. In addition to delighting visitors with massive objects d'art, the 265-acre outdoor museum exhibits the naturally occurring beauty of wooded thickets, seven lakes, and flowers that have never undergone plastic surgery. After wandering along the hiking trails, driving along paved roads, and peering into the remains of a stone house built by pioneers, guests can visit the 10,000-square-foot Ancient Sculpture Museum. The museum showcases Roman, Egyptian, Greek, and Etruscan statuary, which was chiseled before mankind invented the frames that forced all art to become flat.
In addition to curating sculptures, the park hosts a slew of activities relating to art and the environment. Its Summer Concert Series beckons music lovers, and a Summer Series for Kids organizes programming such as puppet shows for little ones.
1763 Hamilton-Cleves Rd., State Rt. 128
Hamilton
Ohio
US
513-868-8336
After walking through the doors, visitors find themselves surrounded by treasured sports memorabilia and artifacts from colleges across the nation. On the first floor, 23 interactive kiosks each immerse users in a different NCAA sport. Interactive screens illuminate with stories of past champions, trivia questions, and footage of Bobby Knight screaming in different arenas. After a stroll up to the second floor, visitors immerse themselves in simulated and actual athletic competitions, such as throwing a virtual football and measuring their vertical leap. A fully realized 1930s-style gymnasium invites modern folks to shoot hoops just like their grandparents did—uphill both ways in the snow.
700 W Washington St.
Indianapolis
Indiana
US
---