Theme & Amusement Parks in Greensburg
---
Theme & Amusement Park Deals
---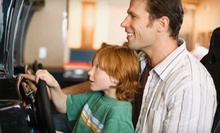 Nine-hole mini-golf course with aquatic and jungle themes lit by black lights; carnival games and black-light bumper cars
---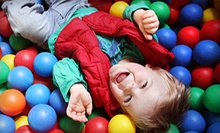 Kids' activity village hosts educational entertainment with puppet shows, train rooms, and face painting as adults chaperone free of charge
---
Recommended Theme & Amusement Parks by Groupon Customers
---
In recent studies, cabin fever has been definitively linked to chillblains, the gout, and other fictional disorders. Today's deal will help your kids shake that winter cabin fever by getting them outdoors and back inside other doors. For $10, you'll get admission to three attractions, an all-you-can-eat buffet, soft drinks, and a $10 game card at the Xscape indoor amusement park, worth up to $33.49. Access to the Pirates of the Caribbean bounce house and the Pirate Adventure jungle gym is also included for little kids already showing a talent for raiding naval frigates. Alcoholic beverages are not included in the Groupon (though they are available in the sports lounge).Follow @Groupon_Says on Twitter.
3919 Lafayette Rd., Suite 600
Indianapolis
Indiana
US
Encompassing 5 acres of family-centric fun, Greatimes Family Fun Park's attractions provide safe jollity for children and adults. While most outdoor attractions—such as bumper boats and mini-golf—require agreeable weather, the center's 22,000-square-foot indoor play haven grants rain-or-shine merriment, as well as an arcade and prize-redemption games that include classic skee-ball. As pintsize family members ramble through the playland, three ball pits urge energetic jumping, and slides and tunnels add varying terrain to afternoon play. Pizzas and sub sandwiches from the play center's restaurant also supply noshes for family meals celebrating go-kart victories or the long-awaited engagement of Pac-Man to Ms. Pac-Man.
5341 Elmwood Ave.
Indianapolis
Indiana
317-780-0300
Scallywag Tag's arena dazzles eyes with a black-lit, neon-tinged pirate ship and 18th-century Caribbean village, which provides a labyrinth of fluorescent walls for marauding swashbucklers. After being split into two competing crews, participants receive a vest, a phaser, and instructions to tally as many points as possible by tagging opponents, swarming the enemy's home base, or holding a referee hostage until he or she doctors the score. The score itself is broadcast on wide-screen LCD scoreboards, but those who are too busy taking out the adversary to look at them can take heart knowing that at the end of the game, the referees announce the winning team.
Outside the fast-paced laser-tag arena, Scallywag Tag encourages visitors to recharge with a drink or a slice of pizza from the snack bar. The arcade sections also distract patrons by featuring perennial classics such as air hockey as well as new favorites, including Time Crisis 3 and Find That W2 Form.
The West-side location additionally lures younger passersby with a pirate-themed jump house and a 35-foot-long slide in the family entertainment center. The West-side's black-light miniature golf tests hand-eye coordination skills, leading guests through a gauntlet of 18 holes that similarly embrace the pirate theme.
5055 Glencrossing Way
Cincinnati
Ohio
Though it celebrates athleticism of all stripes, Sports of All Sorts specializes in training amateurs in America's pastime. Along with batting cages equipped for baseball and slow- or fast-pitch softball, the facility improves each player's game with a hitting and pitching tunnel and pitching mounds with L-screens. Seasoned players and area college coaches demonstrate batting skills at off-season baseball camps, which can be customized for groups of six or more.
The facility's multipurpose court hosts a range of activities such as basketball scrimmages, cheerleading practice, and royal curling tournaments while the king's ice rink gets remodeled. After practice, the arcade hosts rounds of air hockey, billiards, or video games, and Sports of All Sorts' bounce house and three-tiered indoor soft playground hosts the hopping of younger visitors.
10138 Transportation Way
Cincinnati
Ohio
Tilt Studio's tenure as a family fun center dates back to 1972, a time when the menacing Pac-Man ghosts were still very much alive. Today, the 27,000 square-foot facility greets gamers with scores of arcade and ticket-redemption games plus spacious private-event rooms for corporate gatherings and birthday parties. Visitors receive a game card that works like a debit card, replacing cumbersome quarters that could otherwise be used to enter speed-drying competitions at the laundromat. In the arcade, up to four players can experience high-octane Formula One action, careening down a simulated Indy Motor Speedway, or land strikes on four lanes of virtual bowling, with backdrops depicting Rome, Japan, and Yosemite National Park.
49 W Maryland St., Suite 206
Indianapolis
Indiana
317-226-9267
The staff at Hanna Haunted Acres knows that there's no such thing as a one-size-fits-all nightmare. That's why they've curated a lineup of six different haunts, each with their own spine-tingly style. Four different haunted houses prey on deep-set childhood fears, including the Carnevil haunted house––a twisted, circus-themed fright, perfect for murderous clowns who are tired of blind dates. Other attractions include haunted hayrides around the farm and a twisty corn maze designed by a vengeful scarecrow. Those whose greatest fears including standing in line can skip straight to the screaming with a VIP pass, while snacks and mugs of steaming hot chocolate keep patient patrons warm between haunts.
7323 East Hanna Ave.
Indianapolis
Indiana
---