Restaurants in Greensburg
---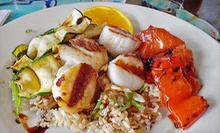 Fourth-generation fisherman-turned-chef dishes out gourmet seafood dishes on the site of his great-grandfather's former fish market
---
Recommended Restaurants by Groupon Customers
---
The chefs at Chef Dato craft elegant American entrees using ingredients purchased from local grocery stores, farmers, and bakers. Recognized on the Food Network, the restaurant's Hollywood burger is covered with mango salsa, creamy adjika, and biryani seasoning and served with a bodyguard and five paparazzi. Also popular on the menu: the wild mushroom risotto and the hand-cut, grilled New York strip steak. The dressings for the specialty salads are made by hand; the salads also come topped with maple glazed salmon or grilled chicken and mandarin oranges.
645 Rte. 217
Latrobe
Pennsylvania
Renovated from a historical train station, DiSalvo's Station Restaurant transports diners to old Italy by way of cobblestone flooring, pitched ceilings, and plates of pasta, seafood, and Sunday brunch. A long stone tunnel ushers patrons into an expansive atrium of tables covered in white linen. A fully restored dining car creates an unforgettable dining experience that will only be matched once the moon starts taking reservations. After meals, patrons can take the stairs or trapdoor chute down to the station's basement, where Joey D's Sala Da Fumo & Retail Shop stocks its shelves with a selection of premium cigars, fine wine, and spirits. A large humidor keeps rolled tobacco leaves moist, and a billiard room lets players work on their geometry. Every Friday night, live music entertains diners with such acts as Bryan Cole, Judi Figel, and The Half Knobs.
325 McKinley Ave.
Latrobe
Pennsylvania
724-539-0500
In 1927, young James Stoughton left a life of tending fields and animals to erect a small roadside sandwich stand. As its popularity grew over the decades, he gave in to his artistic proclivities and built a professional theater. Room by room, the stand and the playhouse grew into a sprawling estate, and Green Gables Restaurant was born.
Today, owner and descendant Mary Louise Stoughton grins at a sea of diners and wedding-reception guests as they chat in the restaurant's hand-hewn wooden halls. The revelers excuse themselves from tables momentarily to wander the building, which is home to a bevy of hidden whimsies. Observant explorers discover statues of inquisitive human forms, carved in the nineteen-twenties by French sculptor Crenier, that silently heft monolithic urns which bear the weight of the ceiling above. Beside wrought-iron chairs and tables, glass windows bloom with verdant plants, and antique shelves bear rows of antique Pennsylvania glass, china, and pottery. The Tuscany Room's skylights spill natural light over hand-carved wooden beams harvested from local barns and a dance floor inlaid with fleurs-de-lis, all bordered by four towering oak trees.
Executive Chef Susan Kroft fills each room with spice-laden aromas from duck, beef, and shellfish. Stoughton, who is also a sommelier with training from the French Wine Academy, fills clinking glasses with more than 100 grape elixirs during normal meal hours, at monthly wine tastings or at occasional wine-and-dining events that save pupils the trouble of breaking open a satyr's piggy bank. A network of paths and terraces leads to the adjoining Huddleson Court country inn, as well as to the doors of Mountain Playhouse, the property's original theater.
7712 Somerset Pike
Jennerstown
Pennsylvania
814-629-9201
Since 1993, the chefs at Opies Pizza have adhered to a simple yet tasty pizza formula—they make each pie with fresh dough, tangy sauce, and tons of toppings. They customize each thick-crust pizza with more than 10 toppings and its own at-bat song. Or they throw together one of Opies' specialty pizzas such as the Maxxed, a catchall combo of two meats and five veggies. Alternatively, they also bake pizza toppings into a 10-inch stromboli.
1734 North Main Street
Butler
Pennsylvania
724-287-8441
---