Shopping in Greensburg
---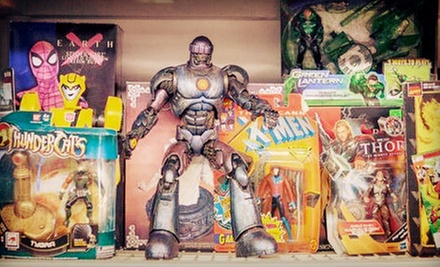 ---
Recommended Shopping by Groupon Customers
---
Biketek welcomes all cyclists for supplies, repairs, and tune-ups, whether they ride recreationally or compete in triathlons. In addition to road, triathlon, mountain, single-speed, and hybrid bikes from Felt, Jamis, and Raleigh, the shop stocks a sizeable collection of gear from Giro, Sidi, Topeak, and Shimano. GU and Hammer Nutrition products, meanwhile, give riders the power necessary to win races and corral herds of stampeding tricycles. For six months after they purchase a new bicycle, buyers can come back to the shop for free maintenance and fit adjustments.
On the upkeep side of Biketek's coin, technicians repair and maintain rides with tune-ups, part installations, and other services. They also fit bikes to riders with Body Scanning CRM technology, which uses software and noninvasive laser-pointer body measurements to determine the ideal saddle height, angle, and fore-aft position, as well as handlebar height and rotation. Although everyone can purchase a fitting session, Biketek offers one free to anyone buying a new road, triathlon, or cyclocross bike.
5842 Forbes Ave
Pittsburgh
Pennsylvania
Cheeks' lingerie experts strike a balance between flirty and functional with a collection of Italian-made gauzy thongs as well as sturdy cotton undergarments. Their accommodating staff can help customers' ascertain proper bra sizes for brands such as Wacoal, Natori, and Chantelle. In addition to everyday undergarments, skivvy savants guide brides-to-be toward Cheeks' collection of bridal accessories and honeymoon lingerie, which prove a more subtle method of impressing a groom than eating an entire wedding cake.
5418 Walnut St.
Pittsburgh
Pennsylvania
Painters, graphic artists, and architects have found the tools of their trade at the one-stop Top Notch Art Centre since 1971. A floor-to-ceiling picture window beckons passersby on Craig Street, where shade trees shelter a block of historic buildings and small businesses, including a rare bookshop and a cobbler for broken dreams. Inside, the staff leads 2-D artists toward the right brush for watercolor or oil from their selection of Winsor Newtons, or printmaking papers from Arches Cover and BFK Rives lines. The store also makes an effort to seek out artisanal brands, such as Gamblin Artists Oils and Mt. Vision Handmade Pastels. Bookbinders can pick up screw posts and glue, and drafters can run their fingers over delicate, smooth vellum and curl them around the curves and angles of nine types of stylus guides. Past the tall, narrow aisles, a framing shop encases completed works of art in glass and caution tape to prepare them for display.
411 S Craig St.
Pittsburgh
Pennsylvania
888-328-0564
A mass of black crystals dangles from Chic Boutique's ornate, vintage-like chandelier, which, contrasted by the youthful vibrancy of the shop's red and pink walls, captures the core of this trendy men's and women's clothing shop: classic fashion enhanced with fun and flirty trends. The apparel emporium lines it shelves with labels from well-known and up-and-coming designers from across the country and accessorizes outfits with airbrush tans expertly applied by hand. The fashion-forward and helpful staff purveys style smarts with clothing alterations, style advice, and personal-shopping assistance to help customers discover their signature style or trace their family lineage back to Coco Chanel.
2236 Murray Ave.
Pittsburgh
Pennsylvania
412-421-0455
At Cell Phones and More, clients browse phones and accessories from carriers such as Verizon, AT&T, T-Mobile, Boost, Cricket, and Virgin Mobile. Onsite technicians can reignite the healthy glow of a damaged smartphone screen or rekindle connections between computers and the Internet. Staffers can unlock phones, allowing devices to switch carriers without losing functionality or running away from home in search of their old signals. The shop also buys gently used cell phones and dishes out servings of prepaid minutes.
532 Brookline Blvd.
Pittsburgh
Pennsylvania
412-668-0256
Sunlight falls through windows and bounces off interlocking planks of wood, whose polyurethane sheen resists scuffs and dirt brought by foot traffic. Fabulous Floors' technicians apply long-lasting coats of polyurethane—available in gloss, semi-gloss, or satin varieties—after swiftly cleaning floors and buffing away scratches. Specialists can also move furniture aside for a thorough wall-to-wall treatment or impromptu dance to "Old Time Rock and Roll.
7 Market Sq.
Pittsburgh
Pennsylvania
412-203-4877
---