Greenville, NC Health and Fitness
---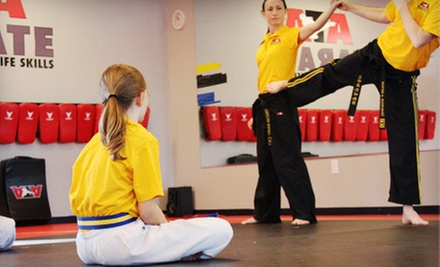 ---
Recommended Health & Fitness by Groupon Customers
---
The chiropractors at Team Chiropractic were all drawn to a career in spinal health for different reasons, but they all work with a unified goal of optimizing their patients' well-being through adjustments and musculoskeletal manipulation. Spinal adjustments target subluxations, or misalignments of the vertebrae, which can be responsible for larger problems with the muscles and nerves. Staff members work to keep bodies fitter than Olympian fiddles with spinal decompression treatments, cold laser therapy, and myofascial release.
309 W Millbrook Rd., Suite 199
Raleigh
North Carolina
919-788-8881
From performing research and leading seminars for a leading manufacturer, Dr. Katherine E. Garrett DDS, PA experienced many facets of the dental world before opening her own practice in 2004. It's within this clean, stone-accented office that she dotes on patients' smiles during general and cosmetic services with modern equipment, including intraoral photos that post chompers' good sides onto a computer monitor. In addition to teaching patients tips for maintaining their oral health, Dr. Garrett keeps her own knowledge sharp by attending continuing-education courses.
701 Exposition Pl., Suite 210
Raleigh
North Carolina
919-845-4955
The optometrists at MyEyes Optometry diagnose and treat ocular issues ranging from imperfect vision to injuries. An inventory heavy on designers such as Gucci, Vera Wang, and Lacoste outfits faces with stylish prescription or non-prescription eyewear, and an array of sunglasses protects patrons from the sun and accusations that they aren't actually fighter pilots. The shop also supplies all types of contact lenses, and newly eagle-eyed patrons strut out after Lasik treatments.
1122 N Breazeale Ave.
Mount Olive
North Carolina
919-658-2020
The Foot & Ankle Associates of NC, PLLC's presiding quartet of doctors tackles the various woes of lower appendages with a repertoire of techniques that ranges from routine checkups to corrective surgeries. At each of its three offices, the medical team rights a variety of foot-related wrongs, such as plantar fasciitis and toenail fungus. The doctors also address orthopedic issues, prescribing special shoes for diabetics with poor circulation and aspiring Fred Astaires with not enough pep in their step. Determined to stay on the technological vanguard, they employ modern cryosurgery equipment to treat tarsal-tunnel syndrome, plantar warts, and neuromas with quick, minimally invasive sessions of icy therapy.
2701 New Bern Ave.
Raleigh
North Carolina
919-231-7969
Michael Hoehle knows first-hand the toll sports can take on the body. Years of football and ice hockey barraged his back, causing discomfort and weariness. Physicality nurtured Michael's passion for competition, and it would eventually inspire him to combat injury as a profession. With an athlete's drive, he conquered his undergraduate studies and completed the chiropractic program at Palmer College of Chiropractic. His mission of natural healing then led him to North Carolina, where his experiences gave him the knowledge necessary to open his own chiropractic office.
At Raleigh Chiropractic & Wellness, Michael aids patients in achieving a healthy state without invasive treatments or medications. His consultation services investigate backbone health and potential issues, and his meticulous adjustment treatments and chiropractic massage services reduce the aches that so often stem from giving piggyback rides to actual pigs.
4822 Six Forks Rd., Suite 102
Raleigh
North Carolina
919-781-4300
The staff at Creekside Women's Center—board-certified ob-gyn Henry N. Pleasant, certified family nurse practitioner Robin Donta, certified nurse midwife Wesley Tyler, and physician's assistant Audrey Tinsley—combine their medical expertise to provide women of all ages with comprehensive care. As each appointment begins, the boutique-style office welcomes clientele with its cozy foyer and cups of coffee and tea. Once inside private patient rooms, visitors slip into cotton gowns rather than ones made of paper or chain mail. Then the staff conducts health services such as annual checkups, primary care, family planning, menopausal treatments, and medical massages. Pleasant and his team also assist patients in achieving weight-loss goals through medically supervised programs and nutritional counseling.
13200 New Falls of Neuse Rd., Suite 109
Raleigh
North Carolina
919-554-6754
---