Professional Services in Greenville
---
Professional Service Deals
---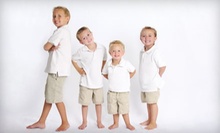 Professional photographers capture families, babies, and individuals with custom backgrounds, props, and variety of poses
---
Recommended Professional Services by Groupon Customers
---
Against the idyllic backdrop of a renovated, 101-year-old Victorian house, Elegant Gourmet Cafe and Catering's owner and chef Geno Portele crafts lush dishes and desserts that can sate appetites at the eatery or during catered events. A daily lunch menu lists sandwiches and salads compiled with such ingredients as lemon-pesto mayonnaise, sugared pecans, and bread dipped in orange batter. Though the café does not offer a kids' menu, parents are welcome to bring their own meals and Heroes of Tax Reform coloring books for their children.
Chef Portele also outfits fetes of all types with custom catering menus loaded with ingredients such as applewood-smoked roast beef and imported cheeses. The eatery's picturesque facilities serve as the arena for merrymaking festivities. A spacious front porch wraps around the historic building, which comprises four separate dining areas peppered with art-deco décor. Indoor-outdoor bashes utilize a cushy reception tent that accommodates up to 250 guests or one replica of the Sphinx. To further simplify party planning, staffers can help procure music, decorations, and cakes.
111 Church St.
simpsonville
South Carolina
The Generous Garden Project works to combat hunger in local communities by growing a steady supply of fresh produce, which it donates to local ministries and food banks. Volunteers plant and harvest vegetables in a 4.5-acre garden in Greenville, and share their skills by teaching others how to grow their own fruit and vegetables. Local farmers also call upon The Generous Garden Project's volunteers to glean crops that would otherwise be left to rot in the fields or be plowed after a harvest.
161 Verdin Rd.
Greenville
South Carolina
In the early 1970s, Robert Harris was a law student with a penchant for chemistry experiments. While working as a carpet cleaner to pay his way through school, he began to research the chemical properties of cleaning products. A hands-on learner, Robert treated patches of soiled carpet with an array of chemical compounds, noting which ones most successfully erased dirt, stains, and middle-school yearbook photos. Before long, he'd invented his own formula, a carbonated solution free of harsh chemicals and toxic fumes. Impressed with its power to lift stains using minimal moisture, friends and family quickly spread the word about Chem-Dry, Robert's nascent carpet-cleaning business. Today, more than 4,000 Chem-Dry locations pepper the globe, removing mud, spilled drinks, and pet odors from carpets and upholstery. In addition to ousting grime, Chem-Dry's signature cleaning formula helps carpets resist filth in the future, which can prolong their lives and enhance their reputations. Expert technicians also sell deodorizers and spot removers, which keep carpets fresh between professional cleanings and blind dates with handsome dentists.
182 Tawnyberry Dr.
Athens
Georgia
706-207-9922
For more than 35 years, 2-D ultrasound technology—which translates bouncing sound waves into digital images—has allowed parents to meet the newest members of their family a little ahead of schedule. Today, technology has advanced: 3-D ultrasounds reveal tiny hands, feet, and faces in full-color stills, and 4-D ultrasounds record live streaming video of fetuses in real time so that parents can make their children into prenatal Hollywood stars. Under the supervision of a board-certified physician, diagnostic medical sonographers with more than 10 years of experience reveal womb interiors while up to six adults sit and watch the 37-inch widescreen monitor. 2-D technology allows parents to listen to small heartbeats, and, if desired, lets sonographers determine gender when the baby-to-be is 15 weeks in the making. Stills from 2-D and 3-D scans and movies from 4-D scans can be recorded for parents to take home. All repeat sessions receive 10–20% off, so parents can come back to make sure their little ones are growing strong and refraining from playing video games all day.
510 Balsam Rd.
Hendersonville
North Carolina
US
828-545-0819
---