Greenwich, CT Health and Fitness
---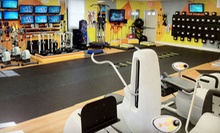 Amid walls bedecked in colorful geometry, exercisers run the gamut from Pilates to kickboxing using multimedia interactive equipment
Use Saturday 9:00am - 12:00pm
---
Recommended Health & Fitness by Groupon Customers
---
Neon lights, multiple arcade games, and patterned wrap-around couches. This is not the interior decor of a Las Vegas hot spot, but rather, the inside of The Stein Dental Group office. This aesthetic is just one of the methods that Dr. Michael B. Stein—a Tufts University graduate and former dentist in the U.S. Navy Dental Corps—employs to help ease clients' nerves as they come to the office for routine cleanings, implants, root canals, and orthodontic procedures. Dr. Stein works alongside eight other dental specialists and a multilingual staff, all of whom help to create a relaxing experience by listening to each client's dental concerns, thoroughly explaining each procedure, and even providing IV sedation to hyperventilating shadows.
1081 Hope St.
Stamford
Connecticut
203-329-8444
The board-certified podiatrists at The Center for Podiatric Care and Sports Medicine correct a wide array of bipedal concerns with surgical as well as noninvasive treatments. Including two doctors with marathon-running and foot-having experience, the center's health-care staff specialize in healing sports-related trauma and wear and tear, having treated approximately 20,000 sports injuries for amateur and Olympic-level athletes. Additionally, specialists can address aesthetic maladies with cosmetic laser therapy. The podiatrists employ imaging equipment such as x-ray systems, digital ultrasounds, and computerized gait analysis, which can instantly differentiate East Coast and West Coast swing.
10 Mitchell Pl., Suite 105
White Plains
New York
914-328-3400
At Healthy Fit for Women, an all-female studio, patrons team up with coaches to establish fitness- and nutrition-based programs. Supported by one-on-one feedback, group classes, and fitness equipment specifically tailored to the feminine physique, guests learn to effectively build muscle and lose fat. Their personal coaches draft meal and fitness plans based upon their food preferences and lifestyle habits to help them reach their fitness goals. The gym stocks equipment sized for the female frame, and classes such as Zumba and Spinning tone bodies with Latin-dance moves and cycling-based aerobics. For an extra boost of encouragement and a chance to gossip about the treadmills behind their backs, patrons can attend complimentary group support meetings.
1000 E Boston Post Rd.
Mamaroneck
New York
914-670-0600
LA Boxing's fight-centric gyms ditch the polished look of wood-floored workout studios for gritty, competitive spaces filled with 150-pound punching bags and intense workouts. Like a baker molding gingerbread men, LA Boxing sculpts six-packs with boxing, kickboxing, and mixed-martial-arts classes. Although instructors and students agree that the gym's atmosphere may enkindle intimidation in first-time attendees, most experience boosted self-confidence after conquering their first class. Private training sessions further stoke courage with workouts that leave patrons with the exhilaration of having survived 12 rounds in the ring or five minutes in a high-school lunchroom.
30 Belden Ave., Suite 2
Norwalk
Connecticut
---