Restaurants in Greenwich
---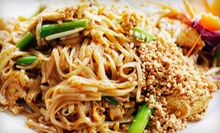 Thai classics are cooked to order and prepared in a centuries-old, royal style; the dining area provides serene ambiance with fresh orchids
---
Recommended Restaurants by Groupon Customers
---
La Panetière's elegant cuisine works its way into not only the stomachs but the hearts of those who dine within the restaurant's cozy French-countryside embrace. Tucked inside a 200-year-old building, the "hushed dining room," as it was described by the New York Times, is home to "artistically arranged dishes" straight from the brain of owner Jacques Loupiac. The AAA Four Diamond Award–winning restaurant changes its menus frequently, but consistently remixes French culinary staples with seafood, beef, and vegetables grown in the United States.
Complemented by pours from vintages drawn out of its historic cellar, seasonal dishes may highlight sautéed Maine lobster with minty zucchini and white gazpacho or sophisticated accents of foie gras and escargots. It's La Panetière's unwavering devotion to refinement that makes it a destination for romance and celebration, as well as a proud recipient of the Best French Restaurant award, as voted by the people who read and make origami dragons out of Westchester Magazine. The eatery also boasts high Zagat ratings—food, decor, and service are all in the "extraordinary to perfection" category.
530 Milton Rd.
Rye
New York
914-967-8140
Voted Best Authentic Crêpes in 2009 by Westchester Magazine, Rue des Crêpes conjures a Parisian ambiance with a colorful street-side mural, cobblestone floors, and authentic French fare that "transports you to the quais of the Seine." According to metromix.com's mustachioed detectives, "all the classic fillings are there," including lemon, plantain, ham, and chorizo. Chefs prepare savory crêpes with a buckwheat-flour batter and, upon request, serve dessert crêpes à la mode. Rounding out the menu, pots of cheese fondue arrive with bite-size dunkers such as focaccia, shrimp, and buttons from Napoleon's doublet.
261 Halstead Ave.
Harrsion
New York
US
The chefs at T.C. Island Restaurant & Lounge fuse big, bold Spanish and Latin American flavors into small plates. Their inventive tapas are sized for sharing, tempting sneaked seconds with vegetarian-friendly options such as the patatas bravas and canoa rellena, hot options such as coconut shrimp in a creamy coconut sauce, and cold edibles accented with creative combinations of spices and sauces. Diners may opt to order larger entrees, many of which feature seafood fresh from the piers of City Island. The festive atmosphere continues in the lounge and bar, which daily features bubbling hookahs and a cheekily named happy hour that runs from 3 p.m. to 8 p.m. Thursday nights are scored with a soundtrack of karaoke, and Fridays and Saturdays host belly-dance performances.
435 City Island Avenue
Bronx
New York
US
347-346-8418
Ohana Japanese Hibachi Seafood & Steakhouse's cooks flip and fire hibachi delicacies tableside, grilling lobster tail and sirloin steak in a sizzling fire show. At the chic bar, bartenders pluck bottles from backlit shelves. Pours of cold and hot sake, plum wine, or specialty drinks such as the chocolate martini complement each succulent dish. After lunch or dinner, a lounge area seats patrons on burgundy couches amid touches of Japanese decor. As DJs spin tunes, flat-screen TVs offset the timeless elegance of shoji screens, whose panels of rice paper and lack of commercials once entertained the Japanese nobility for hours at a time.
500 City Island Avenue
Bronx
New York
US
718-885-0700
---