Greenwood, IN Health and Fitness
---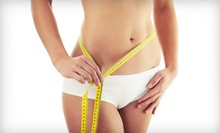 Noninvasive cold lasers help shrink fat cells and spot treat fat
---
Recommended Health & Fitness by Groupon Customers
---
In business for nearly 25 years, the National Institute for Fitness and Sport's 65,000-square-foot fitness center boasts an array of classes and training sessions, as well as a host of strength-training and cardio equipment. But these represent just one branch of the nonprofit organization. NIFS also manages fitness centers for companies and retirement communities all over the country, creates an online curriculum for Health YOUniversity, and collaborates with the Indiana University School of Medicine on research projects.
250 University Blvd.
Indianapolis
Indiana
Fluent in both Spanish and English, Dr. Richard James uses his multi-lingual skills to reach a broader base of crooked spines. He manually adjusts backs, provides massage therapy to calm unruly muscles, and dispenses customized nutritional programs for patients looking to eat healthier meals or only foods that begin with the letter B. His treatment plans also consists of vibration therapy and corrective exercises.
3850 S Emerson, Suite F
Indianapolis
Indiana
317-788-0227
After four years spent playing football at the University of Illinois, and three years in the Canadian league, Morris Virgil circled back around to become a fitness coach. "Each client is a direct reflection of me," he says. "Not in their physique, but in form, effort level, and dedication."
He springboards off that philosophy during his 45-minute sports-inspired workouts, challenging patrons through functional training methods designed to improve overall health rather than just build washboard vanity abs or butter-churn biceps. Each workout divides time equally between cardiovascular routines, strength-training that leverages body weight, and muscle-sculpting exercises with free weights. The focus of each session alternates by the day of the week, so students can arrive daily for an all-around fit-'em-up routine or drop in on specified slots to focus on slimming down, toning muscles, or building strength.
4150 Kildeer Dr.
Indianapolis
Indiana
317-502-8077
An arcade game stands in the corner of this clinic's reception room. While its vivid lights might initially seem out of place next to the stone fireplace and warm, sandy walls, the invitation to play puts the finishing touch on an atmosphere focused first and foremost on a positive patient experience. Here, a skilled staff practices family, cosmetic, and orthodontic dentistry under a mission statement that works to ensure those opening wide are happy, calm, and prone to whistling.
Those in need of a cosmetic mouth-lift may turn to Dr. Randy Young, who specializes in oral makeovers using veneers and porcelain crowns. His associate Dr. Stacy Johnson keeps visits comfortable with what he calls on his website "home town flair," but he's still attached to the advanced dental technology that makes effective, pain-free visits possible. Though he hails from rural Indiana, he now spends his days caring for underserved patients in Haiti, Brazil, Ecuador, and El Salvador.
3056 Stones Crossing Rd. W
Greenwood
Indiana
317-535-7141
---