Greenwood, SC Outdoor Activities
---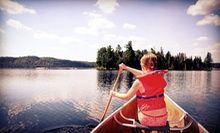 Paddlers travel the Saluda, Broad and Congaree Rivers in rented kayaks, canoes or paddleboards, passing historic ruins and swimming holes.
---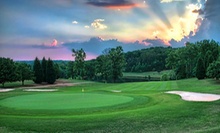 Bradford pear trees and water hazards in play on 9 holes of 18-hole course; champion bermuda-grass greens
---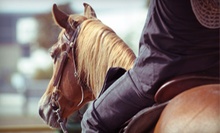 60-minute lessons instill proper horseback-riding fundamentals in disciplines of Western pleasure, English pleasure, and timed events
---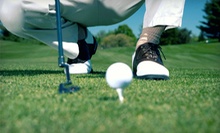 Golfers gain discounts at 14 area courses, a golf-ball stencil, and a one-year subscription to Golf Digest magazine
---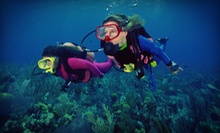 Master diver Robbie Bogan leads scuba classes that introduce beginners to the basics
---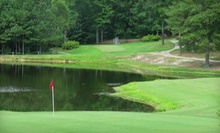 Nine ponds and more than 40 bunkers nestled among Bermuda grass fairways on 18-hole course
---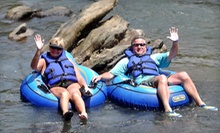 Duos leisurely float down the river inside rented inter tubes or paddleboats
---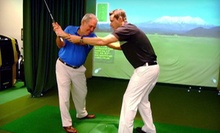 Putting- and swing-analysis sessions use JC Video and Tomi technology to capture techniques so instructors can diagnose poor tendencies
---
---
Recommended Outdoor Activities by Groupon Customers
---
Featured on NBC and CBS, John Nolan's Greenville History Tours provide access to the city's storied past via educational strolls through the West or South End, landmark-peppered drives, and samplings of the city's restaurant scene. Nolan founded the company in 2006 after spending a decade immersed in local history as a museum docent and time-traveling crime fighter. Since striking out on his own, Nolan has authored A Guide to Historical Greenville, South Carolina and has remained at the top of TripAdvisor's rankings. Participants can reap the benefits of Nolan's knowledge of history, culture, and architecture on traditional tours as well as special VIP tours.
531 S Main St.
Greenville
South Carolina
864-567-3940
At its two Columbia locations, Plex Indoor Sports aims to provide complete indoor recreation with artificial-turf fields, ice arenas, inflatables, basketball courts, family entertainment center, and full-service cafe. Both facilities offer after-school programs providing access to soccer, football, and lacrosse programs, ensuring that children learn the proper techniques required to work toward goals and play safely. Total-fitness classes are also available throughout the week, highlighting invigorating methods such as yoga, Zumba, and hip-hop aerobics. The Sandhills location hosts a roller-skating rink, and the Irmo location houses an NHL regulation-sized ice rink with public skate times in between hockey games and practice sessions of the local ice-fishing team.
A 30-foot rock-climbing wall towers over the Family Entertainment Center, granting visitors an elevated view of a facility packed with wall-to-wall inflatables and family activities. Visitors can roller skate, set new high scores at the arcade, or attempt to stay atop a mechanical bull. Other attractions include bungee jumping, a rock-n-roll ride, and more.
741 Fashion Dr.
Columbia
South Carolina
803-360-7300
Founded in 2010, the EHCL's Greenville Road Warriors don't have the rich legacy of their parent squad, the NHL's legendary New York Rangers. But judging from their first two seasons, the team is eager to make up for lost time. The Road Warriors took the league by storm in their debut season, earning the top playoff seed in the Eastern Conference before losing in overtime of Game 7 in the second round of the playoffs. Their quest for Kelly Cup glory continued in the 2011–2012 season, when they yet again made it to the playoffs and fell in the conference quarterfinals. Although championship hardware may have eluded the Road Warriors in their short history, the squad has produced enough top-notch regular-season performances to keep NHL scouts, fans, and trophy-case carpenters on their toes.
650 N Academy St.
Greenville
South Carolina
Icy coats clothe the hills at Snowy Joe's Winter Park from December to February as riders cut through winds atop inflated rings. At the top of the massive mound, bodies are postmarked express and delivered to the end of 350-foot alleys. Younger racers hike to the top of a shorter hill to shoot down smooth, 60-foot chutes. The venue welcomes large groups or birthday parties, providing pizza or special rates for family gatherings. Riders can also gather around a crackling open fire and sip on free hot chocolate.
112 Autumn Blaze Trl.
Williamston
South Carolina
Paranormal researcher Jason Profit has earned the title of "Greenville's Ghost Hunter." He has worked with the spirit world since an early age, watching his mother banish spirits from neighbors' homes and selling lemonade to specters unable to sate their thirst for vengeance. He developed a passion for the unexplainable and, now, tirelessly studies the history and rumors surrounding known haunted sites. On tours, Profit shares his research on local hauntings and gives guests the opportunity to explore the location of mysterious deaths and accidents.
660 S Main St.
Greenville
South Carolina
The Pavilion cultivates every species of physical activity within its 66,000-square-foot indoor complex and adjacent outdoor fields. The eclectic indoor space hosts soccer, volleyball, and curling face-offs, as well as a year-round ice-skating facility, bounce house, and inline-skating space. Fledgling ice skaters slip and slide during public skating sessions or take part in the U.S. Figure Skating Association's basic skills program to grease their triple axels. As the temperature rises, members make a mad dash outdoors to one of six tennis courts and three soccer fields, or hail a ride on George, The Pavilion's historic miniature passenger train. The complex's Boundless Playground offers a space where children with disabilities can be included in play thanks to accessible slides, swings, and climbing structures.
2700 W Blue Ridge Dr.
Greenville
South Carolina
864-679-7946
---