Greenwood Village, CO Indoor Activities
---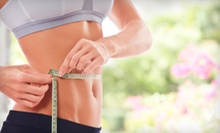 Trainer meets clients for a screening and to design a custom weight-loss program, followed by a nutritional session and personal training
---
Recommended Indoor Activities by Groupon Customers
---
In an extra-hot studio, students hold 26 poses meant to simultaneously tone and detoxify the body. In another studio, an instructor teaches ways to deeply relax and breathe through meditation. Nine other class styles fill in the a yoga spectrum that spans from rigorous to restorative at Littleton Yoga Center. Many of the center's classes welcome yogis of all experience levels, with instructors providing modifications to make moves easier or more challenging, depending on one's abilities. This falls in line with the staff's mission to help as many people as possible to forge a path to wellness as well as a stronger connection between the mind, body, and spirit.
10146 W. San Juan Way
Littleton
Colorado
303-932-9099
Teal, purple, and blue mats neatly line the wooden floor of Iyengar Yoga Center of Denver's studio as another class begins. As always, the teachings of hatha yoga master B.K.S. Iyengar are relayed to students by one of the studio's seasoned instructors, who are either certified or working toward certification through the Iyengar method. Several of these instructors have more than 30 years of experience. Iyengar yoga focuses on precision in physical alignment in order to bring the body and mind into balance. To accommodate all levels of familiarity with yoga and the Iyengar style, the staff offers three levels of classes, as well as advanced specialty workshops such as Yoga for Back Care and How to Hustle Someone in a Game of Twister.
770 S Broadway
Denver
Colorado
Like a small-town railroad depot in the 1880s, the Colorado Railroad Museum's main building features wide eaves and a bright-yellow exterior. The building reflects the Museum's overall goal: to hark back to Colorado's railroad era, a time when the state relied on its groundbreaking, narrow-gauge mountain railroads for supplies and information. Since 1959, the Museum has showcased the machinery of that time with an array of locomotives, passenger cars, freight cars, and cabooses. Alternatively, they present visitors with a glimpse of Table Mountain on the Museum's train rides, enabling them to ride the rails in a bygone style without just taking the subway in an Abe Lincoln costume. To supplement its trains, the Museum hosts thousands of related rare photographs and artifacts, such as a replica of a 10,000-gallon water tank, humorously dubbed No Agua, that was once used to refill steam locomotives on the Chili Line to Santa Fe.
17155 W 44th Ave.
Golden
Colorado
303-279-4591
Root Yoga Center's owners created their studio to give clients a space to explore their metaphorical roots by examining their physical, spiritual, and emotional bodies through yoga practice. This goal is reflected in the studio's philosophy, which emphasizes balance, encourages beginners to take risks, and focuses on the healing powers of yoga epitomized by the now-famous "Kiss the Boo Boo" pose. From Vinyasa to Forrest and Anusara Flow, many yoga modalities are practiced in the studio depending on the class session's teacher and difficulty level.
Every teacher at Root Yoga Center is an experienced yogi and puts the school's philosophy into practice during regular classes or supplemental practices such as qi gong, physical therapy, and nutritional counseling. The instructors' schedules are packed as well: classes take place all day, every day, and the staff routinely hosts community events and workshops.
1539 Platte St., Suite 207
Denver
Colorado
303-477-0424
---