Greer, SC Outdoor Activities
---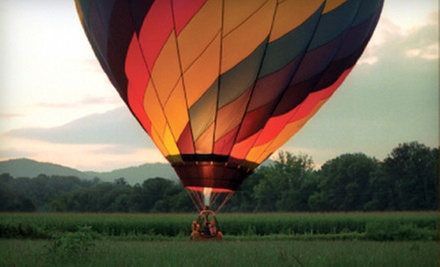 ---
Recommended Outdoor Activities by Groupon Customers
---
While the Hampton family owns and operates French Broad Ziplines, twin brothers Mitch and Michael Hampton have also had their personal share of ups and downs, both on the water and off. At age 10, they began exploring eastern Tennessee rivers with their grandfather, and they followed that passion for whitewater rafting into their business, which had been family-run for nearly 30 years. But then their dream was threatened. A fire swallowed the business, and the brothers lost everything. Slowly, though, with the help of family, friends, and staff, they rebuilt their company, learning patience and perseverance while finding comfort and strength in the support of their community.
Today, in addition to their traditional water-based excursions, the brothers also take to the trees on their recently constructed zipline course. Ripping through the clear mountain air, they've charted mid-air trails for zipline canopy tours that send guests soaring from tree to tree more swiftly than a caffeinated eagle. The course's eight ziplines stretch in distance from 420' to 1000', ensuring the guests have plenty of time to admire their sky-high view of the woods on adventures that also incorporate rappels, short hikes, and a rumbling jaunt on a hard-nosed utility vehicle.
9800 US Hwy 25-70
Marshall
North Carolina
At the foothills of the Blue Ridge Mountains, Yogi Bear's Jellystone Park surrounds a 5-acre lake with a constellation of camping stations and activity centers. The Garcia family graciously plays host to guests who careen down the twists and turns of the park's 300-foot waterslide, play mini golf, or cast lines into the lake to catch waiting fish. Along with opportunities to connect with nature and name every tree after their fathers, the Garcias furnish visitors with space to set up tents, pop-ups, and RVs, or stay in the ground's own rough-hewn cabins. They also provide showers and laundry facilities to help campers maintain ties with civilization. The family becomes especially excited when pointing guests in the direction of North Carolina's Chimney Rock or Grandfather Mountain for hikes and breathless sightseeing adventures.
1210 Deacon Dr.
Marion
North Carolina
828-652-7208
The clopping of hooves echoes across Winding Creek Stables' wide-open pastures and jumping arena, where a staff of ex-competitive equestrians takes a comprehensive approach to riding instruction. In private and group lessons, instructors share their wisdom about handling and technique while impressing upon students the importance of respecting their steeds. Adults and children alike can pick between the hunt-seat riding style popular at horse shows and the western style, which includes instructions for chasing down robber barons and lassoing feral cacti. Students learn to groom and care for their horses before and after the lesson—a gesture of respect to the animals and a key takeaway should novices desire to advance to competitive riding. Before riding off into the sunset, check out the stable's other horse-related services, which include pony parties and pony rides.
224 Bent Creek Ranch Rd.
Asheville
North Carolina
828-337-2250
The referee surveys the field, his eagle eyes scanning the masked figures who silently dart behind inflatable cones and crawl through the forest. The silence breaks as a player makes a break from the woods only to be struck by green pellets slamming against his chest. Satisfied that the shot was fair, the ref keeps the game moving in all its paint-splattered glory.
This is a typical scene at Wolverine Paintball, where seasoned staff members are dedicated to maintaining rigorous safety during adrenaline-fueled games on the facility's sprawling, tree-dappled course. Wolverine's field rules keep play in check, whereas eco-friendly paintballs keep players away from toxic materials with colorful pigments that contain no oil or tree tears.
487 Brookside Camp Rd.
Hendersonville
North Carolina
828-697-4263
The turquoise mountains rising out of Lake Lure's waters may have made it onto films such as Dirty Dancing because of their scenic beauty, but they also serve a practical function. "The mountains block out the wind, so you can always find good water," Lake Lure Adventure Company president Genevieve Helms told Waterski Magazine. With the help of the water-sports rental company, visitors can take advantage of the lake's amiable conditions that are perfect for activities such as kayaking and paddleboarding. Passengers who choose to take guided fishing trips use baited lines to capture mountain trout and bluegill, whose populations are replenished yearly. Instructors certified by USA Water Ski lead waterskiing and wakeboarding expeditions aboard MasterCraft ski boats, and pontoon rentals let visitors take the wheel and pilot one of Lake Lure Adventure Company's roomy boats for a day of leisure.
US 64 & US 74 & Buffalo Shoals Rd.
Lake Lure
North Carolina
828-625-8066
---