Theme & Amusement Parks in Greer
---
Theme & Amusement Park Deals
---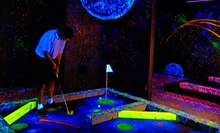 Access to billiards and a 3-D black-light mini-golf course
---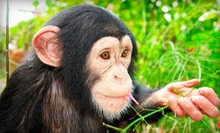 Staffed by volunteers, nonprofit sanctuary provides safe haven for more than 100 animals, including chimpanzees, monkeys, and tropical birds
---
Recommended Theme & Amusement Parks by Groupon Customers
---
Flashes of color appear between the mammoth limbs of giraffes and elephants. Shouts ring across emerald inclines and descents. Thriving with the constant, bustling life of a jungle, Adventure Landing fuels good-natured competition with a range of attractions. Putters work their way among the statues of jungle fauna that litter three distinct miniature-golf courses, sending colorful spheres careening through tunnels, sailing over bridges, and bouncing off impressed physicists. Electronic burbling drifts onto the courses from the arcade's 29 games, which stand alongside redemption machines promising lollipops, frisbees, dartboards, and stuffed animals. From there, guests chatter as they wander to seven batting cages, where baseballs and softballs sail toward the eager aluminum of bats at three different speeds to simulate the three pitchers in the major leagues. Between games, players feast on soft pretzels and a chorus of slurped Icees at the snack stand.
2600 E Franklin Blvd.
Gastonia
North Carolina
704-866-4242
Monkey Joe's immerses kids aged 2–12 in a cushy world filled with bright yellows, reds, and greens. Amid the air-filled structures, kids enliven imaginations and burn off pent-up energy by scaling walls, cascading down slides, and drafting the blueprints for their parent's new inflatable summer home. During breaks in the action, they can also hit the arcade to try their hand at air hockey and other prize-redemption games.
Parents can head to the lounge to sip a rich cup of coffee, surf the 'net, and watch TV, confident that their little ones are under staff supervision. The friendly Monkey Joe's crew can also entertain groups in a private suite.
2437 Laurens Rd.
Greenville
South Carolina
864-675-1414
A disfigured outcast in his community, Daniel bonded with the rats, snakes, and spiders in the nearby woods. After he was caught tying up a neighbor and emitting odd hissing noises, his parents locked him away in a mental institution. When Daniel escaped, he stole dental tools from his father and took to the trees, where he still stalks his next victims whenever he's not busy recruiting birds for his whistling choir. Daniel is only one among many sadistic figures lurking on Camp Fear's petrifying trail. There, half-dead guides haunt the rock maze, spooky dolls occupy the living-dead dollhouse, maniacal patients clamber about the insane asylum, and creepy clowns terrify passersby at Clown Chaos.
601 Princess Ln.
Hiddenite
North Carolina
When the sun sets over the Pisgah National Forest, the gourds lining Stingy's Illuminated Pumpkin Trails begin to glow. Its more than 1,000 craft pumpkins—hand carved by local artists—display scenes such as rainforests, pirates, and mythical creatures. Before nightfall, however, Stingy Jack's Pumpkin Patch entices guests with myriad other autumnal attractions. The forest beckons guests to explore its spooky trail on foot or via hayride, a hay-bale maze challenges them twists and turns, and a human hamster wheel welcomes sprint sessions, all of which are carefully monitored by a staff of giant scientists.
Throughout the day, Mountain Dan regales crowds with stories and shows off his chainsaw art as local bluegrass bands, cloggers, and dance groups command the stage. Local vendors hawk their wares and munchies, and Stingy Jack's Pumpkin Patch personnel sell pumpkins grown by local farmers. Along with pumpkins for purchase, Stingy's Ultimate Pumpkin Chunker hurtles them into the woods in a grand spectacle all night once the pumpkin trail lights up.
324 McGuire Rd.
Pisgah Forest
North Carolina
855-784-6497
Sky High Sports emancipates kids and adults from the laws of gravity with each jump, twist, or backflip their trampolines aid. The yellow-and-black play space features a spring-loaded frame that provides more give to jumpers, with all frames and springs covered by 2-inch-thick safety pads. To take full advantage of its unique space, Sky High hosts springy and elevated games of dodgeball as well as Airobics, a low-impact, fat-burning workout class that helps improve balance and coordination. Pintsize gymnasts can take refuge in a specially designed kid zone and romp around in the foam pit while they brainstorm nicknames for their pro-wrestling career. The expansive 45,000-square-foot center also offers family-fueled games of laser tag and private rooms for birthday parties.
601 N Polk St.
Pineville
North Carolina
704-889-5867
Icy coats clothe the hills at Snowy Joe's Winter Park from December to February as riders cut through winds atop inflated rings. At the top of the massive mound, bodies are postmarked express and delivered to the end of 350-foot alleys. Younger racers hike to the top of a shorter hill to shoot down smooth, 60-foot chutes. The venue welcomes large groups or birthday parties, providing pizza or special rates for family gatherings. Riders can also gather around a crackling open fire and sip on free hot chocolate.
112 Autumn Blaze Trl.
Williamston
South Carolina
---