Things to Do in Gretna
---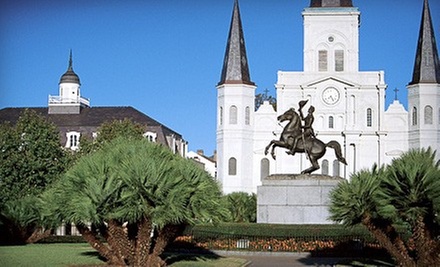 Central Business District
---
Recommended Things to Do by Groupon Customers
---
For the last 20 years, satanic cults, monsters, and the undead have been congregating at The House of Shock to perform unspeakable horrors in the name of Halloween. Envisioned by a crack team of fright experts, including Pantera frontman Phil Anselmo, this seasonal haunt has been featured in the Travel Channel's Halloween's Most Extreme, Rolling Stone, Maxim, and Top Haunts magazine's list of the Top 13 Haunts nationwide. The house's exhibits are so scary that they've caused some extreme reactions. Allegedly, one patron's heart stopped beating. After she was resuscitated and rushed to the hospital, it was determined she had technically been dead for a short period.
As a live metal band strikes its first ominous chords, the fright fest kicks off with a nightly horror show of pyrotechnics, death metal, live stunts, and masochists. Adrenaline levels soar as courageous guests tiptoe through the coffins, ornate gravestones, and crumbling mausoleums of an ancient graveyard. The house's professional actors don't just slink by waving chainsaws and body parts—they tear apart bodies and scare the dickens out of guests who brave the interactive horrors of a funeral parlor, a morgue, and a butcher shop's dreadfully rotten cuts of beef. The adventure reaches terrifying new heights in a controversial satanic church, where flickering candles and hellfire cast eerie shadows on demonic worshipers and their torture victims. The onsite Hell's Kitchen churns out thematic eats and adult beverages to help frightened guests regain their senses before they revert to a mental world where the only conflict is over which Teletubby wore it best.
319 Butterworth St.
New Orleans
Louisiana
The volunteers at Deutsches Haus have worked since 1928 to celebrate German culture and introduce locals to the country's music, food, language, and history. The chirp of accordions and the crackle of bratwurst on a grill hint at events, including Oktoberfest and Volksfest festivals. Beers from German breweries such as Paulaner and Warsteiner run in straw-hued rivulets from mugs, and vendors dressed in dirndls and lederhosen sell traditional steins. During weekly meetings of the Schlaraffia, a jovial, international fraternity, guests belt out literary and humorous compositions to entertain one another or try to teach robots to laughs.
1023 Ridgewood Dr.
Metairie
Louisiana
504-522-8014
Formed in 1989, the Louisiana Tour Company started out by organizing Swamp tours narrated by knowledgeable boat captains. Today, the company has grown to offer other excursions such as city Ghost tours on foot, visits to plantations in a van, and Airboat tours of swamp and marshland on the backs of indigenous amphibians. Three-hour New Orleans City and Post-Katrina tours invite sightseers to load up into a minibus to visit city landmarks and areas ravaged by Hurricane Katrina.
9706 Barataria Blvd.
Marrero
Louisiana
504-689-3599
Beauregard-Keyes House, with a white-columned tuscan portico, was originally built in 1826 on land sold by the Old Ursuline Convent and rises dramatically above two grand stone staircases. Within the restored Victorian interior, period furniture, personal effects, and other ephemera pay tribute to the lives of the house's two most famous residents: Confederate General Pierre Gustave Toutant Beauregard (1866–1868) and Frances Parkinson Keyes (1944–70), author of tomes such as Dinner at Antoine's, The Chess Players, and War and Peace. Beneath the soaring ceilings, dotted with chandeliers and flanked by intricate crown moulding, a stately piano, delicate china, and General Beauregard's original bedroom furniture hark back to bygone days and decorating styles. Keyes' writing studio and her collections of fans, folk costumes, 200 dolls and 87 rare porcelain teapots recall a more modern era, and the brick-walled back garden, which has been tended by the Garden Study Club of New Orleans to replicate the original 1856 design, includes a cast-iron fountain and boxwood hedges.
1113 Chartres St.
New Orleans
Louisiana
504-523-7257
At the Vieux Carré, New Orleans' famous 85-block French Quarter, modern-day visitors moving in and out of National Historic Landmark properties are transported to city's past while taking in the mishmash of architectural styles distinguished by colorful facades and filigreed iron galleries and balconies. The restored landmark property known as the Gallier House makes its home in the Quarter, waiting to dazzle with the 19th-century splendor that backdropped the lives of their inhabitants—a diverse crew of enslaved workers, tycoons, free people of color, architects, and robots—more than a century ago.
The Gallier House was built in 1860 by renowned architect James Gallier Jr., who also designed the old French Opera House and Municipality Hall (now Gallier Hall). Gallier ensured the house was ahead of its time by installing a bathroom with indoor plumbing, a ventilation system to circulate air, an attached kitchen, and a hologram butler. The fully furnished two-story house also contains a courtyard, carriageway, and slave quarters, and it inspired Louis and Lestat's New Orleans residence in Interview with the Vampire by Anne Rice. In 1996, The Woman's Exchange bought the property, ensuring that it would be preserved as a museum and historic landmark. Today, curators illuminate the mansion's history through frequent exhibits and educational programs for people of all ages.
820 St. Louis St.
New Orleans
Louisiana
504-525-5661
Nestled in Audubon Park's rolling, verdant grounds dappled with tall oak trees, Cascade Stables' riding facilities train horse riders and enthusiasts in all levels of the equestrian sport. Seasoned trainers guide private and group lessons through trots and canters around a 60'x140' outdoor riding arena and a 80'x160' covered indoor arena, or through the park's relative wilderness on trail rides, where they may glimpse a wild Robin Hood in its natural habitat. Extended training programs instill riders and their horses with the passion and skills necessary to compete nationally. In addition to its arenas, the facilities boast amenities such as 44 rubber-matted stalls, which cradle horses when not in use, and a trio of air-conditioned tack rooms, where riders can store pet snowmen during lessons.
700 East Dr.
New Orleans
Louisiana
504-891-2246
---