Beauty & Spas in Grosse Ile
---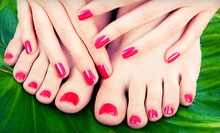 Nail artist Delia cares for nails with manicures and pedicures that are topped off with gel lacquer, which lasts up to two weeks
---
Recommended Beauty & Spas by Groupon Customers
---
Flip Salon's staff of Vidal Sassoon and Bumble and bumble–trained stylists boast years of hair-care experience, especially after a little wine at dinner. Amidst a friendly, vintage-tinged atmosphere, these tress technicians will use high-quality products such as Kemon and Bumble and bumble to dispense expert haircuts ($30–$37 for men, $50–$75 for women), highlights ($70–$95), blow-dry stylings ($30–$50), scalp treatments ($15–$20), and up-dos ($50–$70).
251 W 9 Mile
Ferndale
Michigan
Lymphologists and lumberjacks concur that a Swedish massage is an invaluable ally in the ongoing quest for total health. Swedish massages employ several styles of expansive and ebbing strokes to relieve tension, mellow the muscles, and restore free-flowing fluency to the toxin-dispersal chutes of the lymphatic system. During effleurage, the hands smoothly circle the skin like epidermal ice skates as a primer for renewed venous and lymphatic circulation. The petrissage and tapotement strokes knead and knock on pressure points in the humanhide, while friction strokes untie the knots in the shoelaces of your muscle fibers. The vibration stroke goes all "cell-phone setting during a ballet" on the back and the limbs to get blood and muscles moving. The lesser-known high-five move at the end of the Swedish massage generates camaraderie and coolness.
47729 Van Dyke
Shelby
Michigan
Pure NV Salon & Day Spa keeps Detroit-area minds and muscles mollified with a soothing mosaic of full salon services. A mane-molding menu of hair services keeps locks lopped, styled ($27–$32) and colored ($35 and up), while the one-hour relaxation massage smoothes over bunched-up back dough with gentle kneads and pepperoni slices. The relaxation massage is tailored to every individual's specific needs, and the value can be used toward a more expensive massage, such as therapeutic or hot stone. The anti-aging facial utilizes a wrinkle-wrangling serum to restore skin's natural moisture and vibrancy, and the spa manicure/spa pedicure combo pampers feet and hands with cuticle treatments, nail filing and polishing, and soothing massages.
10145 Telegraph Rd.
Taylor
Michigan
Alex Emilio Salon, founded by friends Alex Lekocaj and Emilio Giglio in 2001, offers an inedible buffet of beautifying and body-bettering salon services. Metal-band roadies preparing to begin an accounting career can tidy up with a men's haircut ($25+), while female fugitives from justice can adjust their aliases with a haircut ($40+) and a tint ($40+). Hands hampered by too many midnight games of no-glove baseball can delight their digits with a manicure ($20+), and feet still scuffed up from last week's borderline-illegal April Fool's prank can achieve 10-toed tranquility with a spa pedicure ($50+).
409 S Main St.
Royal Oak
Michigan
The Wow Smile Express teeth-whitening system is a safe and painless way to brighten your smile and feign a darker haircut. Unlike at-home whitening products that only address surface discoloration, Wow Smile's cosmetic treatment tackles both surface stains and deep-seated tooth regrets, targeting the dingy evidence of coffee, tea, cola, red wine, and tobacco, a cocktail known in some circles as "the filibuster." During your 20-minute treatment, a Wow Smile–trained professional will apply a special gel that will catapult water and radical hydroxyl ions into the tubules of your teeth, breaking apart stains to reveal a smile two to six shades brighter.
317 E 4th St.
Royal Oak
Michigan
Once you have your Groupon, you can call to schedule an appointment at Agosta, where a master hair shaman will snip, fade, and charm the most distraught bristles, frizzies, and head-snakes. Your experienced stylist will sense your innermost hair-yearnings, then direct carefully wielded scissors in tune with your thoughts and dreams, letting creativity and practical solutions decorate your scalp for a haircut that revolutionizes the way you look in the mirror—inside and out. Afterward, in the streets, you might find that your magnificent cut busts the binds of its bowler hat and leaps into sunshine, dappling the dark alleyways of careless coiffeurs.
39853 Grand River Ave.
Novi
Michigan
---