Grosse Ile, MI Outdoor Activities
---
Outdoor Activity Rewards Deals - Use Anytime
---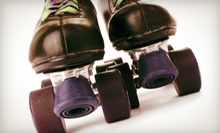 Guests loop the sea-foam-green rink or forego their skates to play arcade games and munch on snack-bar food
---
Recommended Outdoor Activities by Groupon Customers
---
A hundred paintball warriors in Spartan gladiator costumes hoist their shields and eye the horizon. In the distance, countless enemies play the role of the Persian army, waiting, believing victory is assured due to sheer force of numbers. But the Spartans don't give up so easily, and in the true spirit of their historical forbears, they fight to the end. So goes the Shield Gameone of Hell Survivors' five paintball tournaments that pay homage to the world's most epic battles.
Hell Survivors' own history of paint-splattered skirmishes dates back to 1983. The facility's 14 playing fields span a 180-acre outdoor arena and provide ample battlements for players to duck behind with Deluxe Tippmann semiautomatic markers in tow. Before deploying teams to the field, paintball experts equip them with anti-fog goggles, 300-round ammo packs, and unlimited nitro/HPA refills.
After players have exhausted their supplies and painstakingly replicated all of Jackson Pollock's masterpieces, they can refuel with hot dogs and burritos from R & R Firehouse.
619 Pearl St. (D-19)
Pinckney
Michigan
---