Bootcamp in Grosse Pointe Park
---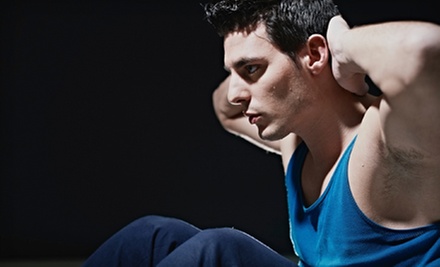 ---
Recommended Bootcamp by Groupon Customers
---
David Krainiak has been fit his whole life, participating in athletics at a young age, graduating from college with an exercise degree, and garnering 15 trainer certifications in his professional career. But the impetus to start a women's-only boot camp began before all that. It started with his grandmothers and his mother, all of whom he watched struggle to stay fit while dealing with their demanding lives. When starting Michigan's Adventure Boot Camp, he sought to create a workout environment that would have welcomed any of his matriarchs--an accessible, noncompetitive camp for women of all ages.
Each boot camp spans four weeks of exercise, with classes held five days a week, with students making sure to attend on three of those days. Classes might meet indoors or out, depending on which of the nine locations a client chooses to attend, but the regimen of exercise remains the same. Trainers cook up new routines daily, which might include fitness kickboxing, jump-roping, obstacle courses, or sport yoga, in which the class plays a scrimmage using the first student who manages to contort themselves into the shape of a football.
50200 W 10 Mile Rd.
Novi
Michigan
866-861-5423
Within a private, boutique-style gym exuding a familial vibe, Bodymorph takes its clients back to workout basics. The personal trainers on staff prize simplicity over an abundance of doodads and gimmicks, exclusively leading private sessions and small group boot-camp classes. The elasticity of the programs, however, stretches to accommodate each participant's various goals, from weight loss to enhanced athleticism to healing.
During indoor classes, trainers eschew the all the shouting and court-martialing of traditional boot camps. They help sculpt physiques with modern equipment—such as strength machines, stability balls, and free weights—from the cozy confines of a homey studio. Diet plans can supplement exercises on the side, and music and a disco ball lend a festive atmosphere to workouts.
561 Livernois St.
Ferndale
Michigan
248-544-4646
On Rochester Municipal Park's wide expanse of grass, figures crab-walk, perform squat-jumps on picnic tables, carry sandbags, and bunny-hop. It may sound like the most playful available version of a zombie apocalypse, but it's actually part of Urban Outdoor Workouts and its ever-changing boot camp. The workouts—designed to be fun and unintimidating—cycle through 10 major fitness factors, including agility, strength, and stamina. Boot campers zero in on those goals by performing everything from towing tractor tires behind them by a rope tied around their waists to sprinting in terror from Bigfoot through wooded trails. Instructors customize each session to individuals with beginner, intermediate, and advanced fitness routines, allowing people to find exercises suited to their proclivities.
Paint Creek Trail
Rochester
Michigan
248-410-8261
After 20 years of working in the medical and fitness industries as an ACE- and NSCA-certified trainer, Tanya Bange understands the importance of setting goals. Alongside group fitness instructor Kathy Dorney, Bange leads women of all ages and fitness levels through a rigorous boot camp designed to help clients formulate fitness goals, stick to them, and, ultimately, achieve them. Together, the duo helps clients meet goals that range from simply developing stamina to passing the arm-wrestling portion of their quarterly performance evaluation at the office. They lead full-body workouts that may involve classic pushups, bleacher sprints, and flipping a tire end over end.
Bange and Dorney also run 30-minute workout sessions for preschoolers, planting the seeds of an active lifestyle early by keeping them active in games that include the cardio-centric I'm a Super Hero! and the yoga-based Hungry Caterpillar.
4190 E Court St.
Burton
Michigan
US
810-744-4403
Amid the kettlebells, sandbags, and medicine balls that pack its indoor fitness studio, Boot Camp Michigan hosts high-intensity workout sessions in the mornings and evenings throughout the week. Its imaginative routines draw from four essential fitness factors—cardio, resistance, core, and flexibility—and change from day to day to thwart fitness plateaus. The program's exercises aim to reduce fat, build muscle, and diminish stress, and accompanying nutrition plans encourage healthy lifestyles and discourage unhealthy eating habits, such as shelling shrimp while trying to parallel park.
33029 Michigan Ave.
Wayne
Michigan
734-968-5454
Optimal results in a minimal time frame. That's the goal of Nina—Sergeant Bootcamp himself. After a stint in the military, Nina returned to his true passion—fitness—and took up the reins at boot camp, where today he motivates clients of all fitness levels through indoor and outdoor workouts. Each 60-minute sweat session forgoes machinery and high-tech equipment for simple exercises, such as running, calisthenics, and weight training. Yet, Nina doesn't let campers fall into any sort of routine; he changes up classes regularly to keep muscles guessing and clients from getting bored. Aimed at shredding body fat and toning physiques, each camp begins with a body-fat composition test so that clients can see their progress and achievements in numbers, rather than by whether or not they can fully conceal themselves behind a telephone pole.
4635 Howe Road
Wayne
Michigan
734-890-9721
---