Fitness Classes in Grosse Pointe Park
---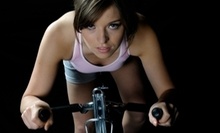 Hard-driving music backs instructor-guided classes where cyclers burn up to 500 calories during high-intensity sessions & mini ab workout.
Use Today 6:30am - 9:30am
---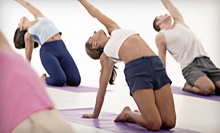 Use Tuesday 6:45am - 9:45am
---
Recommended Fitness Classes by Groupon Customers
---
Within the sunny, wood-floored studio, groups of exercisers tone muscles and liquidate fat cells to the tune of toe-tapping Latin and International rhythms. Helmed by Joel, a seasoned fitness instructor with 18 years of industry experience, Zumba classes trick your body into burning calories, setting it in motion with heart-pumping beats to elicit a mixture of high-energy movements and dance steps. A strong proponent for proactive lifestyles, Joel can also use his intimate knowledge of nutrition and exercise to help clients meet fitness goals such as losing weight or training to dig a hole to China with their bare hands.
A-4550 Rhodes Dr.
WIndsor
Ontario
Muscular instructors help exercisers of all fitness levels slim silhouettes and chisel muscles with motivating boot camps, one on one personal training, and fat-evicting nutrition plans. During boot camps, a certified fitness coach draws on more than 15 years of experience to build up bodies with a series of high-intensity interval and metabolic resistance training. The encouraging trainer conducts a symphony of grunts as students strain to lift sandbags and tires within the indoor gym before hitting the fresh air to hurdle over motionless freeze-tag players and other outdoor obstacles. They'll also compliment their rigorous workout regimes with nutrition guidance that equips students with grocery lists and recipes that ensure balanced meals.
25 Gosfield Townline W
Essex
Ontario
Even CrossFit pros have a least favorite move. For CrossFit BMW: Benchmark Workouts coach Christopher Binno, it's the box jump. Binno knows how effective routines with his least favorite move can be, though, because he took up CrossFit to become a better wrestler; and it worked. He and fellow coach Jarrod Bell—who has 25 years of fitness and coaching experience as well as CrossFit and Olympic lifting certifications—lead the center's classes, which consist of an ever-changing high-intensity routine of functional movements that quickly whittle the body into shape. They also teach Fundamentals classes, which teach first-timers to perform core CrossFit moves and the basic dance steps from the Scarface stage musical.
1500 N Stephenson Hwy.
Royal Oak
Michigan
313-576-7701
The noises and stressors of the day melt away as students find peace and quiet inside H.Y.P. Studio's intimate workout areas. Small groups of no more than five participants gather for Pilates classes that use specialized equipment to build lithe muscles and abdominal strength. BarSculpt classes incorporate mats, weights, bands, and ballet barres to create a low-impact workout that targets fat in common problem areas along the legs, arms, and torso. Inside the yoga studios, a custom-designed heating system maintains an ideal balance of heat, humidity, and fresh oxygen, and the floors are constructed out of an antimicrobial material that prevents germs and charkas from getting trapped under the surface. Classes are held from as early as 5:45 a.m. to as late as 7.45 p.m., and students can use private shower and changing areas to get ready before and after sessions.
2 Ajax Dr.
Madison Heights
Michigan
US
When Walt Nesbit teaches fitness classes, he focuses on helping clients live long, healthy lives, rather than losing inches from their waste lines or hefting heavier weights. He started Movement Studio Pittsburgh to help clients find the branch of exercise that they liked best, offering a wide array to choose from. He and his trainers teach purely fitness-focused classes such a kettlebell and TRX Suspension, as well as classes that train the mind and body, including Tai Chi, yoga, and kickboxing.
2 Ajax Drive
Madison Heights
Michigan
US
One's a former college athlete. One's an experienced yogi. One's a former stay-at-home mom who simply refused to stay overweight any longer. Though they all come from different backgrounds, Oni Fitness Studio's trainers share one important trait: the desire to stay fit using time-tested exercises. Through personal instruction and group classes in yoga, Pilates, and TRX suspension training, they share their dedication with students, building strong bodies while maintaining balance between body and mind. Stacked flagstone accent walls, hardwood floors, and creamy paint tones run throughout the studio, setting a comfortable and secluded scene in which students can release tension brought on by everyday tasks including evening commutes or morning jousts with the paperboy.
2 Ajax Drive
Madison Heights
Michigan
US
---