Restaurants in Grosse Pointe Park
---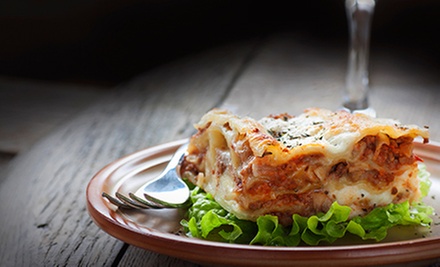 ---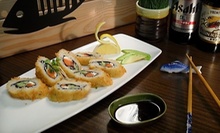 Salty edamame nestles in crisp coin purses as sushi & sticky rice combine forces to capture morsels of raw fish, crisp cucumber & veggies
Use Monday 11:30am - 4:00pm
---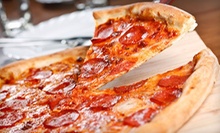 Chefs perform in open kitchen to churn out gourmet pizzas, shrimp scampi & baby back ribs in landmark building converted from boxing gym
Use Saturday 11:00am - 4:00pm
---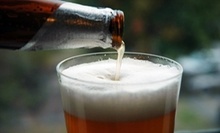 Extensive beer list & menu filled with potato pancakes, Wiener schnitzel, bratwurst, knockwurst & weisswurst in 107-year-old restaurant
Use Monday 11:00am - 3:00pm
---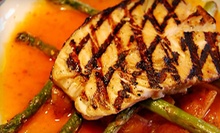 Fried appetizers, hamburgers & sandwiches sate game watchers & guests inside sports bar setting sprinkled with seven HDTVs & pool tables.
Use Monday 11:00am - 2:00pm
---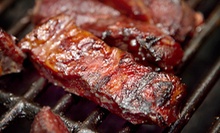 Old fashioned barbecue joint serves up smoky deliciousness with mouth-watering portions of sauce-slathered ribs, chicken & more
Use Tuesday 11:00am - 5:00pm
---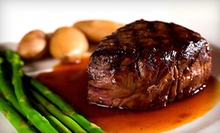 Prime steaks, ocean-fresh sushi rolls & soul-food entrees pair with copious wines & cocktail creations to nurture bodies & spirits
Use Saturday 5:00pm - 9:00pm
---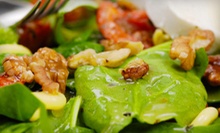 Raw juices wash down gourmet sandwiches layered into sesame-seed-decorated buns and accompanied by hand-cut fries
Use Sunday 12:00pm - 5:30pm
---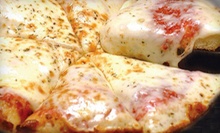 Use Monday 11:00am - 5:00pm
---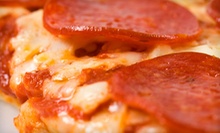 Signature square pizza comes in meat lovers, Hawaiian, and Philly cheese steak varietals; special dressing tops the original Italian subs
Use Sunday 11:00am - 8:00pm
---
---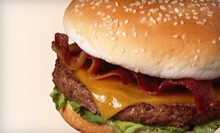 Classic bar & grille menu includes wings with choice of 15 sauces, .5-lb. Angus beef burgers & Tex-Mex entrees washed down by 15 draft beers
Use Sunday 12:00am - 11:00pm
---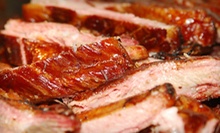 11 flat screen TVs glint off full-service bar stocked with more than 75 beers & specialty cocktails that complement menu of casual bar fare
Use Saturday 11:00am - 3:00pm
---
Recommended Restaurants by Groupon Customers
---
The Charaf family teamed up to share and honor their Lebanese heritage and culture by creating traditional Lebanese and Middle Eastern cuisine at Lebanese Grill – Troy. Vegans, meat lovers, and kebab-fearers alike can find tasty and traditional dishes on the menu, from hummus and grape leaves to steak kebabs and lamb chops. Along with a full lunch and dinner menu, the eatery also has a selection of international wines and Lebanese beer, and regularly caters special events and hosts banquets.
1600 Rochester Road
Troy
Michigan
248-526-1444
Though Hikari Japanese Restaurant's traditional wooden tables rise only a foot or so off the floor, patrons don't have to kneel or sit cross-legged as they dine. Instead, under each table, a space recessed into the "floor"—which is actually a raised platform—lets feet dangle as legless chairs support backs. The ingenuity of this design, intended to make Japanese-style dining more comfortable for Westerners, is reflected in the creativity of Hikari's main menu, which features pan-Asian small plates such as tempura-fried squid and barbecue short ribs. Fresh ingredients such as fatty tuna and quail eggs make appearances in sushi specialty rolls sprinkled with extras such as house sauce and tempura flakes. Waiters also fill glasses from a full bar, a fine wine list, and a selection of hot or cold sake.
345 Victoria Ave.
Windsor
Ontario
519-255-7711
Not everyone can say they've eaten food crafted by an Olympic gold medalist. But anyone who dines at Detroit Seafood Market can proudly add this to his or her resume. That's because the restaurant's executive chef, Leonardo Vulagi, was the proud recipient of two gold medals and one silver medal at the 1988 Culinary Olympics at the Culinary Institute of America in New York.
Under Vulagi's direction, the staff meticulously creates mouth-watering dishes that flaunt the freshest crab, mussels, shrimp, scallops, and lobster tails available. White-jacketed servers whisk artistically arranged meals to tables as diners lounge in a spacious dining room accented by large, curved booths, sleek hardwood floors, candlelight, and shadow puppets created by diners nearby.
1435 Randolph St.
Detroit
Michigan
313-962-4180
Each day, restaurant owner and chef Adel Elsayed assembles his Lebanese platters from scratch. Using breads hot from the oven, ingredients that have never been frozen, and falafel with no past stints as ping-pong balls, he creates a menu of zesty Middle Eastern staples, such as meaty kebabs and lunch pitas. His shared plates of appetizers and entrees satisfy groups of two or four, and the catering menu provides ample skewers for larger outings. On some weekend nights, Monaco's dining room comes alive with the strains of live Arabic music and the hypnotic undulations of belly dancers.
3090 Dougall Ave.
Windsor
Ontario
519-972-3300
The stovetops of Paulette's Island Place kitchen simmer with a plethora of authentic Caribbean dishes, which draw their complex flavours from Jamaican, African, Amerindian, British, Spanish, French, Dutch, Indian, and Chinese cuisines. Chefs assemble meats and seafood into small and large plates of curries and stews, as traditional Jamaican fruitcakes rise in the ovens. In addition to a Caribbean menu of breakfasts and dinners, the kitchen turns out Canadian mainstays such as sandwiches, chicken wings, and burger patties in the shape of Jacques Cartier's head.
1175 University Ave. W
Windsor
Ontario
519-977-7462
BluFin Sushi rethinks the concept of a sushi restaurant, fashioning specialty rolls with unconventional ingredients and a menu of entrees that blend aspects of American and Asian cuisine. The innovative spot's chefs serve up tender Kobe beef sliders and entrees that range from fish tacos to Japanese-style fried chicken, pounded flat and battered with panko. Hefty vegetarian rolls with names such as Monster Beast keep vegetarians from going hungry and munching on nearby Chia Pets. BluFin Sushi's kitchen also prepares sushi party platters for any occasion. An outdoor patio beckons patrons outside during warm weather, and diners can wash down bites with cocktails, beer, wine, and sake.
18584 Mack Ave.
Grosse Pointe Farms
Michigan
313-332-0050
---