Shopping in Grosse Pointe Park
---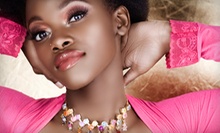 Loft-style boutique lines its former dry cleaner's conveyor belt with denim jeans, shirts, sweaters, blazers, and high-end designer imports
Use Today 12:00pm - 3:00pm
---
Recommended Shopping by Groupon Customers
---
Pintsize shoppers litter the aisles at Connie's, a kids' clothing store specializing in adorable formalwear for first communions, baptisms, and weddings. Dresses, suits, and shoes abound at this time-tested retailer, which was started more than half a century ago by Maxine and Sidney Kort, whose daughter Denise now operates the business. She stocks school-uniform components such as jumpers, skirts, and shirts throughout the year, as well as casual duds emblazoned with Michigan colleges and Detroit sports teams. Her voluminous selection of husky to petite attire caters to most body types, rendering one-size-fits-all flour sacks obsolete once and for all.
23200 Greater Mack Ave.
St. Clair Shores
Michigan
586-777-8020
Christine Dinney, the creative leader behind Crafty Candles, first discovered her love of melted wax and her gift at creating beautiful candles when she received a candle-making kit for Christmas. The gift launched her career, one that's dedicated to the making and sharing of Canadian-made artisan candles. Crafted from local supplies whenever possible, the richly scented, lead-free flickering forms light up rooms with their unusual shapes, such as cinnamon rolls and fruit tarts. Crafty Candles' candle makers hand pour refined paraffin, soy, and wax gels to craft towering rustic candles that burn for more than 300 hours, as well as colourful votives made from leftover wax designed to burn for 15 hours or the duration of one dance-marathon during a blackout.
Guests can create their own waxy scents with classes held in the cozy store, learning to thread their own wicks to adorn handcrafted brownie candles or image-transferred hurricane candles. In addition to the fragrant, meltable goods, Crafty Candles also offers customizable handcrafted jewellery.
31 Arthur St.
Essex
Ontario
519-776-8585
At Anne's on the Avenue, proprietor Anne Waters and her staff of fashion experts curate a collection of women's styles from well-known labels and up-and-coming designers from Europe and Canada. Trendy wearables from Joseph Ribkoff, Frank Lyman, and Spanner grace the racks, dressing guests to the nines for formal or casual events with seasonal dresses, sweaters, scarves, and jewellery. Consultants employ Anne's passport for style during private consultations to help clients assemble flattering ensembles for any occasion, from classy office cocktail parties to runway-style sashays to the mailbox.
344 Manning Rd.
St. Clair Beach
Ontario
519-979-7735
Elegant garments from Burberry and Louis Vuitton surround shoppers at Couture Bridal Resale and Designer Resale Boutique, a high-end consignment shop that sells only authenticated designer clothes and accessories. The ever-rotating stock of mid- and high-level goods includes handbags, shoes, and clothing that's meticulously cleaned and steamed before making its way onto wooden hangers on the sales floor. The extensive clothing section features items from Gap and Gucci. Sizes ranging from 0 to 4XL are available for both men and women. Doubling as a bridal boutique, the shop offers vintage gowns dating back as far as the 1800s, as well as gowns from famed designers such as Vera Wang and Oscar de la Renta and lower-priced retail designers including Jessica McClintock.
Couture Bridal Resale and Designer Resale Boutique treats its clients to a spa-like browsing experience with a relaxing chandelier-lit space painted in soothing color schemes, pleasantly scented, and replete with hors d'oeuvres and drinks. Dedicated to outfitting the style and budget conscious with the latest and vogue-est gear, the fashion-forward staff runs special promotions to re-create the current season's trends using Couture Bridal Resale and Designer Resale Boutique's resale and vintage collections.
175 W. Nine Mile Rd
Ferndale
Michigan
248-840-2569
Not too much. Not too little. Just right. Since 1981, the knowledgeable Maidstone Tree Farm staff have been insistent on finding the goldilocks zone: that unique balance of water, sunlight, and fertilizer that helps every type of plant and tree in their garden thrive. They begin by hand-selecting flora—20-foot maple trees, many-coloured hydrangeas—that flourish in Windsor-Essex County's soil and climate. Across their 15-acre garden, they arrange their plants based on how much sunlight the plants need, clustering Asiatic lilies in sun-dappled patches of soil, and huddling green, blue, and yellow hostas in the cool shade. Then, they fine-tune their drip-irrigation system to quench the thirst of the trees, shrubs, and perennials without over-watering them. The great pains taken by the green thumbs at Maidstone Tree Farm result in plants that leave the garden centre at the pinnacle of health, ready for rearing and teaching multi-branch high fives.
7010 Hwy. 3
Maidstone
Ontario
519-737-2999
In business for 35 years, G&G Jewellery and Coins stocks a vast inventory of new and pre-owned jewellery, luxury and vintage watches, and precious metals in the form of coins or bullion. Shoppers can adorn ears, wrists, fingers, and necklines with baubles crafted from 10k-24k gold, silver, diamonds, and gemstones. The company's jewelers also appraise patrons' coin collections, resize rings, and repair watches and jewellery.
28 University Ave. E
Windsor
Ontario
519-256-0712
---