Groton Cleaning and Home Services
---
Techs clean carpets using a fifth of the water used in other methods, remaining eco-friendly and leaving floors dry within two hours
---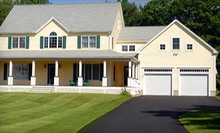 Workers use Tarconite sealer to resurface asphalt and protect it against UV rays, water, and harmful chemicals
---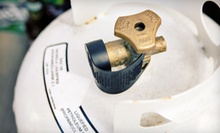 Gas experts who replenish approximately 200 propane tanks every day offer refills for existing propane tanks up to 20 pounds
Use Today 10:00am - 3:00pm
---
Recommended Home Services by Groupon Customers
---
Budget Dry Waterproofing Inc.'s team, which boasts the only two NAWSRC-certified waterproofing specialists in Connecticut, keeps basements dry with waterproofing services to prevent flooding, mold, and mildew. Project managers evaluate each job and present homeowners with a plan that's mindful of their budget, whether mending cracks or protecting crawl spaces from dampness. While the job is in progress, a dedicated foreman keeps homeowners abreast of progress and how long it will be until basement ghouls can move back in. Each of Budget Dry's technicians trains continuously to keep abreast of new technology and evolving techniques for waterproofing and foundation repair.
800 Village Walk, Suite 266
Guilford
Connecticut
203-421-8560
Mosquito Terminators annihilates its eponymous bloodsucking pests with potent, biodegradable mists. Barrier spray spritzed from a backpack-mounted blower slays bugs on contact, destroying insects—from garden-variety mosquitoes to gnats, ticks, and biting flies—as they land on lawns and plants. Techs return every three weeks, or 1.5 mosquito years, during summer months to refresh chemical fortresses, or install automatic outdoor misting systems, which puff a low-concentration Safe Solutions insecticide into the air two to three times each day to continuously ward off winged invaders. Mosquito Terminators treats a range of spaces, from humble home lawns to larger commercial and municipal properties, such as parks, golf courses, and picnic grounds.
37 Broad St., Unit 1
Meriden
Connecticut
Cleaning Frenzy uses environmentally friendly products and techniques to skillfully lift dirt and stains from customers' carpets without tracking dingy carbon footprints through the globe's cool blue-and-green digs. Recognized by Daisy, the Shih Tzu mascot plastered to the side of its service vans, Cleaning Frenzy is skilled at removing even the most stubborn pet stains and embarrassing evidence of failed paw-painting projects. Not only does carpet cleaning have the aesthetic benefit of eliminating eyesores from the floor, it also supports a healthier living environment, terminating dirty germs, dust mites, allergens, and carpet's incessant nagging about your driving etiquette.
253 Mansfield Ave
norton
Massachusetts
US
508-622-1294
For 40 years, customers have flocked to Avon Clock & Lighting to acquire ticking and radiating accouterments for their homes, snatching up timepieces and fixtures from renowned manufacturers such as Seiko Clocks, Hinkley Lighting, and Hanover Lantern. The sprawling showroom brims with a shimmering trove of table lamps and chandeliers. Kitchen clocks calmly rotate their hands around a perfectly round face, and grandfather clocks chime stories of walking 3 miles uphill in the snow to get repaired by one of Avon's knowledgeable employees. Each of Avon Clock & Lighting's products comes with a one-year guarantee, and the accommodating staff offers free home consultations.
144 Simsbury Rd.
Avon
Connecticut
860-678-1488
The Kleening Company's crew of insured cleaning technicians have been caring for New England's homes and commercial buildings since 2008, when they began driving across Hartford to pressure wash exterior walkways, repair hardwood floors, and tidy up home appliances. The crew members methodically work their way through rooms during routine cleaning sessions, whistling as they sanitize kitchen countertops, scrub bathtubs, and shave carpets' five o'clock shadows. Aside from household cleaning and maintenance, the company's technicians and handymen can repair damage to tiles, grout, cabinets, and wooden decks.
181 Court St.
Middletown
Connecticut
860-541-0041
Without having to finish each service by muttering, "Hasta la vista, baby," and riding off on a motorcycle, the Mosquito Terminators leave a lasting impression on homeowners by liberating backyards from pesky disturbances. Armed with a natural-based solution that is safe for families and pets, the company's assassins spritz exterior spaces with treatments that kill and repel mosquitoes for up to three weeks. Barrier sprays work around the clock and, prior to outdoor gatherings such as barbecues and pool parties, hosts can utilize event sprays so guests aren't constantly swatting the air or forced to roast marshmallows over citronella candles. Misting systems are also available, and automatically dispense low concentrations of solution insecticide several times daily.
2635 E Main Rd.
Portsmouth
Rhode Island
401-293-0616
---