Things to Do in Groves
---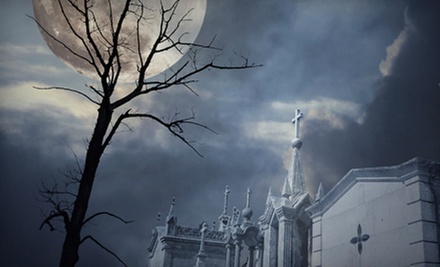 ---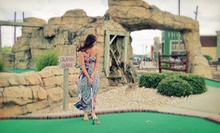 A 16 ft. waterfall and a private island surround greens on two 18-hole mini-golf courses outside, and a gaming arcade offers thrills inside
Use Monday 12:00pm - 9:00pm
---
Recommended Things to Do by Groupon Customers
---
Feet patter across three information-packed floors stacked inside the Ocean Star, a former drilling rig that spends its retirement as a museum and education center on Galveston's Pier 19. After two decades drilling in the Gulf of Mexico, the rig has since been revamped and outfitted with interactive models and displays that illustrate the story of offshore oil, gas, and the energies that lurk beneath the world's oceans. Visitors can tap into videos for explanations of drilling, geology, and seismic topics, or stand next to scale models of production platforms. In addition to its lineup of eye-popping sites, Ocean Star Offshore Drilling Rig Museum and Education Center harbors ongoing exhibits showcasing the industry's careers, history, and safety measures. Self-guided tours seven days a week enable guests to explore the rig's nooks at their own pace, while an onboard staff stands by to answer questions and courteously laugh at all petroleum-related knock-knock jokes.
2100 Harborside Dr.
Galveston
Texas
409-766-7827
The staff at Island Bicycle Company keeps its fleet of bikes, surfboards, kayaks, and cruisers ready to traverse surf or sand with the help of their in-house service department. Recently added to the store's fleet, A2B Metro electric bikes buzz along the beachfront and harbor via maps included with self-guided tour packages. Metal detectors and binoculars help beachgoers find buried treasure or spot incoming ghost ships. In addition to rentals, the store sells two-wheelers from brands such as Phat Cycles and Pearl Izumi.
1808 Seawall Blvd.
Galveston
Texas
SegCity Galveston's friendly tour guides double as segway aficionados who lead various gliding tours designed to illuminate some of the area's best examples of Gulf Coast charm. After being trained in the art of mounting, riding, and de-jockeying their mechanical steeds, guests set off on exploratory journeys such as the quintessential 30-minute Segway Experience tour, which glides along Galveston's Seawall Boulevard. Customers experience a unique way of tasting the salty breeze and taking in the lapping waves of the shore and other local sights. The upright vehicles zoom down long stretches of uninterrupted sidewalk, cruising at up to 12 miles per hour, the average speed of Olympic-level skipping.
4106 Seawall Blvd.
Galveston
Texas
409-762-2255
Seven acres of mini golf, bumper cars, paddleboats, and other attractions enthrall the young and young-at-heart at Adventure Kingdom. The park's Renaissance theme pervades 18 holes of mini golf, where colorful plaster knights joust, and a period stockade locks up players deemed criminally over par by a jury of their opponents. Fueled by gas, the bumper cars swivel and smack, and paddleboats shaped like swans gracefully float along tranquil waters. Hot days make Water Wars a must-see, as visitors hurl water balloons toward targets that trigger an onslaught of noise, splashing, and spontaneous melting.
Nearby, a log cabin built in 1932 hosts the opening scenes of birthday parties and field trips. As the birthday child tears into gifts atop a throne bordered by rich hardwood paneling, a rough-hewn wooden table sports guests' goblets and supplied tiaras. Field trippers enjoy a history lesson about Texan frontier life or about the Renaissance before racing toward free volleyball courts and horseshoes or picnic tables and tents perfect for outdoor feasts or meetings about new recess-line etiquette.
2952 Hwy. 69 S
Lumberton
Texas
As twilight falls over the battlefield, the inflatable bunkers and forts starting to fade in the darkness; the soldiers don't relent. The field's lights come on, suddenly illuminating the flat bermuda grass, and snipers continue battering their opponents. At Galveston Island Paintball, referees oversee skirmishes at two venues—the aforementioned X-ball field, which staffers reorganize on a monthly basis, or a rec-ball arena equipped with forts and spools. Catering to all levels of players, weekend drop-in sessions host a variety of action-packed scenarios as spectators watch from afar, supporting the war effort by drawing posters of old men angrily pointing at things. Outside the battles, an onsite shop equips with brand-name gear and occasional two-day clinics impart tips for safety, equipment maintenance, and playing fairly.
9020 Stewart Road
Galveston
Texas
409-795-1894
Moody Gardens Hotel is just a stone's throw away from Moody Gardens, and many of the rooms were designed to reflect the lush grounds. The Terrace Restaurant, for example, brims with colorful plants and hand-painted murals of the butterflies that can be found in the garden's Rainforest Pyramid. An indoor waterfall stocked with fish and turtles forms the centerpiece of the lobby bar. And guest rooms feature bright, tropical colors and views of Moody Garden, Galveston Bay, or the city itself.
The hotel's freeform pool is ringed by tropical foliage, including towering palm trees. There's even a swim-up bar where guests can grab a libation or play underwater darts. For more pampering, an onsite spa offers sugar and coconut oil scrubs and self-heating mud wraps that anchor a menu of indulgent treatments.
There are a number of dining options inside the hotel. AAA Four Diamond-rated Shearn's Seafood and Prime Steaks serves broiled Canadian lobster tail and the day's fresh catch drizzled in a lemon-butter sauce. Or, grab a bowl of shrimp gumbo in the more casual environs of The Terrace Restaurant.
Moody Gardens
Perched on picturesque Galveston Island, Moody Gardens possesses a storied history that complements its scenic surroundings. Its horticultural and animal-therapy programs—which began with the park's inception in 1983—pair visitors living with physical and emotional difficulties with horses and multihued flora, helping them learn coping skills and build confidence. Elsewhere on the sprawling grounds, the Moody Gardens Golf Course boasts multiple holes that run alongside the rippling waters of the Gulf and its intervening waterways, forming intimidating hazards and housing a thriving civilization of merpeople who use golf balls for currency. The park also thrills families with water attractions, including a wave pool and a lazy river. The newly restored, 10-story Rainforest Pyramid holds more than 1,000 exotic plants and animals from the Asian, African, and American rainforests.
1 Hope Blvd.
Galveston
Texas
800-582-4673
---