Grovetown, GA Outdoor Activities
---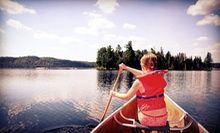 Paddlers travel the Saluda, Broad and Congaree Rivers in rented kayaks, canoes or paddleboards, passing historic ruins and swimming holes.
---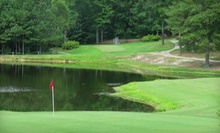 Nine ponds and more than 40 bunkers nestled among Bermuda grass fairways on 18-hole course
---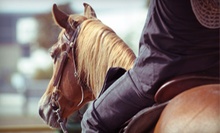 60-minute lessons instill proper horseback-riding fundamentals in disciplines of Western pleasure, English pleasure, and timed events
---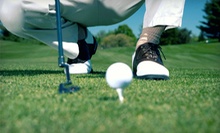 Golfers gain discounts at 14 area courses, a golf-ball stencil, and a one-year subscription to Golf Digest magazine
---
---
Recommended Outdoor Activities by Groupon Customers
---
At its two Columbia locations, Plex Indoor Sports aims to provide complete indoor recreation with artificial-turf fields, ice arenas, inflatables, basketball courts, family entertainment center, and full-service cafe. Both facilities offer after-school programs providing access to soccer, football, and lacrosse programs, ensuring that children learn the proper techniques required to work toward goals and play safely. Total-fitness classes are also available throughout the week, highlighting invigorating methods such as yoga, Zumba, and hip-hop aerobics. The Sandhills location hosts a roller-skating rink, and the Irmo location houses an NHL regulation-sized ice rink with public skate times in between hockey games and practice sessions of the local ice-fishing team.
A 30-foot rock-climbing wall towers over the Family Entertainment Center, granting visitors an elevated view of a facility packed with wall-to-wall inflatables and family activities. Visitors can roller skate, set new high scores at the arcade, or attempt to stay atop a mechanical bull. Other attractions include bungee jumping, a rock-n-roll ride, and more.
741 Fashion Dr.
Columbia
South Carolina
803-360-7300
With a passion for the great outdoors, the outfitters at Get Your Gear On provide equipment and instruction for navigating trails and waterways. While leading groups, expert guides glide through scenic locales in search of wildlife views and serene experiences. Their canoe trips drift along the warm urban areas and tree-littered landscapes that run along the Congaree River, and their stand-up-paddleboard rentals allow guests to view the banks of Lake Murray from a perspective previously exclusive to sightseeing mermen. They also offer cycling equipment and maintenance along with hiking gear for dry climates, snowy landscapes, and rooms where the sink has been left on all night.
208 Candi Ln., Suite A
Columbia
South Carolina
803-799-0999
Mankind was never meant to breathe underwater, but the instructors at Columbia Scuba defy such limitations, helping students of all sorts—from small children to disabled adults—explore the forbidden depths. As young as 8, kids can start training with PADI Bubblemaker classes, using equipment suited to their smaller size, and swimmers of all ages can join Discover Scuba sessions to learn the basics of diving in the safety of a pool. For students looking to become certified divers, open-water diving and specialty diving courses test practical skills in unique environments, such as submerged shipwrecks filled with sunken coupons, whereas trips to the Florida springs or Cozumel convey the majestic experience of communing up close with marine wildlife.
2645 Alpine Rd.
Columbia
South Carolina
803-788-9166
Designed by prolific course architect Willard Byrd, Timberlake Country Club's 18-hole course plots a 6,579-yard trail across a Lake Murray peninsula as it dips southward into the glassy waters. Picturesque views of the lake abound throughout the round—because of its proximity to the lake, the club offers free docking and shore-side pickup for those who wish to arrive by boat or seahorse—and the supersized pool's watery fingers come into play on seven holes. Rounds culminate with dramatic flair at the signature 18th hole, a 483-yard par 5 where a mid-fairway water hazard looms on the business end of a blind tee shot, raising the stakes for players who unsheathe their driver in the hopes of reaching the green in two.
Alongside the grassy course, neon yellow orbs slice through the air at Timberlake Country Club's tennis courts, where tennis pro Mark Gardiner teaches students to hit a forehand passing shot or incite an earthquake with a deafening grunt. The club also houses diverse dining facilities to curb appetites or host social events.
222 Timberlake Dr.
Chapin
South Carolina
803-345-9909
Inside South Carolina's 47 state-registered parks, visitors explore secluded forest trails, sweeping cerulean lakes, roiling saltwater surfs crashing on white beaches, and streams and rivers overgrown with thick canopies of trees. The protected areas, many of which were assembled nearly a century ago by the Civilian Conservation Corps, encompass more than 80,000 acres and span turf from the rambling Blue Ridge Mountains to the sandy Atlantic-coast beaches. Abundant activities for guests include canoeing, fishing, mountain biking, horseback riding, and accidentally startling long-forgotten lumberjacks wearing headphones.
Visitors experience colonial history up close at some parks, where registered historic homes, plantations, and landmark buildings stand preserved or in their natural state. These structures grant a glimpse into the lives of European settlers, Native Americans, and African Americans through building tours, archaeological collections, and live history demonstrations. Overnight camping is available at many parks, ranging from primitive campsites to cabins, villas, and tent sites that offer running water. Much like a scientist designing a soda-can-powered robot, park administrators follow a rigorous recycling program to ensure the preservation of the wilderness.
1591 Resort Dr.
McCormick
South Carolina
866-345-7275
Nestled several miles north of Augusta National Golf Club, the 27-hole course complex at Mount Vintage Plantation Golf Club resembles golf's most hallowed grounds in ways that extend beyond geographical proximity. Designed by Tom Jackson, the course rolls through curtains of carolina pines, speckling nearly 2,000 acres with white-sand bunkers and scenic water features that test the accuracy of every swing.
The two original nines, the Chester and the Vintage, shine with visually stunning vistas and elevation changes—on the Vintage course alone, 8 holes boast a rise or fall of 30 feet or more. Opened in 2008—eight years after its forebears—the Independent course puts water in play on all but 1 hole, testing golfers' abilities to manage high-pressure shots or skip balls close to pins.
215 Mt. Vintage Plantation Dr.
Augusta
South Carolina
---