Restaurants in Grovetown
---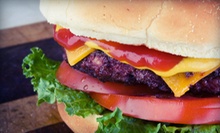 Hot breakfasts, deli-style sandwiches, and housemade soups served inside a manor that dates back to 1880
---
Cuban sandwiches, whole fried fish, garlicky mashed plantains with shrimp, and more
---
Recommended Restaurants by Groupon Customers
---
Executive chef Fulvio Valsecchi discovered cooking at a young age. The prodigy was born and raised in Lake Como, Italy, and began culinary school in Milan at the ripe age of 16. After immigrating to America in 1969, he opened the incredibly successful Ristorante Divino, a mecca for Northern Italian cuisine that won a Wine Spectator Award of Excellence eight years in a row.
On his way to and from Divino, Fulvio used to pass by a little building on Fort Jackson Boulevard. He began daydreaming about a departure from his upscale Italian roots—something more family-centric and homey. After one too many passes, Fulvio decided to let that idea stretch its legs, buy the building, and open The Diner as a hub for modern southern comfort food.
The 4,000-square-foot restaurant hosts three dining areas and a separate bar stocked with beer and wine, all of which sport a 1950s-diner theme. Vibrant wall paintings by Columbia's own Chicken Man transport diners back in time with images of cherry-red convertibles, revving motorcycles, and forlorn bicyclists. As guests admire the nostalgic decor, chefs busy themselves by assembling ingredients from local markets and crafting European-style rémoulades to accent their southern staples of fried green tomatoes, meatloaf, and Cajun shrimp.
4405 Fort Jackson Blvd.
Columbia
South Carolina
803-661-7676
Growing up in her mother's kitchen, Sharon Wright learned to cook what she believed was healthy food. But for years, she struggled with various health problems. After witnessing her father's battle with cancer, Sharon began extensively researching the causes of diseases, and discovered a wealth of information about how one's diet affects one's body. She adopted a macrobiotic diet, but found that most of her health issues persisted, and came to the conclusion that she should commit to a 100% raw diet.
With her new diet, she experienced significant weight loss, an increase in energy and mental clarity, and a newfound bond with garden-dwelling bunnies. To share her vision of "real food" with others, Wright partnered with Scott Middleton and Danny Hutto. The result was Good Life Café. There, she helms a menu of unprocessed plants foods that have not been heated above 115 degrees, creating vibrant dishes with ingredients such as cashew nacho cheese, walnut meat, and zucchini noodles.
3681 Leaphart Rd., Suite D
West Columbia
South Carolina
The color green is most commonly associated with Ireland, but at Senor O'Malley's, it pulls double duty, spilling over to complete the Mexican flag and unite two very different cultures. Amid classic pub-style decor that includes exposed brick walls, diners come together to feast on not-so-classic pub-style eats, headlined by 14 different varieties of tacos. Traditional burgers, ground and spiced fresh daily, costar on a menu that also features 12 beers on tap and pitchers of margaritas. True to its mixed theme, Senor O'Malley's draws an eclectic crowd that ranges from students and families to young professionals and retirees. As evenings progress, five flat-screen TVs glow with sports, and music accompanies rounds of suds long after the chefs have closed the kitchen and their Spanish-to-Gaelic dictionaries.
715 Harden St.
Columbia
South Carolina
803-733-5471
Jack of Malibu Jack's Surf Grill has always loved the beach. He grew up in the surf—swimming, fishing, sailing—and moved away from it only to go to school. His adult life sent him travelling for work, a time when he sought out the beaches of the world and sampled the diverse foods of the various areas he visited. From these experiences he was able to pull together a menu that features beachy foods from various cuisines, such as caribbean jerk chicken and Maine diver scallops. The Augusta location of Malibu Jack's Surf Grill boasts six big-screen TVs, which broadcast NFL games in the fall and a video feed of Poseidon scraping kelp off his party boat the rest of the year.
231 Fury's Ferry Rd., Suite 200
Augusta
Georgia
706-364-9175
When it comes to nightly entertainment, Joe's Underground Cafe fulfills plenty of pub requisites: trivia, poker, live music, and pint glasses brimming with domestic and imported beer. Although many of its dishes, such as Philly-style cheesesteaks and chicken wings, evoke classic pub grub, the cafe's culinary team doesn't limit itself. Chefs cater to more refined palates with almond-topped baked brie, whip up comfort foods such as peanut butter and jelly sandwiches filled with banana, and prepare homemade desserts.
The warm, no-frills bar sits at the bottom of hard-to-spot stairs, located beneath Augusta's SRP Federal Credit Union but still high above the city's subterranean mutant population.
144 8th St.
Augusta
Georgia
---