Restaurants in Guelph
---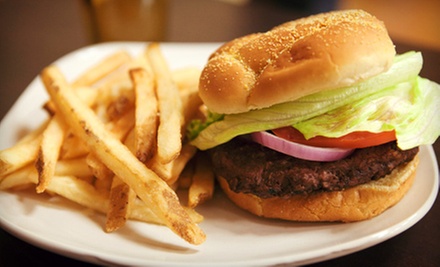 ---
Recommended Restaurants by Groupon Customers
---
Chefs at HeyDayz whip up a vast menu of delicately spiced burgers, fried seafood, and seven sauce-soaked poutine platters. The basic burger ensconces a juicy beef patty atop a fresh kaiser bun crowned with red onion and tomato, inviting hands to break from cat's-cradle competitions and hold the hefty burger in a loving embrace. For an additional fee, patrons can also invite cheddar cheese or bacon strips to mingle atop their patty. Dining companions also nosh on french fries and spoon up creamy coleslaw to smother lingering hunger pangs.
685 Richmond St.
London
Ontario
519-432-7536
The owners of Friday Knight Lights put food first in their efforts to create a complete dining experience for their guests. However, as the name suggests, their love of local sports could not be denied, so they filled their 6,050-square-foot venue with 30 big-screen TVs showing everything from London Knights hockey to soccer, baseball, basketball, and football. The sporting foodies also have designs to broadcast Knights games on a 300-square-foot screen mounted on the west wall of the seven-storey market tower facing the John Labatt Centre. Creating a soundtrack for their carefully chosen menu and sporty vibe are two baby grand pianos, whose ivories are regularly tickled by maestros eager to help them develop into adult grand pianos. To keep its patrons' whistles wet, the eatery also boasts a 74-foot bar stocked with spirits and brews to complement the burgers, wings, ribs, and steaks.
391 Richmond St.
London
Ontario
519-672-5050
After scouring markets for fresh produce, the chefs at La Bella Vita return to the kitchen to knead dough for pizzas and press it into sheets for pasta. Tender gnocchi softens quickly in pans with grilled chicken and roasted mushrooms, and the cooks spoon dollops of lemon-dill yogurt sauce onto cuts of salmon. From an oven emerge pizzas seasoned by imported flames and topped with grilled eggplant, goat cheese, roasted tomatoes, and brie. The metallic chorus of pots and busy knives drifts out into La Bella Vita's dining room, past leather chairs, and out onto a sunny patio.
1288 Commissioners Rd. W
London
Ontario
519-474-0033
Dick's Wings & Grill's spice-emphasizing franchise gathers diners around menus featuring eclectic salads, burgers, sandwiches, and wings. Chicken wings waltz across plates in batches up to 100 pieces dressed in 365 variations of 30 changing sweet and savoury sauces, six dry rub blends, and six levels of heat ranging from none to the restaurant's secret sauce. Chefs fortify certified Angus-beef burgers with toppings more varied than Charlie Chaplin's bowtie collection, and they cook all dishes using trans fat-free oils. While red walls and bright neon signs surround diners, plates pair with an array of domestic and premium beers ranging from Labatt to Alexander Keith's. The dining area's sports bar atmosphere is filled with paraphernalia such as hockey team photos, and karaoke and trivia nights allow patrons to settle disputes over the best death-metal Beethoven tribute album.
205 Don Head Village Boulevard
Richmond Hill
Ontario
905-508-3924
Working from within a historical Victorian house, the kitchen staffers at Crossing's Grill and Pub put an appropriately upscale twist on their pub food. They even gussy up traditional brunch and lunch selections with elegant flairs, topping french toast with Grand Marnier–marinated strawberries and tempering hot buffalo pork schnitzel sandwiches with honey. At dinnertime, they put away the griddle and prepare heftier entrees such as roasted muscovy duck breasts and gourmet meatloaf with chorizo.
To bolster meals, bartenders pour wine and beer from around the world, as well as craft specialty cocktails such as the Railway Caesar, with clamato juice, Russian Standard vodka, and piquant sauces garnished with a lime wedge and a cog from a steam engine. Adding to the fun, the dining room hosts live entertainment every Saturday night.
1269 Hyde Park Rd.
London
Ontario
519-472-3020
When diagnosed with a critical illness and given just two weeks to live, Myna Taylor rejected her doctor's prognosis. Declaring herself "divinely healed," she set out for England, where she proceeded to buy a wealth of Wedgewood bone china. Upon returning home, she opened Dishington's Tea Room, where she continued to defy the odds and celebrate life, family, food, and friends.
More than 30 years later, Richard and Tami DeJonge keep Myna's memory and traditions alive by serving house-made pastries and jams on the same Wedgewood plates she brought back from that first trip. "Consistency is so important," Richard claims, and the care he and Tami take in crafting each quiche or rhubarb pie speaks volumes of their dedication. Though the couple continues to brew the traditional teas that customers have come to demand over the years, they have also concocted entirely new blends of herbs, flowers, and finely shredded Jane Austen manuscripts.
Their recipes spring from a similar blend of tradition, inspiration, and whichever vegetables are in season at the farmer's market. Guests can enjoy the locally sourced fare within a cozy tearoom decorated with floral tablecloths and paintings by area artists. This coziness, Richard believes, is what keeps the tearoom's wealth of regulars coming back cup after cup.
2485 Main St.
London
Ontario
519-652-2818
---
---
Restaurant Deals - Recently Expired
---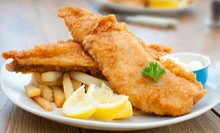 Gourmet fish and chips, panko-breaded shrimp and scallops, housemade onion rings, and poutine
---
---