Restaurants in Gurnee
---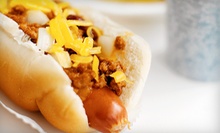 Televisions broadcast local sports as chefs prepare hearty handheld eats, including Italian beef & hot dogs, from Vienna beef products
Use Monday 4:00pm - 8:00pm
---
Recommended Restaurants by Groupon Customers
---
Lovell's of Lake Forest is co-owned by James Lovell, the NASA astronaut best remembered as the commander of the Apollo 13 space flight, and second-best remembered for playing Tom Hanks in the 1995 film, Apollo 13. Lovell's son, Jay Lovell, as co-owner and executive chef, oversees Lovell's of Lake Forest's dinner menu of steaks, seafood, sandwiches, and more. Commence consumption sequences with the fried calamari ($14) or its briny brethren, scallops ($15), before sinking fork and fang into Lovell's of Lake Forest's slate of steaks and chops. The 8-oz. filet mignon ($31) can come bacon-wrapped with cognac-veal reduction ($33), rock-crab-accompanied with asparagus and hollandaise ($37), or in other variations, while the 14-oz. Australian rack of lamb ($36), with its goat-cheese-and-Dijon crust, finds a use for sheep outside of pulling dogsleds. Other entrees include fish and chips ($18) and seared ahi tuna ($25), with desserts such as tiramisu ($9) providing a fine finale to feasting. The restaurant also serves lunch and breakfast.
915 S Waukegan Rd.
Lake Forest
Illinois
Eclectic ingredients, including eel and mint leaf, fill more than 30 maki rolls and helped earn Wildfish a spot on Gayot's list of the 10 best Chicago sushi restaurants in 2012. One roll pairs spicy salmon, fried tuna, and pico de gallo, and another mixes spicy mayo and sweet soy sauce with Alaskan king crab and a splash of Bacardi 151. Filet mignon and lobster sizzle in the tropical-hued dining room with walls of red, green, and gold and bamboo that sways against the ceiling. Glasses of imported Japanese beer and sake clink together in high-backed booths that offer privacy during dates and meals out with a parrot that only knows how to say your medical records.
730 Waukegan Rd.
Deerfield
Illinois
847-317-9453
The epicurean alchemists at That Little Mexican Cafe craft authentic Mexican fare that tickles taste buds with balanced spices and the restaurant's unique blend of fresh salsa. Ingredients from local markets and intergalactic foodie conventions wend their way into tortillas enveloping seafood and meat. Dining-room booths and tables oppose a ceiling adorned with bright decorations, and margarita glasses rise in toasts to the cacti and parrots that peer down from framed wall art.
2014 1st St.
Highland Park
Illinois
847-266-1411
When Isaac and Moishe Nava decided to open a Mexican restaurant, they flew in their mother, Florencia, all the way from their hometown of Huitzuco, just south of Mexico City. She brought her time-tested recipes with her so she could tutor Isaac and Moishe in preparing authentic dishes such as skirt steak and whole red snapper. Today, the Navas continue serving Florencia's dishes while also evolving their menu through ongoing experimentation and studying which dishes guests like most. To further demonstrate their commitment to their family and heritage, Isaac and Moishe opened a grocery store in Highwood, honoring their father's and grandfather's careers as grocers and famous avocado jugglers. The store supplies most of the restaurants' produce, meat, and fish, keeping the stock at optimal freshness.
431 Temple Avenue
Highland Park
Illinois
---