Things to Do in Gurnee
---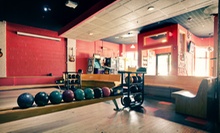 Clattering pins echo against the sound of live bands on weekends in an alley equipped with automatic scoring and pool tables
Use Today 12:00pm - 11:45pm
---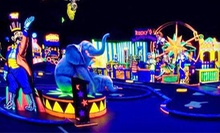 Pizza dinners fuel raucous jaunts around a glow-in-the-dark mini golf course with 18 holes constructed in carnival & midway themes
Use Monday 12:00pm - 8:00pm
---
Recommended Things to Do by Groupon Customers
---
Refreshing zephyrs glide off freshwater lochs and onto SkipperBud's, an all-purpose marina with 20 family-owned locations peppered throughout the idyllic Midwest. New and used boats bearing high-end brands from Starcraft and Crestliner bob beside the sprawling facilities, where savvy salespeople bring decades of know-how to the 40-year-old company. Engine parts, safety tackle, and watersports equipment are also on hand, as are adept boat mechanics trained to tinker on most boat models, engine types, and jet-ski-hoverboard hybrids. Indoor storage facilities fend off the icy barks of Old Man Winter, and, in the summer, make for easy access to the local lakes via state-maintained launch points. Frothy whitecaps welcome the occasional captain-led cruise, as well as boating classes that cover safety, maintenance, and which mermaids aren't who they say they are.
215 North Point Dr.
Winthrop Harbor
Illinois
847-872-3200
Sam Elias knows that being cooped up during long winter days can make people stir-crazy. So in 1993, after moving from Florida, land of palm trees and beaches, to Chicago, land of frigid winds and gray slush, he founded WhirlyBall as a way for people to release pent-up energy even as snow was falling outside. During each competitive WhirlyBall game, which combines aspects of basketball, hockey, and jai alai, players zoom across an indoor 50'x80' court in motorized cars called WhirlyBugs. They wield plastic scoops to toss a wiffle ball back and forth to their teammates before throwing the ball through an elevated goal. Refs keep watch during the games, eliminating score arguments that would otherwise end in sunrise duels. To fuel up for a bout, players nibble teriyaki chicken satay, gourmet pizzas, and prime rib, and swig draft beers, which vary by location.
All three WhirlyBall spots boast off-court diversions such as video games, pool tables, foosball, and air hockey. The Vernon Hills location hosts an indoor rock-climbing wall, and both the Chicago and Vernon Hills locations invite guests into multilevel Lasertron laser-tag arenas, which fill with fog and flashing lights as combatants duck, aim, and invoke Geneva Convention protocols regarding armed conflict.
285 Center Dr.
Vernon Hills
Illinois
US
Par-King Skill Golf has been churning out rounds of family-friendly fun for the Chicagoland area since the 1950s. With two separate 18-hole courses, six water challenges, twelve moving obstacles, numerous curbs, and surprising elevation changes, Par-King is a step up from the flat mini-greens of yesteryear, and 3 club-lengths more entertaining than the regulation-sized greens of normal-sized golf. Play a full 18 holes as you gape and gander at twirling clowns, roller-coaster ramps in the vein of Rube Goldberg, elaborately-painted totem poles, and recreations of famous landmarks such as Mt. Rushmore and the Sears Tower. This colorful landscape of golf-based adventure is refurbished and repainted every winter to provide a consistently-beautiful, clean, and safe experience during April to October operations. Although the park is family-oriented, they maintain a stout 48-inch height requirement to play or playact in the playing area; this is enforced purely with safety in mind, as the challenging course terrain may prove hazardous to the diminutive.
21711 N Milwaukee Ave.
Lincolnshire
Illinois
---