Guttenberg, NJ Beauty and Salons
---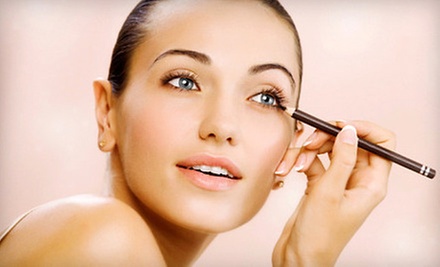 ---
Recommended Beauty by Groupon Customers
---
In an Aveda-concept epicenter, Le Posh Hair Salon's London-trained stylists wield beauty products composed of chiefly organic and botanically based ingredients. Tress cuts and colors occupy a succinct salon menu, sharing space with indulgent Aveda-forged therapies such as scalp and conditioning treatments. The salon's bright white environs—offset by aqua-tinted glass and asymmetrical mirrors—invoke the futuristic vibe of a space station, with its occupants ready to modernize outdated coifs for the 21st century and imminent moon vacations.
2286 Broadway
New York
New York
US
212-799-1931
The Esthetics Resource founder, Vicky Gomez, wants to help people uncover their most beautiful selves with a menu of skin, massage, and body-slimming services. Vicky's team of trained and licensed aestheticians uses fat-busting devices such as the Dermosonic cellulite machine and the SlimLine Pod, both of which have been featured on The Doctors for their silhouette-slimming powers. Massage therapists jump start the body's detoxification process and lymphatic drainage with artful kneading, and facial treatments target skin problems such as acne, fine lines, age spots, and stains from childhood Kool-Aid mustaches.
30 Central Park S, Suite 1CD
Manhattan
New York
US
855-263-9411
The artists at Signature Shave Salon wield razors instead of paintbrushes, sculpt sideburns instead of clay, and turn out handlebar or Van Dyke 'staches instead of still lifes. To cater to both low- and high-maintenance customers the barbers offer three levels of shaves—regular for a quick job, signature for in-depth treatment with conditioner and heated shaving cream, and royal for deposed kings who now must shave among the commoners.
1026 Sixth Avenue
New York
New York
212-354-0083
House of Hair owner Lisa Duprey and her team of beauty specialists greet women, men, and children with open arms and complimentary consultations before they polish exteriors with skin, hair, massage, and nail treatments. Stylists specialized in ethnic tresses craft precision cuts, add color, and affix hair extensions to natural strands with budge-proof weave techniques. Meanwhile, skin experts armed with Aveda products customize the botanical-based elixirs to complement specific skin types during six facial treatments. For long-term beauty enhancement, lash extensions fill out the eyelid's preexisting tendrils for weeks of lush blinks, and permanent-makeup artists tattoo colorful ink on the eyes, lips, and lids to help define features and keep clients from being trailed by motherless marble busts.
615 Washington Ave.
Brooklyn
New York
718-783-7940
The specialists at Aesthetic Haven Skin & Laser Clinic harness cutting-edge technology to target wrinkles, blemishes, and other issues on all skin types. Specialists use the results of an initial consultation to customize an array of services—such as laser hair removal, microdermabrasion, chemical peels, and spider vein treatments—to each client's unique skin type. Aesthetic Haven's techs also treat men who want to improve their skin texture, reduce the signs of aging, or challenge the Brawny man to a rugged-handsomeness contest.
1270 Broadway, Suite 411
Manhattan
New York
646-688-2745
Named one of New York City's 10 Best Nail Salons in 2010, Trevi Nails employs a crew of talented technicians who pamper hands and feet before polishing nails with Essie and OPI polishes. Behind 17 nail stations, which span two floors, staffers soften skin with paraffin dips, scrubs, and other personalized treatments, and aestheticians whisk away unwanted hair with face- and body-waxing services and artfully frame peepers with eyelash extensions. Customized massages with soothing lemon-infused products from Lemon Tree relax neck muscles sore from training mink to sit still on your shoulders.
2016 Broadway
Manhattan
New York
212-682-6844
---