Things to Do in Hackensack
---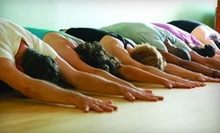 Use Thursday 7:00am - 10:00am
---
Recommended Things to Do by Groupon Customers
---
Timothy Haskell is no stranger to scaring folks: The Daily Beast considers his Nightmare series "one of the most frightening haunted-house productions in New York City." But when he teamed up with haunted-house vet Steve Kopelman, Timothy didn't want to keep populating creepy corridors with imaginary ghouls. At Nightmare: Killers, the duo tap into the true terror inspired by historical and contemporary serial killers to explore the monstrosity of their actions and the celebrity and cultural obsession surrounding them. The New York Times lauds the attraction as "a taut, assured production that knows exactly what it wants to do (scare the hell out of you) and performs its task with ruthless, coldblooded precision."
In the lobby, a gallery of artwork, memorabilia, and items from or about famous serial killers primes guests on the haunted attraction's theme and provides a glimpse into the warped minds of the killers in question. At the front of the line, personnel can mark any willing visitor's forehead with an optional scarlet X, which will grant the actors permission to interact with those victims for the next petrifying 20–25 minutes. Inside the haunt, rooms depict scenes based on Ted Bundy and the Zodiac killer, with the occasional cameo from pop culture's most fearsome fictional figures. To heighten heart rates even more, visitors will also have to navigate twists and turns, fog, and uneven footing as they desperately try to avoid becoming each psychopath's latest victim.
623 Broadway
New York
New York
Helmed by a team of passionate climbing coaches, both of The Gravity Vault's locations surround climbers with more than 13,000 square feet of climbing space. Walls tower past 35 feet, mimicking such natural rock formations as overhangs, keyhole arches, and slabs, and bouldering areas challenge climbers with a latticework of problems that—unlike most of life's—can't simply be solved with dynamite and a pair of roller skates. Visitors can choose from up to 60 top-rope stations, trusting either the trained staff or a certified fellow climber to man the ropes while they scramble to the summit. When not dangling from a hold or saving lost kittens from a rappel ledge, members can bulk up in the cardiovascular-training area.
107 Pleasant Ave.
Upper Saddle River
New Jersey
201-934-7625
Located inside the Poughkeepsie Galleria, Vendetta Paintball and Laser Combat challenges players to technologically advanced games of laser tag and paintball on a 22,000-square-foot indoor field. Designed to mimic live-action games of Call of Duty or Halo, Battlefield Live laser tag manufactures adrenaline with real-time hit feedback, realistic special effects, and equipment that can simulate 69 different weapons, ranging from AK-47s to banana-cream pies. The facility's professional-grade indoor PSP paintball field lets gamers improve their hand-eye coordination while simultaneously turning rivals into walking tie-dyed targets.
3466 Palisades Center Dr.
West Nyack
New York
BumbleBee Tennis's wide spectrum of tennis programs for juniors and adults nurture players at every step of game development. Skilled instructors helm a variety of lessons from Intro to Tennis classes to private one-on-one intensives. All teachers are trained professionals and most have played competitively at the collegiate level. While helping students focus on technique and making solid contact with the ball, instructors also attempt to ensure that everyone from youngsters to veterans enjoys the game and knows which racket string corresponds with which guitar chord. Adults interested more specifically in the cardiovascular aspect of the game can enroll in Cardio Tennis, a 60-minute class comprised of high-intensity drills and games that elevate heart rates into the aerobic zone and subsequently evaporate calories.
116 W 11 St.
New York
New York
347-284-6061
The phosphorescent, indoor landscape at Monster Mini Golf immerses putters in an eerie universe that inverts the sun-soaked cheer of conventional courses. Rimmed in glowing green barriers, 18 holes lure swingers of all sizes to challenge their coordination and resolve in the face of winged monsters, scowling animated trees, a creepy clown, and their opponents' shockingly dazzling smiles. Sheltered from searing rain and howling wind, the indoor course enables play around hazards such as a spell well and luminous, ghostly windmill at any time of the year. An in-house radio station and DJ mask the sound of pounding hearts with lively beats and course commentary, and golfers looking for additional glory can win prizes by participating in regular contests or at the onsite arcade (arcade games not covered by this Groupon).
194 US 46 East
Fairfield
New Jersey
Since 1986, Brian Lutz has taught a panoply of tennis players how to improve their game and savor the sport's social aspect. Over time, he honed his teaching techniques and eventually devised his own tennis curriculum. In 2003, that curriculum inspired him to launch TennisTip, a program where experienced instructors help adults and teens improve their tennis game through self-discovery and fundamental skills.
TennisTip instructors work to provide hands-off guidance and gentle inspiration, letting students discover their best game through strategic practice. Combined with tennis-specific cardio exercises and an emphasis on social bonding, the regimen seeks to form independent, effective, and affable players out of every student. Since first starting up in the Big Apple, TennisTip has expanded to a second location, where pros instill students with courtside skills amid the warm Miami sun and attentive pelican ball boys.
Lexington Ave. & E 68th St.
Manhattan
New York
866-983-6647
---