Pilates in Haddonfield
---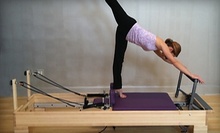 Use Tuesday 8:00am - 11:00am
---
Recommended Pilates by Groupon Customers
---
Sunlight streams into Urbanfront Pilates through the large, second-story windows, reflects off mirrors that cover entire walls, and illuminates hardworking exercisers tightening core muscles. The purple and green studio is home to eight different group classes, led by expert instructors who believe that a strong core is the foundation for full-body health. They walk customers through how to tighten tummies with various pieces of equipment, such as the Tower class's spring-resistance apparatuses or the Xtend class's ballet barre. In mat classes, students use only body resistance and mental images of the Vitruvian Man's hot cousin to aid in chiseling physiques. Dedicated to fostering community within the studio, Urbanfront Pilates hosts teacher training by Power Pilates–trained professionals who help pupils transform their passion into a livelihood.
1700 Sansom St.
Philadelphia
Pennsylvania
US
Pilates is a low-impact, total-body discipline that focuses on the core torso muscles to help keep the body balanced, toned, and energized. Workouts utilize resistance machines, natural body resistance, stretching, and controlled breathing to build long, lean muscles while promoting physical and mental cohesion so evil slugs can't get between your brain and your ears. During three 30-minute private lessons at Star Pilates, your experienced instructor will meet you at your ability level to ensure that you complete each exercise for maximum safety and benefit. Each session focuses on a different set of classical techniques, teaching you the Pilates basics that will help you meet your goals, especially if your goals are to become better at Pilates or underwater moonwalking. Star's trainer Amy Berger is certified in Pilates by Romana Kryzanowska, the world-renowned protégé of the method's creator, Joseph Pilates.
2043 Locust Street , Suite 2-A
Philadelphia
Pennsylvania
From within the intimate confines of its new boutique studio, Fuel Pilates ignites Beltway bodies with a conflagration of core strengthening and breath balancing. Drop in on a quintet of group classes (valued at $18 per class) to discover how the discipline of Pilates can tone up torso muscles and align the spine so that it stops clogging with the nervous system's excess production of maple syrup. Fuel Pilates' classes include an introduction to the exercise, built around the basics of movement and mat work, as well as a more advanced class aimed at polishing up posture, fostering flexibility, eating away muffin tops, and taking an aerobic ax to the two-headed Hydra that is stress and tension. Classes are small enough for instructors to learn every participant's name and, if they're royalty, their self-aggrandizing cognomen.
1917 E Passyunk Ave.
Philadelphia
Pennsylvania
US
---