Halifax Health and Fitness
---
Recommended Health & Fitness by Groupon Customers
---
Since its inception in 1992, Curves has been specifically designed with women in mind. Founders Gary and Diane Heavin set out to create a supportive, encouraging atmosphere in which women could get in shape without feeling self-conscious. Their unofficial motto, "no makeup, no men, no mirrors," is now repeated at nearly 10,000 locations in more than 85 countries, helping women of all ages and fitness levels reach their health goals. To cater to the all-female client base, their equipment and specialized workouts are built to enhance the feminine physique.
Their classic 30-minute workout is designed to work the entire body. As ladies move from station to station, they complete a circuit-style workout that intersperses weight training with cardio sessions designed to maintain heart rate. Most of the 13 machines are double positive, which means they work two opposing muscle groups with a single movement—simultaneously toning the abs and back, or the chest and vestigial tail. Each machine also supports the CurvesSmart system, which tracks each patron's individual progress. Before getting started, clients receive a card with their personal fitness information embedded within. When the card is inserted into a machine, a green light lets them know that they're working at the correct intensity level. As muscles get stronger, the workouts get tougher, and at the end of each session, a progress report lists details on muscle strength and the number of calories burned.
109 Main St.
Dartmouth
Nova Scotia
902-433-2007
During an interview with Halifax magazine, Kristin Johnston stressed the value of her yoga studio's lounge as a discussion space. "It's so important that people talk about their experiences in the hot room," she said, adding that, "We all struggle with something in that room and it is essential to have a space where people feel comfortable in sharing their experiences." The lounge helps people do just that. It's a place where beginners and returning yogis alike gather around a two-sided fireplace to mingle after stress-relieving 90-minute classes.
Kristin wasn't devoted to Bikram yoga and the spirit of community it engenders when she first began attending classes—it was only after completing a 30-day challenge that she decided to centre her career on the intensive art. Now, she happily leads others through the 26 postures and two breathing exercises that were selected by Bikram Choudhury to gradually stretch each body part. According to Bikram's philosophy, the sequence should be conducted in a room heated between 32 and 45 degrees Celsius, the ideal temperature for loosening and detoxifying muscles and cooking an egg on your abs. As guests segue from one pose to the next, they test their stamina in pursuit of benefits such as improved balance and flexibility.
1567 Grafton St.
Halifax
Nova Scotia
902-444-7660
Reopened in 2011 after a two-year hiatus, Briarwood Golf Club's 18-hole executive course invites clubbers to an abridged layout stationed in the heart of a vibrant ecosystem. Briarwood's shorter links make an ideal training ground for casual golfers; aces can loop the verdant grounds to shore up their short game or fulfill their mission to graze on the grasses of all the world's courses. Each fairway plays into immaculate, revitalized greens, which were reseeded before 2011 and should be growing out of their brambly adolescence and into smooth, pimple-free adulthood in their second consecutive season of usage. A burbling river runs throughout the course, and cool breezes gain momentum on a course-side lake before swooping through the towering tree lines and tickling the collared necks of Briarwood's birdie-hunting guests.
647 Herring Cove Rd.
Halifax
Nova Scotia
902-440-2363
Gentle light filters through sheer drapes, casting a warm glow on the blond wood floors of the empty yoga studio. It's dawn in Dartmouth and, for the moment, the halls of All Yoga stand in contemplative silence. Soon, the first classes of the day will arrive, breaking the stillness that now pervades the studio's every corner. But the quiet always leaves something behind. As students flex and stretch their way through the day's yoga sessions, they will each unconsciously internalize the same kind of balancing energy that powered that morning's peaceful scene. Whether they quiet aching muscles with back care sessions, build strength and balance with slow flow yoga's vinyasa poses, or dissolve stress in the flickering glow of candlelight yoga, students bring their bodies and minds into harmony with the world around them. Like the quiet that fills countless unseen rooms in the moments before the world wakes up, they reach deep within themselves, finding strength and clarity along the way.
230-250 Baker Dr.
Dartmouth
Nova Scotia
902-407-4325
---
---
Health & Fitness Deals - Recently Expired
---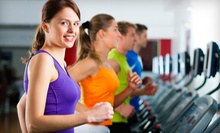 A circuit-style workout in a welcoming group environment can be enhanced with a computerized system that personalizes intensity
---
---