Hallandale Beach, FL Spa and Massage
---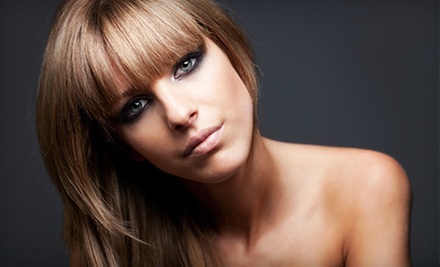 ---
Recommended Spa & Massage by Groupon Customers
---
Paradise Massages & Spa's therapists combine tailored massage strokes with essential oils that evoke the relaxing scents of the tropics. During lomilomi massages inspired by Hawaii's own holistic healing traditions, they use their hands, forearms, and elbows to rhythmically soothe muscles. Another island-inspired treatment, the hot-lava massage, employs heated stones to stimulate circulation and ease the daily stresses of living inside an active volcano. The staff's expertise extends beyond sore backs and shoulders; their customized facials, for example, open pores with a blast of soothing steam before moisturizing skin with a healing mask and relaxing frown lines with a facial massage.
9853 Pines Blvd.
Pembroke Pines
Florida
US
954-538-1577
The owner and head therapist of Massage Works of South Florida has worked at both resorts and rehabilitation centers, earning her a diversified resume as well as a deep understanding of how to blend corrective bodywork with relaxing rituals such as using essential oils or humming a medley of rainforest sounds. While she holds certifications in more than 10 distinct modalities—including lymphatic drainage, sports massage, and stretch therapies—she knows the most effective massages to heal bodies' aches and pains using one of her many services.
1975 E Sunrise Blvd., Suite 533
Ft. Lauderdale
Florida
954-600-7246
More than a spa, Body & Soul Retreat strikes down malady at its stressy source, setting its sights on systematically improving the immune system through specific body therapies. For instance, lymphatic massage purges toxins from the body alongside a heaping helping of pampering during Ayervedic healing sessions that enlist oils, herbal powers, and deep strokes that simulate blood circulation. A duo of massage therapists tandem-attack aches and pains during the Four Hands Escape treatment, chasing down splinter cells of knots and the moles that so often evade therapists armed with novelty mallets.
Beyond their impressive bodywork skills, which also include cranio-sacral, reflexology, and neuromuscular techniques, Body & Soul's practitioners also tend to rough, cracked skin with sugar scrubs or salt glows laced with lavender, citrus, or mixed berry, and groom fingers and toes during aromatherapy manicures and pedicures. For communal unwinding, guests can rustle up a cadre of friends for one of Body & Soul's spa parties.
1225 N University Dr.
Coral Springs
Florida
954-796-0005
Conveniently situated in a new facility near 5th Avenue in Midtown Manhattan, iDo Holistic Center bolsters patient wellness with an ozonated environment and their house specialty, Japanese shiatsu. Also termed acupressure, shiatsu massages apply manual pressure to key surface points tied to the central nervous system, fostering harmony within the body. Before each shiatsu treatment, therapists empirically examine patients' appearances, odors, and bodily sounds for signs of disharmony, such as stomach gurgles that mimic blues guitar. Gentle Swedish and more intense deep-tissue massages complete the kneading offerings, which can soothe individuals or relax duos in romantic couples rooms. Staffers can augment massages with treatments such as Japanese acupuncture, which uses finer and gentler needles than its mainstream Chinese cousin, and reiki, which aligns body and mind with healing energy. The onsite herbal sauna, perfumed by Japanese herbs, glows with infrared light as it helps boost oxygen flow by dilating inhabitants' blood vessels.
1590 NE 162nd St., Suite 400
North Miami Beach
Florida
US
Relaxation commences within seconds of stepping through the doors of New Image New Life Spa. Padded wicker chairs and colorful throw pillows invite guests to unwind as they await facials, bodywork sessions, or waxing among a full menu of services. Inside private treatment rooms, flowers and earth-tone walls summon nature's power to calm and comfort. Among the spa's specialties, a lineup of soothing massages includes hot-stone therapy, whose gentle pressure and penetrating warmth assuages aches and helps detoxify muscles, and shiatsu, a Japanese technique designed to liberate trapped energy through gentle manipulation of acupressure points. 
The spa's owner, Ruth Cula, also specializes in permanent-makeup application and European techniques for brightening skin, which she has honed over more than 28 years working one-on-one with clients. One standout is her oxygen therapy, which stimulates cellular renewal and helps make a complexion glow like a hunk of magma at its first dance. During microdermabrasion treatments, Ruth uses a diamond-point instrument to exfoliate dead skin cells, resulting in the minimization of fine lines. Ruth also continues to add to her suite of modern treatments by continuing to earn certificates and training in emerging skin therapies.
18790 W Dixie Hwy.
Aventura
Florida
305-957-0950
At BMS Therapy, muscle tension gives in to the rehearsed hands of licensed massage therapists, who treat their clients to aromatherapy, sports, and neuromuscular bodywork treatments. The staff also uses radiofrequency devices on the face and body in order to defeat acne, fine lines, and fat. Like the bullhorn that first blared messages across the Atlantic, the staff makes communication easy, as they speak both English and Spanish.
4811 NW 79th Ave., Suite 3
Doral
Florida
305-381-5474
---