Haltom City Automotive
---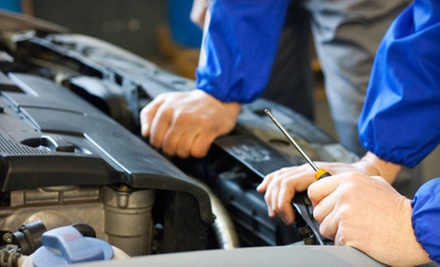 Beach Street Commercial Park
---
Recommended Automotive by Groupon Customers
---
Spring brings budding flowers and an angry sun that, with beaming mockery, exposes imperfections on your ride's exterior. Heritage's full-service car wash will get the nooks and undercarriage of your motor-drawn carriage cleansed of accumulated gunk from asphalt-hunting season. Heritage Car Wash's bubble blasters and sudsicles will first scrub away the bird turds that have amassed in your land-train's armor and underbody. The wheels will be cleaned and the tires shined. Finally, a thorough triple polish, clear-coat protectant, and rust inhibitor will leave nothing but your glossy reflection in your ride's shimmering shine. Unlike a baby, a car won't cry or call child services if you don't clean it after it soiled itself, but, like a carefully tended baby, a well-maintained car won't disappoint you in its teenage years. Pamper your metal loved one at Heritage Car Wash. Once your car emerges with a sparkling veneer and a rust-inhibiting lollipop, you won't mind driving it to weddings, fancy dinners, or the inside of a bar of soap. Heritage Car Wash can accommodate larger vehicles.
205 Bedford Rd.
Bedford
Texas
Though window tinting was Alta Mere's primary service when it first opened in 1987, the business has since emerged as a nationwide authority on a gamut of automotive-electronics services. At each independently owned outpost, a skilled staff of technicians uses computers to cut and tailor window films to fit snugly against glass, thereby preventing hot temperatures and an influx of curious tourists from reaching automotive interiors. Additionally, installers elevate vehicular creature comforts with audio and video entertainment, security systems, remote starters, and GPS navigation technology.
7653 Blvd. 26, Suite B
North Richland Hills
Texas
817-656-0111
Texas Toyota of Grapevine boasts an inventory of new Toyotas and used vehicles, sold and tended to at the dealership. Under the new management of Chris Grady, the business helps road-ready customers buy cars in two hours, and experienced technicians and a parts-and-service staff keep cars as healthy as a newborn Flintstones vitamin.
801 State Hwy. 114 E
Grapevine
Texas
817-259-1493
On the Spot Hand Car Wash dispenses its thorough detailing services within state-of-the-art bays as well as from a mobile unit van, which carts car-wash supplies such as waxes and soaps to customers' locations. The technicians meticulously polish every inch of vehicles of all sizes to create a lustrous shine that attracts envious glances and vain inchworms.
2905 E Arkansas Ln.
Grand Prarie
Texas
US
214-444-8837
True to its name, On the Spot Detailing—in addition to having an actual location—provides mobile detailing. On the Spot dispatches fully equipped teams to various locations to provide quick and professional car-cleaning services. They perform full detailing—removing bugs and tar, degreasing doorjambs, and cleaning up any mummies resting in the trunk—or quick washes with microfiber mitts and streak-defying chamois cloths.
2905 E Arkansas Lane
Grand Prarie
Texas
US
214-444-8837
Lawman Auto Shine apprehends vehicular grime under the trained eyes of its owner, who served the community as a police officer for more than 20 years. With those analytical credentials ingrained into its mold, the company tracks down dirt with care and attention, making sure to outline each smudge or stain in chalk before scrubbing away the entire scene. They do so using an eco-friendly, waterless process, which gets called upon during basic hand washes or during full detailing services for both cars and SUVs. When they're not buffing rides, Lawman's staff can install snazzy extras, including car stereos and LED lighting.
1100 W Harris Rd.
Arlington
Texas
817-412-3241
---