Beauty & Spas in Haltom City
---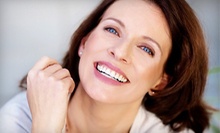 Use Tuesday 10:00am - 4:00pm
---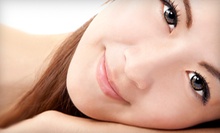 Use Tuesday 10:00am - 3:00pm
---
Recommended Beauty & Spas by Groupon Customers
---
The Sarum Room, founded by registered nurse Chantal Ward, employs state-of-the-art laser technology to dramatically reduce body-hair growth in its patients. Using the virtually pain-free Soprano XL laser hair-removal system, The Sarum Room's staff of skilled hair hunters will remove a chinchilla-colony's worth of body hair from select epidermal regions. The laser—actually just pulsating light—heats up melanin contained within the hair, stunting hair growth. With the three laser hair-removal treatments offered with this deal, you'll be well on your way to wearing a sleeveless tuxedo without fear of underarm hair-prompted mocking, or you can take to the beach with a follicle-foiled bikini line, allowing for all eyes to only be on your totally sweet facial tattoo.
2717 East Southlake Blvd. # 160
Southlake
Texas
USA
NuYu Teeth Whitening's range of dental gels whitens teeth in spas or the comfort of one's home. Both their take-home and in-office solutions use silicone mouth trays, which comfortably hold whitening gel snugly against teeth as they coax out stains. Their take-home whitening kits come in three varieties: a standard set with peroxide gel, an extra-strength kit designed specifically for tobacco stains, and an organic pack that preempts peroxide with an eco-friendly formula that leaves teeth so dazzling, global-warming rays are reflected right back into space.
8725 Davis Boulevard
Keller
Texas
888-492-1115
The board-certified physicians at The Vein Clinic of Temecula Valley want to see more skin. They notice that patients with varicose and spider veins often hide the purple and red squiggles with longer clothes, thicker makeup, or hot-dog costumes. To restore clients' confidence, the physicians address veins with services including tried-and-true injections and advanced laser treatments. Surface laser treatments deftly fade red spider veins and red freckles without breaking the skin or incurring patient downtime.
The technicians demonstrate their dedication to patients by creating a pleasant experience that continues beyond the initial treatment. During each varicose-vein treatment or PRP skin-rejuvenation treatment, the staff play the client's choice of music. After varicose-vein treatments, unsightly red bumps often develop. Rather than letting these heal on their own—which may take weeks—the staff invite patients back for a complimentary treatment to banish these bumps, leaving legs as smooth as an oiled bald cap.
2717 East Southlake Blvd. # 160
Southlake
Texas
USA
972-513-3107
The business acumen of Radiant Skin Clinic's medical aesthetician has been noted by the Globe and Mail, and she has appeared on the Global Regina Morning Show to discuss summer skincare practices, which most dermatologists agree is even more necessary for beautiful skin than sleeping face-down in a bowl of goat's milk.
The team of dedicated medical professionals at Radiant Skin Clinic employs laser technology to execute a wide array of appearance enhancing services. Photofacial treatments use beams of light to tighten visages, whereas fractional laser skin resurfacing allays wrinkles and blotches, leaving behind smoothly repaved swaths of dermis. The clinic eradicates sagging with Botox injections and helps patrons work toward slimmer silhouettes with VelaShape contouring treatments. IllumniWave laser hair rejuvenation invites fuzz to grow faster than a baby cheetah fed with only multi-grain cheerios, and those who would rather bid hair adieu can enlist long-lasting laser hair-removal treatments.
151 N Nolen Dr.
Southlake
Texas
US
Straw-hued walls and weathered metal accents give an earthy feel to the treatment rooms that ensconce Southlake Skin Care Studio's clients, who linger beneath a velvet throw during treatments. Nestled within the Suite Escapes Salon complex, Julie Williams deep cleanses skin with European-style facials fortified with vitamins and plant-derived serums. Peels ranging in potency and hard and soft wax arm aesthetes for procedures, and the scents of hibiscus, pumpkin, and berries drift from products, raising fond memories of growing up in a cornucopia.
2717 E Southlake Boulvard, Suite 2
Southlake
Texas
817-705-6046
Located inside the office of board-certified plastic surgeon Scott E. Kasden, M.D., F.A.C.S., Southlake Complete Skin Care combines the comfort of a spa with the training and technology of a medical office. Under Dr. Kasden's supervision, an experienced medical aesthetician performs skincare treatments, such as facials and peels, using products by Obagi Medical and glo. The team uses NuFace microcurrent facial-toning devices to address skin laxity on the jawline, cheeks, or brows and a laser system to remove unwanted hair from legs, bikini lines, or silk cravats.
1422 Main St., Suite 274
Southlake
Texas
817-416-9980
---