Things to Do in Hammond
---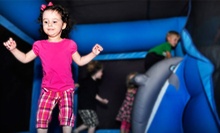 Kids dash through inflatable play structures, leap freely around bounce houses, and zoom down slides
---
Recommended Things to Do by Groupon Customers
---
Spanish moss drops from the branches of Afton Villa Gardens's 250 live oaks, brushing the shoulders of Apollo, Diana, and other faded statues of Greek gods. The vitality of the greenery stands in stark contrast to the remnants of past grandeur dotting the landscape. A Gothic Revival mansion stood in the center of Afton Villa Gardens 130 years ago, but crumbled in a 1963 fire. But signs of the estate remain: classical statues carved from Italian stone dot the 250 acres of fertile land, and the mansion's brick foundation now supports English wallflowers, wild ferns, and exotic Post-it notes.
As the newest residents and caretakers, the Trimble family pays homage to the past not only by preserving the ruins, but by nurturing plants typical to 19th-century southern gardens and West Feliciana parish. Camellias and sweet olive border a formal boxwood parterre, and honeysuckle and silverbell compete for the affections of bumblebees beneath cherry trees. Visitors are welcome to tote along food and beverages to savor a picnic lunch on the idyllic grounds.
9047 US Hwy. 61
St. Francisville
Louisiana
225-721-2269
As dusk descends on an isolated bayou, a horde of zombies emerges from fetid swamp waters—their low moans drifting through the humid night air. They smell flesh. Five hopelessly lost travelers have wandered off-road into their domain, and now they must scramble to escape the approaching onslaught.
This spine-tingling scene hails from one of three harrowing vignettes set against the backdrop of Louisiana's shadowy swamplands and fog-laced backwoods that make up the titular The Dark Tales of El Diablo—the half-eaten brainchild of independent filmmaker Spencer Lee. Throughout the film, failed horror writer Charlie—played by Dr. Quinn, Medicine Woman alum Chad Allen—turns to an unholy muse to revive his middling career, summoning the demon Diablo and forcing him to share the three demented fables. But as Charlie listens to the tales intertwine, he soon discovers Diablo's true intention—to escape into the outside world.
2105 Chartres St.
New Orleans
Louisiana
504-756-6104
Copper Mill Golf Club fuses the traditional design of a links-style layout with the swaying native grasses and scenic wetlands of the Cypress Bayou for a 6,866-yard course lauded by Golf Digest as one of Louisiana's top 10 golf destinations. Each hole showcases a colorful moniker that forecasts its unique challenges, such as the high-risk, high-reward second shot at "Wise Man's Folly," the precariously elevated green at "Cliffs of Despair," or the caddy-eating Cyclops that stalks the 632-yard trail at "Odyssey." The cool shade of centuries-old oak trees blankets golfers as they encounter memorable shots throughout the round, including the concealed green at the par-3 sixth hole and the rustic mill ruins that hug the left side of the 17th hole.
After rounds, clubbers can head to the Palmetto Grill, which serves a menu of steaks and seafood. The semiprivate club also encompasses two lighted tennis courts, a resort-style pool, and a spray park, where youngsters and thirsty golf carts frolic through miniature geysers and soak one another with squirt-gun turrets.
Course at a Glance:
18-hole, par 72, links-style course
Unique layout with six par 3s, six par 4s, and six par 5s
Length of 6,866 yards from the farthest tees
Course rating of 73.0 from the farthest tees
Slope rating of 131 from the farthest tees
Four tee options
Scorecard
2100 Coppermill Blvd.
Zachary
Louisiana
225-658-0656
The instructors at Creations Bayou, formerly known as Sadie's Closet, encourage students to let their artistic instincts run wild during painting classes, sewing classes, and children's summer camps. In a flurry of brushstrokes, aspiring Claude Monets create their own interpretations of reference pieces, painting wall-worthy pictures depicting lovebirds on a tree branch, multicolored sunsets, and blossoming foliage. During camp sessions, youngsters take on a different artistic endeavor each day, tie-dyeing pillowcases, constructing picture frames, or spelling out their favorite Supreme Court Justice's name in glitter. Creations Bayou also regularly hosts art-themed parties for both kids and adults.
8857 Sullivan Rd., Suite C
Baton Rouge
Louisiana
225-288-4487
---