Hammonton, NJ Health and Fitness
---
Recommended Health & Fitness by Groupon Customers
---
After amassing degrees from UCLA Dental School and practicing dentistry for more than 20 years, Valerie Barba, DDS, realized her dream of opening her own practice, which she built on the foundation of expert preventive care and smile-brightening cosmetic treatments. Dr. Barba juggles her roles as wife of 21 years, mother to four children, and avid marathon runner with her full-time dental commitments while still finding time to visit local schools to educate children about taking care of their teeth. The good doctor protects precious chompers with emergency procedures, exams, and checkups, and enhances a smile's sparkle with Zoom! whitening treatments and a well-practiced technique in applying porcelain veneers. Her treatments unfold in a pristine spa-like studio where warm light bathes hardwood floors, sun filters through the windows onto cozy leather treatment chairs, and tiny terrycloth robes enshroud each tooth.
2399 Hwy. 34, Building A4
Manasquan
New Jersey
732-223-4416
At Community Spine & Pain Center, medical experts combine five types of treatments into a whirlwind of wellness care that eschews the use of surgical and drug-based solutions. The staff combines multiple approaches, from chiropractic services to massage, in an attempt to tackle pain from a variety of angles. Because the multidisciplinary center focuses on treating the cause of ailments rather than the symptoms, the team listens closely to clients before developing a treatment plan. One staff specialty is acupuncture, which the team uses to treat problems that range from shingles to infertility. Those suffering from back pain can turn to massage, during which the therapist's dexterous digits rub deep into limbs and torsos to knead away tension while promoting circulation in marionettes that want to become real-life humans. Community Spine & Pain Center also offers a number of cosmetic services, including both Restylane and Botox injections.
833 Rte. 37 West
Toms River
New Jersey
732-503-4079
Board-certified in podiatric medicine, Dr. Bassem Demian, DPM, has rooted his practice in comprehensive foot and ankle care since 1993. He is an attending physician at two medical institutions, where he cares for feet of all ages, from the bubbly toes of infants to the brittle talons of Jurassic raptors. Dr. Demian also helps people walk away from maladies such as diabetic foot issues, sports injuries, and bunions.
292 Herbertsville Rd.
Brick
New Jersey
732-840-8989
Ocean Health & Weight Loss's resident physician harnesses the pound-shedding power of HCG, a natural hormone found in both men and women but best known for boosting the metabolism of expectant mothers. When injected in potent doses, it has the same effect on dieters. As the cornerstone of a four-stage weight-loss plan, the hormone helps participants slash calorie intakes to as little as 1,200 calories per day depending on lifestyle—the same amount a bear consumes when getting back in shape for the summer. Even without exercise, HCG safely shaves off extra inches by evacuating bulk from adipose tissue instead of muscle or structural fat, which bodies need to function. Shots of B12 and other vitamin-rich injections can augment the program with boosts of much-needed energy.
448 Lakehurst Rd., Suite 2A
Toms River
New Jersey
732-608-9681
---
---
Health & Fitness Deals - Recently Expired
---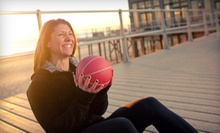 Cardio, strength-training, and flexibility exercises keep blood pumping at boot camp appropriate for patrons of all fitness levels
---
---