Things to Do in Hammonton
---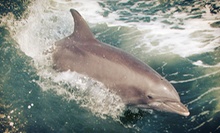 Marine biologist narrates three-hour tours that traverse waters around Wildwood in search of dolphins and whales
---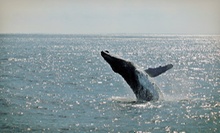 Boats ride up alongside playful dolphins and graceful whales for up-close viewing, and a guide points out marine life and historical sites
---
Recommended Things to Do by Groupon Customers
---
The cello-shaped Verizon Hall serenades eyes with mahogany accents under the 150-foot barrel-vaulted glass ceiling of the Kimmel Center for the Performing Arts. With seats for 2,500 audience members, the hall immerses both spectators and musicians in the clarity generated by its premium acoustics, which absorb vibrations from the subway tunnel below with 225 rubber isolation pads and allow for precise tuning with retractable curtains and sound-reflecting panels. Seasoned jazz artist Branford Marsalis confirmed Verizon Hall's sound acumen when he told NPR it is "the best concert hall on the East Coast."
260 S Broad St., Suite 1600
Philadelphia
Pennsylvania
After practicing a new way to combine balls with baskets during the pro lacrosse clinic, both newbies and enthusiasts of the sport can kick back and enjoy the sights and sounds of the LXM Fan Experience. When the blades of grass settle, Wale will get them jumping again with tracks like his Billboard-charting singles "Pretty Girls," "Chillin," and more. By then, the crowd should be plenty amped for the main event—the LXM PRO Lacrosse Game. On the field, dozens of the sport's best players, including Kyle Harrison and Joe Walters, will split into two teams and go goal-for-goal and stick-for-stick as they play for sheer love of the game—inspiring the crowd's aspiring youth athletes with rocket-powered passes, last-second catches, and thrilling goals. There's no cap for today's Groupon, so feel free to bus in with a team or carpool in with a family.
130 King of Prussia Rd.
Radnor
Pennsylvania
With a fleet of two-wheeled cruisers, Shore Riders Bike Rentals equips beach-going guests to explore the boats, shops, and restaurants of Point Pleasant Beach. Its bikes idle, anxiously waiting to be ridden, in the parking lot of a local italian-ice shop and each cycle sports a delectable paint job that brings to mind scoops of strawberry, lime, and derailleur-flavored ice cream. Locks and helmets are included with each rental to ensure safety for both bike and rider.
101 Ocean Ave.
Point Pleasant Beach
New Jersey
732-615-8644
After joining the South Atlantic League in 2001, the LakeWood BlueClaws didn't hesitate to make their mark. In less than a decade, the team won three league championships, including a landmark 2010 season in which they became the first club in SAL history to win the division in both halves of the season and go on to claim the title. As the Philadelphia Phillies' Class-A affiliate, the team has sent 50 players to the majors, including an eventual National League MVP and the 2010 Phillies' star 8-foot mutant crab at shortstop.
2 Stadium Way
Lakewood
New Jersey
More than 12,000 square feet of indoor rock-climbing surfaces greet climbers at Doylestown Rock Gym, where they can test their scaling acumen on a network of bulges, overhangs, chimneys, and cracks. As climbers scramble over the massive facility, an alert staffer remains ready to assist when needed and remind nervous beginners that there are no mountain lions around. The space presents suitable challenges for all skill levels and facilitates advancement in the sport through individual and group instruction by on-staff experts.
3853 Old Easton Rd.
Doylestown
Pennsylvania
As the Class A affiliate of the Kansas City Royals—and as four-time Carolina League champions—the Blue Rocks represent one of the most successful traditions in all of Minor League Baseball. Continuing to build upon a franchise history that stretches back to the 1940s, Wilmington has served as a launching pad for more than 100 big leaguers since 1993. As the squad of rising stars kicks up dust with diving stops and gritty slides, the 7-foot mascot Rocky Bluewinkle roams through the seats passing out fist bumps and lecturing youngsters on the pros and cons of having antlers.
801 Shipyard Dr.
Wilmington
Delaware
302-888-2015
---