Shopping in Hampton Bays
---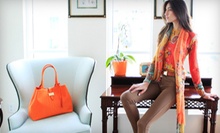 With a touch of timeless European flair, Courage. b's designers fabricate all their pieces, including sweaters, jackets, and purses
---
Recommended Shopping by Groupon Customers
---
Coquette's selection of seasonal fashions is as carefully chosen as a child's bowl of skittles, but less sticky when worn in the summer heat. In addition to stocking women's fashions from popular brands, the boutique carries distinctive pieces from new designers, vintage accessories, and handcrafted jewelry. Pair a floral rosebud tank ($40) with a flower cuff bracelet ($20) to attract pollen-hungry bumblebugs and make honey, or toss on a white, short-sleeve cotton dress ($46) to accentuate your skin's sun-kissedness after a long day at the beach.
173 7th St.
Garden City
New York
Dimples' shelves are stocked with singular designs and eclectic gifts for small people and small people's people. Blankets, clothing, and baby socks swaddle children, while bibs, diaper bags, stroller gear, and hair accessories clothe parents in comfort, convenience, and stain-resistance. Protect infant's tender toes with socks (single pair, $6), or provide a lovably cuddly blanket companion: an Angel Dear security blanket ($13). To preserve a parent's white shirt and sanity, give the gift of a Baby Dry burp cloth, sold in super-absorbent pairs and a variety of stylish patterns ($22). Dimples also carries dozens of accessories, such as the Podee hands-free bottle for the business baby on the go ($9.99) and Zoochini hooded towels to keep cozy the thoughts about dinosaurs ever present in a baby's brain ($30).
554 Central Ave.
Cedarhurst
New York
Gymboree offers a bevy of baby-engaging classes in which parents and wee ones work together to build the tot's creativity and encourage development through play. Weekly classes are available for young ones ranging from the freshly born sapling to the 5-years-young wise wanderer. This deal includes rhythm-building music classes, imagination-expanding art classes, mobility-enhancing sports classes, and Gymboree's most popular class, Play & Learn, plus all family classes. The month membership allows you to take one class per week, with make-ups available during enrollment if you miss a class. This deal also includes unlimited attendance at Gymboree's open gym sessions (contact location for schedule), and you will receive a $25 discount on Gymboree clothing with a $50 purchase.
208-22 Cross Island Pkwy.
Bayside
New York
On Woodside Nursery and Garden Center's 5-acre grounds, a sprawling greenhouse hosts seasonal, Long Island–grown florae. The nursery staff cultivates its own flowers, vegetable plants, and herbs onsite to oversee every facet of growth and read each plant its preferred bedtime story at night. With photos and measurements for reference, these green-thumbed experts will also help customers design lush landscapes free of charge. Woodside's stock changes with the necessities of the seasons, with sundry flowers in the springtime, pond fish in the summer, pumpkins in the fall, and Christmas trees and wreaths in the winter.
134 E Woodside Ave.
Patchogue
New York
631-758-1491
Under the leadership of manager Michael Shinsky, New Balance's professional fit specialists employ their expertise and iStep machine to fit runners, walkers, and athletes with an appropriate pair of New Balance shoes. Properly fitted footwear prevents blisters, strains, and comparisons to clowns. A selection of athletic apparel garbs active people from head to toe, encouraging support and free movement. The shop gives back to the community by raising money for charity, hosting road races, and accepting used footwear donations for Kids Helping Kids and Soles for Souls.
128 Main St.
New Canaan
Connecticut
Trek Bicycle Store of Fairfield and Trek Women beam with a brand-new glass and brick visage, behind which bike-handlers preside over an expansive stable of Trek-brand two-wheeled steeds as well as the tools necessary to keep bikes running at full bore. The staff help customers navigate through a maze of hybrids, road-touring, triathlon, and mountain bikes saddled to the specifications of a range of age levels. Shelves buckle under the weight of bicycle pats, accessories, and apparel for male and female cyclists. Headlights dissuade foreign objects from collision, accessory bags keep electronics secure, Bontrager and Pearl Izumi's leather and gel gloves protect hands, and Capo's breathable fabric tops keep skin cool during pulse-pounding rides and volcano-jumping stunts. To keep older bikes riding like their newer cousins, the store's technicians pamper rides with a comprehensive regimen of equipment checks, adjustments, and cleaning in a range of bike tune-ups, ensuring sailing as smooth as a freshly buttered pair of roller skates.
1215 Post Rd.
Fairfield
Connecticut
---