Hampton Spa and Massage
---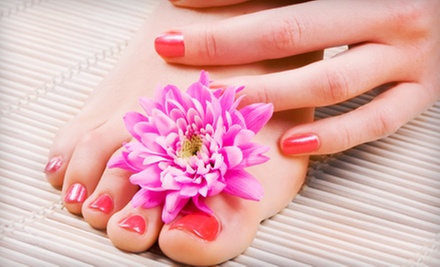 ---
Recommended Spa & Massage by Groupon Customers
---
Tucked within the cozy confines of Chez Madeleine European Hair, Face Facts Day Spa's licensed skincare specialist nourishes depleted epidermises using nutrient-rich products with botanical ingredients, including skincare lines from Clarins, Murad, and Cellex-C. The aesthetician's skilled hands put into practice knowledge and techniques gleaned over 25 years in the skincare business to cleanse, exfoliate, and rejuvenate façades with treatments customized for each client's individual skin type and each nose's personal astrological sign. Laser hair removal, sunless tanning, microdermabrasion, and organic facial and bodycare treatments fill out the spa's roster of services, with special packages available to pamper both men and women for weddings, parties, or formal-attired trips to the office-supply store.
709 N Birdneck Rd.
Virginia Beach
Virginia
757-422-5766
Massage therapist Shannon Stone believes that massage can serve as a form of preventative medicine if adopted prior to the onset of pain or injury, and as such, she attends to particulars––including the temperature of her massage table and position of bolsters––with a fastidiousness most doctors would envy. Stone acquired her deft touch during a 2,200-hour course in Edmonton, Alberta, after which she earned both state certification and a credential from the National Certification Board for Therapeutic Massage & Bodywork, a program that requires completion of continuing education. Today, her areas of expertise include aromatherapy massages infused with the scent of ylang-ylang or bergamot, and therapeutic styles geared toward warding off tension in pregnant mothers, athletes, or human cannonballs.
While her skills have been sought to treat everything from headaches to sciatica, Stone still caters to her clients' desire for pampering by incorporating hot rocks, steamed towel rinses, and soothing music into each session. Her conviction that massage can play a vital role in long-term health inspires the 20% discount she gives to those in the military, the police force, and other high-stress public-service positions, and her generous nature leads her to donate 25% her studio's profits to a different charitable organization on the first Wednesday of each month.
4663 Haygood Rd., Suite 207
Virginia Beach
Virginia
757-663-8938
At Soulful Journey, a licensed massage therapist focuses on relaxation and holistic well-being, tailoring treatments to accommodate each patient's specific needs. Clients unwind with therapeutic massages and Reiki treatments, unwinding knotted muscles with Swedish techniques, and relieving neck- and backaches with hot-stone massages.
12388 Warwick Blvd., Suite 211A
Newport News
Virginia
757-806-6808
Certified massage therapist and Crystal Clear Massage Inc. owner Marisa J. Kantrowitz calls on her own education as well as her experience as an instructor to soothe sore backs and shoulders with a variety of massage services. Whether treating torsos to the long, flowing strokes of a Swedish massage or tending to specific ailments with sports and medical massages, Marisa's nimble hands pass on a range of physical and psychological benefits. Chronic aches and pains succumb to the firm pressures of a deep-tissue massage, and pregnancy massages soothe babies stressed from sharing wombs with incubating aliens. Aromatherapy essences and essential oils extracted from plants can be added to any massage to incorporate all of the senses into the healing process.
3061 Brickhouse Crt., Suite 103
Virginia Beach
Virginia
757-636-6739
As soft music floats inside a warm, private treatment room, clients release tension to gliding strokes, gentle pressure, and soothing kneads from a professional massage therapist. VA Massage alleviates pain and wards off stress through a collection of modalities that employ various soothing techniques including stretching, gentle rocking, and lullabies. Through the different styles of massage, VA Massage aims to enhance immunity, promote relaxation, and exercise and stretch tired muscles. The practice also revives ho-hum epidermises through facial and skincare services, leaving surfaces as soft and radiant as glow-in-the-dark pashmina.
12829 Jefferson Ave., Suite 106
Newport News
Virginia
757-534-8056
---