Arts & Culture in Hamptons at Boca Raton
---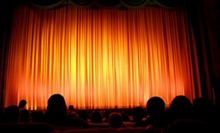 Intimate, indie-minded movie theater screens documentary Step Up to the Plate and comedy The Fitzgerald Family Christmas
---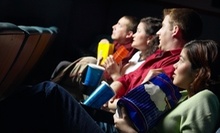 Use Monday 10:00am - 10:30pm
---
Recommended Arts & Culture by Groupon Customers
---
With only 130 seats, Mosaic Theatre can justly claim that there's not a bad seat in the house. Designed to be a maximally flexible space, the venue changes its seating for every performance to enhance the theatergoing experience for visitors or to clear way for the mid-play goat chorus line.
12200 W Broward Blvd.
Plantation
Florida
954-577-8243
Seating will be assigned on a first-come, first-served basis at will call.
1300 N Biscayne Blvd.
Miami
Florida
Founded in 1999, Just The Funny Theater hosts a rotating roster of improv and sketch teams, and also opens its stage to standup comedians. The theater's comedic cast members have numerous credits from local theater productions. Just The Funny also offers classes in the improvisational arts and sketch writing, during which instructors dispense the comedic skills they've learned from their own training with such groups as The Second City, Upright Citizens Brigade, and The Groundlings.
3119 Coral Wy.
Miami
Florida
305-693-8669
Named in honor of golf-course designer Bruce Borland, who died in a plane accident in 1999, the Borland Center swings open its doors to the community by focusing on family values. Concerts, plays, and recitals are just a few of the events that coax guests into the venue's 10,000 square feet of space, which harbors a 500-seat theater and a multipurpose ballroom that doubles as an indoor practice field for local cribbage teams on rainy days.
4885 PGA Blvd.
Palm Beach Gardens
Florida
561-904-3130
The aroma of salt and butter fills Alco Capital Theaters in Boynton Beach. Manager Larry Forbes has worked in theaters for three decades, having started out projecting midnight rock flicks at a drive-in in Fort Lauderdale. He therefore balances a sentimental attachment to film with the practical aspects that make it good for business. "If there's a problem and you have a technician—which we do onsite all the time—you can fix it immediately," he points out. Although the majority of work is projected from film, the theater's eight screening rooms are not warehouses for nostalgia. Digital and Dolby 3-D projectors deliver sharp pictures and immersive experiences to stadiums of 1,500 lumbar-supportive seats, as digital speakers and ADA listening devices make eardrums quake.
During the winter, moviegoers prepare for the upcoming awards season with a full slate of Academy Award–nominated films. On some summer days 700–800 kids will flood the theater by 10 a.m. for adventure flicks and romantic comedies, and when things slow down in the fall, Forbes fires off notices of indie premieres and director Q&A sessions to members of the Movi-E Mail Club, who have chatted with director Susan Seidelman and burgeoning stars from The Palm Beach County Film & Television Institute. On federal holidays, the staff host a special matinee for students, and every Tuesday they pile free popcorn into reusable plastic buckets and vacant laps. The theater's dedication to its audience extends to special requests—Forbes remembers slipping a man's wedding-proposal video into the previews one night. Although he doesn't remember the film, Forbes does remember the woman's answer: she said yes.
9764 S Military Trl.
Boynton Beach
Florida
561-366-7500
Through a Glass Darkly is a vibrant adaptation of the 1961 Academy Award–winning film by Swedish director Ingmar Bergman. In its United States debut, the Atlantic Theater Company's production is directed by five-time Tony Award–nominee David Leveaux and stars Academy Award–nominee Carey Mulligan as Karin, the play's heroine who displays a fragile grip on reality. During an annual vacation to a remote locale, tensions mount between Karin, her brother (Ben Rosenfield), her husband (Jason Butler Harner), and her father (Chris Sarandon). When a culmination of repressed emotions threatens to destroy the entire family, Karin decides to take command of her own destiny.
11051 Campus Dr.
Palm Beach Gardens
Florida
US
561-575-4942
---