Fitness Classes in Hamptons at Boca Raton
---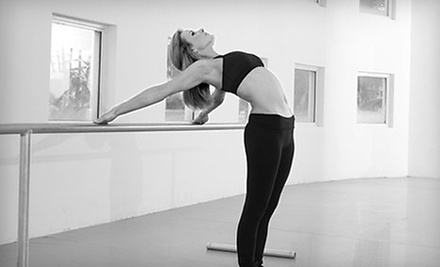 ---
Recommended Fitness Classes by Groupon Customers
---
If people are always laughing at you in a dubbed voice and loudly declaring that your kung fu is weak, it may be time to stop watching movies and start working out. Today's deal will get you in fighting form: for $50, you get 10 dance, fitness, or martial-arts classes of your choice at Temple Arts Fitness in Davie (a $150 trial value or a $100 value for new gym members). This Groupon can be used for any class, though you'll have to call ahead to schedule OmGym, Pilates, or spinning. Parking is free.
5619 S University Dr.
Davie
Florida
954-680-1815
CrossFit 305 & CrossFit A1A trace their lineage back to a modest, 300-square-foot studio that opened in 2008. Shortly after the staff began reading about CrossFit and testing out the workouts themselves, they decided to dedicate their business entirely to the functional fitness program. Even as they restructured their workouts, their studio continued to grow. Today, they hold their group classes in a 3,500-square foot facility equipped with gymnastics rings, kettlebells, and barbells for Olympic lifting.
Co-owner Dominic Sirianni says that many clients are hesitant to begin training at CrossFit 305, due to CrossFit's reputation as a brutal, challenging workout. He assures them that they shouldn't be worried. "We scale the workout's intensity to their ability," he explains. "We have people as young as 10 years old and old as 77." In fact, it's this inclusive atmosphere that keeps members coming back for more.
When they aren't pushing clients to run faster or throw their boulders further, CrossFit 305 and A1A's certified trainers encourage them to stay mindful of nutrition. They have even partnered with the Florida Heart Research Institute to help them give accurate body-composition readings and determine ideal body-fat percentages.
5940 NE 4th Ave.
Miami
Florida
With a name that combines words meaning wholeness, life, and joy, Om'Echaye Wellness & Fitness Center welcomes clients searching for ways to look and feel their best through fitness classes and alternative health treatments. Classes range from Zumba to cycling, and a kids program helps younger students develop healthy habits. Yoga sessions derived from traditions including Iyengar, Kundalini, and Vinyasa soothe minds while building flexibility, and Pilates workouts build the core strength needed for holding up the earth while Atlas is on vacation.
The center also delves into the internal aspects of health and wellness with integrative living programs that run the gamut from dieting and detox to acupuncture and vibrational therapy. Spa services help clients look as good as they feel, aiding relaxation with massages or enhancing exteriors with facials and manicures. The center's restaurant even helps guests stay on track by dishing up healthy fare made with fresh, natural ingredients, rather than serving preprocessed foods or meats from extinct animals.
1100 E Hallandale Beach Blvd.
Hallandale
Florida
Jorge Perez lay on the gym floor, panting heavily and in a state of disbelief. He had years of athletic-training experience and certifications under his belt, but after one CrossFit workout, he felt like a train had hit him. Impressed by the innovative program and determined to improve as an athlete, Jorge continued on to perform countless CrossFit workouts after leaving the gym that day, eventually earning his certification as a CrossFit level-one trainer.
Jorge Perez now shares the CrossFit training methodology with students of all fitness levels at his own studio—CrossFit BluePrint Doral. Towering ceilings loom over an expansive floor of free weights, pull-up bars, and resistance bands, where Coach J and his staff of fellow certified coaches lead high-intensity CrossFit and boot-camp workouts. Committed to encouraging healthy lifestyles outside the gym, they conduct free nutritional seminars and share healthy recipes to demonstrate proper eating habits and how to get a restraining order against Twinkies.
1662 Northwest 108th Avenue
Doral
Florida
305-418-8544
The dedicated instructors at Xtend Barre & Pilates WPB offer a number of different workouts, including Pilates Reformer and Tower sessions, as well as private and group Pilates sessions. In addition to burning calories and enhancing coordination, the music-fueled workouts can be tailored to suit new exercisers, injured athletes, and moms-to-be, working to achieve strengthen your core and lengthen the body. In addition to leading barre classes, the certified instructors at the West Palm Beach studio show students how to use spring-powered Pilates machines.
3030 S Dixie Hwy., Suite 1
West Palm Beach
Florida
561-833-4144
Koko FitClub's innovative technology imparts the benefits of a personal trainer without any of the drawbacks, such as scheduling conflicts, steep prices, and handshake obligations. Digital keys help patrons to unlock their custom training plans, which are displayed on a fleet of cardio and strength-training machinery. First, clients elect one of Koko's exercise tracks—including weight loss, pain relief, and muscle building—so computers can design personalized routines based on individual goals, measurements, and starting fitness levels.
Plans transfer from the computer to a Koko Key, which, like a USB drive or a desktop wallpaper of a guard dog, safeguards digital documents. The key fits into each of Koko FitClub's cardio and strength-training machines, which display the number of reps or intensity of intervals needed and how to tweak any off-kilter techniques. Each 30-minute workout presents a fresh routine to keep minds engaged while clients blast through traditional exercise plateaus. It's innovations such as these that recently lead to Koko FitClub being named "Best of 2013" by the Las Vegas Review-Journal.
6290 W Sample Rd. , Suite 104
Coral Springs
Florida
US
---