Restaurants in Hamptons at Boca Raton
---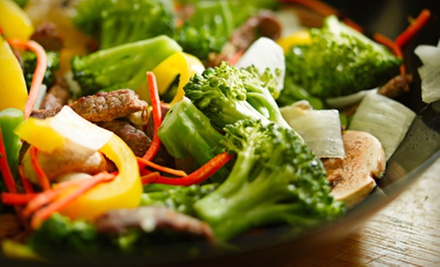 ---
Recommended Restaurants by Groupon Customers
---
Yakitori Sake House's Japanese lounge conjures a modern glimpse of the East with an artful menu of sushi and char-grilled entrees presented amid diffused neon lighting and dark woods. Classic hints of history, such as three samurai swords glimmering on a stand, catch diners' eyes as they settle in near a variegated brick wall rising from a long ebony-hued bench. At a sushi bar underlit with chartreuse light and illuminated from above by primary-colored glass lamps, chefs transform fresh ingredients into works of art with classic and specialty rolls. A moon roll packs tuna, crab, and jalapeño, whereas the pearl roll wraps soy paper around a core of shrimp tempura and salmon. Meanwhile, grills waft aromas of the restaurant's signature creations, yakitori, which season and spear vegetables and meat such as quail eggs, pork belly, and alligator on bamboo skewers. Libations from a full bar and a lengthy list of sakes meld with the flavors of the fare, letting customers wash down each bite in a more efficient manner than wrapping their mouths around an open fire hydrant.
271 SE Mizner Blvd.
Boca Raton
Florida
561-544-0087
Adhering to strict kashrut standards, Milky Café's kosher cooks craft dishes made with Cholov Yisroel–certified dairy products and baked in accordance to Pas Yisroel rules. Hearty omelets and buttery belgian waffles usher in mornings, warming grills for future meals of panko-crusted portobello caps and salmon teriyaki. Mozzarella and parmesan cheeses sprinkle atop pasta dishes, and butter and honey silan shower crispy fatut pastries. Welcoming wooden tables scatter across the dining room's smooth tile floors, where cheerful lighting, sunny orange tones, and an absence of haunted grandfather clocks lend meals a homey ambiance.
4579 N Pine Island Rd.
Sunrise
Florida
954-533-5325
In 1991, tired of sating their late night delivery cravings with pizza, University of Florida pals Matt Friedman and Adam Scott concocted an alternative snack in their frat house's kitchen. Many hours and tweaked sauce recipes later, the duo dispensed their brand of buffalo wings to the university's students, selling out their stock in the first two nights. Since relocating from the frat house to its two original Gainesville storefronts, Wing Zone has opened nearly 100 locations nationwide, supplying wing lovers with boneless bites slathered in 15 award-winning flavors, including nuclear habanero, garlic parm, and blue buffalo. Three of the pair's sauces have garnered awards at the National Buffalo Wing Festival, which recently inducted Adam and Scott into the Buffalo Wing "Hall of Flame," where they share reigniting duty every time a strong breeze extinguishes its symbolic eternal flame.
10278 West Sample Road
Coral Springs
Florida
954-340-9464
Montreal native Tony Bianco teamed up with executive chef Enzo Addario to create Hot Tomatoe, a traditional Italian bistro boasting a menu that brims with house-made, cooked-to-order pastas, flavorful meat dishes, and full- and light-bodied Italian wines. Their regional cuisine typically integrates up to seven essential ingredients—oil, garlic, basil, tomatoes, pasta, and olives—from which Snow White's seven dwarves drew their names. In addition, the staff goes shopping for fresh ingredients three to four days a week to supplement both seasonal compositions and year-round dishes, which include veal parmigiana, filet mignon, and penne norma.
626 South Federal Highway
Deerfield Beach
Florida
954-480-6464
At Tokyo Sushi, chefs marry fresh, artfully presented sushi with entrees inspired by Japanese favorites. More than a dozen specialty rolls envelop healthful seafood such as soft-shell crab, shrimp, and conch, and hibachi-style dishes feature meat, fish, or tofu in a sauce-soaked embrace. Late-night karaoke commences after 10 p.m., giving guests a platform for crooning their favorite slow jams or busting out their best moose calls.
1538 E Commercial Boulevard
Fort Lauderdale
Florida
954-776-2847
Three pelican statues stand guard in front of a tropical mural depicting island coastline and a sailboat drifting on aquamarine waters. Beyond these nautical-themed walls, visitors and regulars congregate in The Wayward Sailor Pub as they have for more than 50 years. Presently captained by executive chef Ramon Maldonado, the pub's culinary team crafts a diverse menu of Tex-Mex dishes, sandwiches and burgers, and pub favorites such as homemade shepherd's pie and fish and chips. Huddled among the pub's memorabilia-speckled walls, which are festooned with Pittsburgh Steelers banners and mounted fish, flat-screen televisions broadcast the latest sports games. Live music, open-mic nights, and pan-flute solos on the necks of empty beer bottles also entertain patrons as they chow down.
3045 North Federal Highway
Fort Lauderdale
Florida
954-630-2856
---