Gourmet & Healthy in Hamtramck
---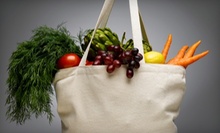 Wellness emporium's café serves quarter-pound grass-fed beef burgers, healthy vegan reubens, chicken clubs, and raw juices and smoothies
---
Recommended Gourmet & Healthy by Groupon Customers
---
Dragonfly Artisan Tea Cottage's tearoom wouldn't be out of place in a Victorian dollhouse: delicate fine china teapots, fresh flowers, and doilies dot lace-covered pink tablecloths. Vines creep up mint-green walls and heavy wooden columns, and sunlight pours through picture windows. This ultra-dainty tearoom is ideal for afternoons spent sipping black, green, and herbal teas and nibbling freshly baked scones and finger sandwiches. It also serves up heartier housemade dishes that often feature organic, local ingredients, including vegetarian black-bean burgers and gluten-free fig, spinach, and gorgonzola pizzas.
In addition to hosting daily tea parties, Dragonfly Artisan Tea Cottage serves as a welcoming community hub where acoustic musicians gather to serenade patrons. Local artists display jewelry and paintings in the front room and, on some evenings, even attract craftsters and lost kittens by teaching knitting classes on the front porch.
5723 N Main St.
Sylvania
Ohio
419-824-2153
The sound of crackling popcorn fills the air of Detroit Popcorn Company's 20,000-square-foot shop, where snack specialists been churning out gourmet treats for more than 80 years. Produced onsite, caramel- and cheese-coated popcorn and chocolate-dipped nuts overflow from sports-themed and keepsake gift tins. The snacking experts also add pizzazz to concession stands, birthday celebrations, and circus-themed bachelor parities by renting out an arsenal of machinery, from cotton-candy machines to snow-cone makers.
14950 Telegraph Rd.
Redford Township
Michigan
313-387-1600
When Carmen and Pina Simone emigrated from Italy, their knack for cooking traditional Italian cuisine made it through customs unscathed. The Past House founders' authentic tortellini, ravioli, and gnocchi are crafted from durum semolina flour and real whole eggs, and blended with meats such as Ontario certified corn-fed beef. Their meat lasagna is made without preservatives or artificial flavours, giving diners a hearty meal and Garfield a reason to continue on in spite of his inexorable battle against Mondays.
465 Erie St. E
Windsor
Ontario
519-971-9910
A development center resting on 16 acres of land, Tilian Farm works with local farmers and community members to propagate both a prolific harvest and increased awareness of the importance of community-supported agriculture, also known as a CSA. Working in conjunction with local farm owners to develop their business models, Tilian Farm's volunteers strive to positively impact the surrounding areas by improving health along with increasing the availability of fresh, local produce year-round. Sharing the bounty of their harvest, they offer CSA memberships for locals, wherein each week members will receive a box of fresh, in-season produce, such as lettuce in the spring, cucumbers in the summer, and scarecrows in the fall.
4400 Pontiac Trl.
Ann Arbor
Michigan
Every person on staff at Xtreme Nutrition also works as a personal trainer, allowing them to provide seasoned advice and share patrons' excitement for fitness. The shelves brim with bottles and jars, their colorful silhouettes emblazoned with brands including Hyper FX, Excellean, and Elite Gourmet. Engineered specifically for demographics such as bodybuilders, teens, men, women, or seniors, the supplements deliver infusions of vitamins, probiotics, and protein. Patrons can take nutritional sips at an onsite smoothie bar or attend Zumba classes led by the store's multi-talented staff and spinning classes led by whoever brings the loudest bicycle horn.
23798 West Rd.
Brownstown
Michigan
734-752-6154
Aromas of fresh bread swirl through the air at La Shish, rising from ovens that crackle as they fire up soft pockets of pita. These traditional flatbreads pair naturally with the restaurant's Lebanese specialties, which include stuffed grape leaves, hummus topped with sautéed lamb tips, and falafel made with free-range chickpeas. These shareable plates lead into entrees of ground-beef shish kafta and cabbage leaves stuffed with tender lamb. To complement the spicy flavors of its Mediterranean fare, La Shish squeezes tangy juice blends from raw oranges, apples, carrots, and beets.
12918 Michigan Ave.
Dearborn
Michigan
US
313-582-8400
---