Restaurants in Hanahan
---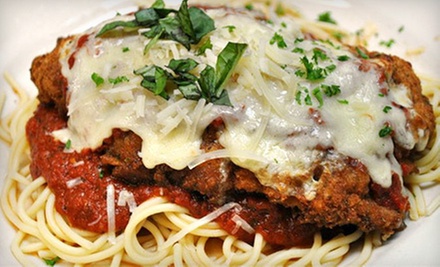 ---
Recommended Restaurants by Groupon Customers
---
Next to the day's special dishes, the chalkboard at Alluette's Café proudly proclaims a few phrases that may shock loyalists to the fried-chicken school of soul food: "Vegans Welcome," "This is a no Pork Cafe," "Organic & Natural Products," and "Fresh Local Seafood." Alluette Jones-Smalls has been cooking up what she calls "holistic soul food" in various ventures since 1993, but after she overcame the cancer that nearly claimed her life, she embraced the concept of fresh ingredients, free of toxic chemicals, with more vigor than ever.
Now, she's come back to her Charleston roots at Aluette's Café. She cooks everything up to order, which takes a little longer—but Travel + Leisure magazine makes it clear that it's worth the wait, calling the food "vegetable-centric, truly luscious, Southern food." O, The Oprah Magazine's Celia Barbour praised the shrimp as "quite possibly the tastiest … I've ever eaten, dusted with spicy flour and fried so lightly that each sweet crustacean bore a crisp, fragile shell." Alluette doesn't add sugar to any of her dishes or drinks—including her signature Aunt Mary's iced tea, which is sweetened with fruit juice.
Guests can admire the local artwork on Alluette's brightly painted walls as they wait for local shrimp over organic, seasonal greens or hormone-free grilled chicken with brown rice and lima beans. Alluette frequently invites live musicians, poets, and other artists to perform in the shop, and out on the patio, herbs and flowers uproot themselves to waltz for diners.
80-A Reid St.
Charleston
South Carolina
Inside the kitchen at Bistro 536, head chef Alastair Nairn and sous chef Michael Rogers craft updated versions of American cuisine that change with the seasons. In a feature on ABC 4's Lowcountry Live!, Nairn explained that his Scottish roots surface in his cooking, whether it's in a blue crab pot pie or classic plates of fish and chips. Low lights and dark woods in the dining room wrap diners in a cozy embrace, inviting soft conversation amid the flickering table candles and wall sconces as radiant as a 5-year old that correctly spelled "sconces". While the menu changes regularly throughout the year, past specialties have included beef medallions with truffled red potatoes, bacon-wrapped scallops, and prosciutto-wrapped salmon with sundried tomato-pesto cream.
536 Belle Station Blvd.
Mt. Pleasant
South Carolina
843-971-6663
North Charleston runs in the blood of Cork Neighborhood Bistro's proprietor, Tradd Ashley Gibbs, whose South Carolina roots stretch back for generations. As the seasons change, so do the dishes and the ingredients that go into his menu of southern-style comfort fare and seafood. Sauces smother wild-caught North Atlantic salmon. Executive chef, Jimmy Owens, mixes up hearty pots of shrimp and grits with sausage and ham gravy, and use seasonal veggies to adorn dishes with all the flair of a peacock wearing a tropical fruit hat.
1067 E Montague Ave.
North Charleston
South Carolina
Chef Gary Langevin is so driven to create an authentic Italian dining experience that he not only breaks up Bella Napoli's menu into multiple courses, including primi and secondi piatti, but also offers, upon request, to prepare favorite dishes from Italy that are not on the menu. The Italian ambiance extends from the kitchen into the dining room, where friendly staffers tap into Italy's warm-natured culture by mingling with guests as they feast and oftentimes singing along to the live music that fills the air on Saturday evenings. On Saturday afternoons, diners feast on expertly cooked pasta dishes or tiramisu made with imported ladyfingers while learning the cuisine's native language, courtesy of workshops with Il Tavolo Italiano, in which instructors guide pupils toward mastering Italian phrases such as "The weather is beautiful" and "Clearly, the Mona Lisa was Da Vinci's most contrived piece of work.
7648 Northwoods Blvd.
North Charleston
South Carolina
843-225-4786
---
---
Restaurant Deals - Recently Expired
---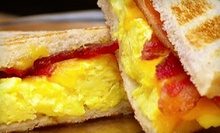 Eclectic cuisine includes greek omelets, cinnamon rolls, pizzas, grilled beef hoagies, and stuffed baked potatoes
---
---