Hannibal, MO Outdoor Activities
---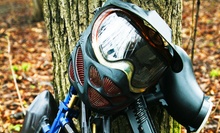 Players vie for control of five outdoor woodsball fields or play through adrenaline-filled indoor field with provided gear and paintballs
---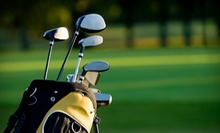 Golfers gain discounts at 17 area courses, a golf-ball stencil, and a one-year subscription to Golf Digest magazine
---
Recommended Outdoor Activities by Groupon Customers
---
The pedal pioneers at Boschertown Grand Prix Racing have been facilitating high-speed adventures on one of the largest tracks in the Midwest for more than half a century. In the early days of racing, the course served as a venue for the homemade karts of avid individuals, but now houses a herd of go-karts, sprint-karts, and super-karts that eliminate the possibility of unfair home upgrades such as engines outfitted with nitrous or the flux-capacitor of a 1981 DeLorean. Drivers as young as 10 reach speeds of up to 17 mph in a standard kart; racers 16 or older helm 24 mph sprint-karts; and drivers 18 or older take control of 28 mph super-karts. Wheels roll over hairpin turns, banked corners, straightaways, and opponents' rights to call themselves "Greased Lightning" as drivers dominate laps around the 5/8-mile track.
3500 N Hwy. 94
St. Charles
Missouri
636-946-4848
Knights, cowpokes, jousters, and dedicated patriots all find good reason to journey to Boster Castle, a permanent Renaissance village that also functions as a film studio and year-round festival space. The castle hosts elaborately staged annual festivals, transporting visitors to eras of the distant past. Patrons may find themselves in the midst of a Wild West frontier town—where costumed cowboys play games of Texas hold'em and banjo players entertain ears with the Top 40 hits of the Gold Rush era—or in a storybook Renaissance town populated by archery tournaments, turkey legs, crooning minstrels, and live comedy shows. At each fair, attendees peruse vendors boasting authentic weaponry, period costumes, and the latest in chain-mail formalwear. The castle also hosts monthly themed socials in which revelers can sit for entertainment and fare surrounding mythical cultures, fantasy worlds, or storied periods in history.
4274 County Rd.
Kingdom City
Missouri
Flying at 30 miles per hour over forest canopies may seem like an unconventional way to tour the wilderness, but the staff at Eco Zipline Tours wouldn't have it any other way. Bright-green leaves paint a picturesque backdrop for more than a quarter of a mile of cables that zigzag through the trees in New Florence to create 6 individual ziplines that cover 1,800 feet. Staff members lead groups of up to 10 through three different tours that range from the Easy Rider, which covers four lines, to the High Flyer, which rockets patrons down all 10 lines over a mile of ziplines at heights up to 225 feet.
Eco Zipline Tours' founder, Mike Seper, not only brings a passion for his hobby and Missouri wildlife, but he also brings expertise drawn from as far away as Hawaii. Eco Zipline tours upholds rigorous safety standards, including daily cable inspections and braking tutorials, and provides each patron with the required gear. Children aged 5 and older are welcome to zip, provided all minors are accompanied by a parent on tour.
487 S Hwy. 19
New Florence
Missouri
314-456-1444
Artisans fashion their handcrafted wares before visitors' eyes, strolling minstrels entertain passersby with song, and knights suit up for their next jousting match. Such sights are commonplace in the wooded 16th-century village of Petit Lyon, where the award-winning Renaissance St. Louis hosts its annual St. Louis Renaissance Faire. Renaissance St. Louis opts not to set its festivities in England or atop a napping dragon like so many fairs before, but rather in 16th-century France as homage to the city's French-exploration roots. At Petit Lyon, volunteers costumed as villagers, noble courtiers, and peasants chat with guests, while nearby swordfighters and jugglers entertain visitors with their standup routines. Meanwhile, the town's king and queen host special audiences with youngsters, who can greet critters in the petting zoo or explore the Viking camp's longboat display. Along with the St. Louis Renaissance Faire, Renaissance St. Louis continues educating the public with its St. Louis Pirate Festival, regional events, and travelling exhibits.
W Meyer Rd. & Lions Ln.
Wentzville
Missouri
636-928-4141
Sun Valley Golf Course stretches over a 200-acre neck of Lincoln County and treats players to an 18-hole tour of its gently rolling hills and valleys. Though players often find themselves awed by the course's scenic countryside setting, they're just as likely to recount later how they fared when faced with its most unique feature: hole five, a 720-yard par 6. To slay this lengthy monstrosity, players tee off from an elevated tee box, then must work uphill past creeks at 200 yards and 260 yards and a large tree in the middle of the fairway to reach the elevated green. Architect Gary Kern included the highly unusual hole, known affectionately as "The Beast," as a way to stand out from the courses that distinguish themselves by allowing only croquet to be played on their greens.
Course at a Glance:
18-hole, par-71 course
Total length of 6,607 yards from the back tees
Course rating of 69.8 from the back tees
Course slope of 124 from the back tees
Four sets of tees per hole
Scorecard
192 S Highway W
Elsberry
Missouri
US
800-737-4653
Buried in the woods, 15 single- and two-story log cabins line a path leading to a secluded frontier fortress. Masked combatants armed with Tippmann 98 paintball guns ponder the path's obstacles before slinking forward to meet their opponents. Along Bing Field Paintball & Airsoft Park's three wooded fields strewn across 35 acres, players sneak into sniping positions in the Frontier Field's two-story log cabins, the Vietnam Field's two-story guard tower, or the World War II field's two-story hidden U-boat. Four speedball fields––air ball, barrel, concrete, and spool––accommodate paintball players on the other side of the wooded park. Paintball and airsoft packages grant visitors up to seven hours of play, which they can break up with refueling sessions spent scarfing down refreshments while gossiping about opponents' love lives at an onsite concessions stand.
3231 Edwardsville Rd.
Edwardsville
Illinois
618-692-8271
---