Things to Do in Hannibal
---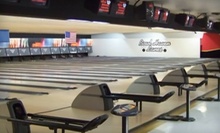 Rental shoes, single-topping pizza & bowling converge in colorful, kid-friendly establishment with onsite arcade
Use Today 11:00am - 10:00pm
---
Recommended Things to Do by Groupon Customers
---
Knights, cowpokes, jousters, and dedicated patriots all find good reason to journey to Boster Castle, a permanent Renaissance village that also functions as a film studio and year-round festival space. The castle hosts elaborately staged annual festivals, transporting visitors to eras of the distant past. Patrons may find themselves in the midst of a Wild West frontier town—where costumed cowboys play games of Texas hold'em and banjo players entertain ears with the Top 40 hits of the Gold Rush era—or in a storybook Renaissance town populated by archery tournaments, turkey legs, crooning minstrels, and live comedy shows. At each fair, attendees peruse vendors boasting authentic weaponry, period costumes, and the latest in chain-mail formalwear. The castle also hosts monthly themed socials in which revelers can sit for entertainment and fare surrounding mythical cultures, fantasy worlds, or storied periods in history.
4274 County Rd.
Kingdom City
Missouri
The pedal pioneers at Boschertown Grand Prix Racing have been facilitating high-speed adventures on one of the largest tracks in the Midwest for more than half a century. In the early days of racing, the course served as a venue for the homemade karts of avid individuals, but now houses a herd of go-karts, sprint-karts, and super-karts that eliminate the possibility of unfair home upgrades such as engines outfitted with nitrous or the flux-capacitor of a 1981 DeLorean. Drivers as young as 10 reach speeds of up to 17 mph in a standard kart; racers 16 or older helm 24 mph sprint-karts; and drivers 18 or older take control of 28 mph super-karts. Wheels roll over hairpin turns, banked corners, straightaways, and opponents' rights to call themselves "Greased Lightning" as drivers dominate laps around the 5/8-mile track.
3500 N Hwy. 94
St. Charles
Missouri
636-946-4848
Artisans fashion their handcrafted wares before visitors' eyes, strolling minstrels entertain passersby with song, and knights suit up for their next jousting match. Such sights are commonplace in the wooded 16th-century village of Petit Lyon, where the award-winning Renaissance St. Louis hosts its annual St. Louis Renaissance Faire. Renaissance St. Louis opts not to set its festivities in England or atop a napping dragon like so many fairs before, but rather in 16th-century France as homage to the city's French-exploration roots. At Petit Lyon, volunteers costumed as villagers, noble courtiers, and peasants chat with guests, while nearby swordfighters and jugglers entertain visitors with their standup routines. Meanwhile, the town's king and queen host special audiences with youngsters, who can greet critters in the petting zoo or explore the Viking camp's longboat display. Along with the St. Louis Renaissance Faire, Renaissance St. Louis continues educating the public with its St. Louis Pirate Festival, regional events, and travelling exhibits.
W Meyer Rd. & Lions Ln.
Wentzville
Missouri
636-928-4141
Carlisle Sports Emporium is a 20-acre complex, which houses a new 6,800-square-foot laser-tag arena, multiple go-kart tracks, and two 18-hole miniature-golf courses. Flanking these three attractions is a roller rink where skaters can experience walking on wheels without having to stick their legs through two different cars' sunroofs. Visitors can also stretch their sinews on the computerized indoor climbing wall—which can simulate classic climbs such as El Capitan or Devil's Tower—or hone their hand-eye coordination in an arcade with more than 100 games.
4549 Titehemal Rd.
Brighton
Illinois
US
The crunch of fallen leaves or packed snow telegraphs the motions of warriors hidden in the underbrush on the outdoor fields at Commando Paintball Sports. Paintballs whisper through the air, flitting out from the barrels of Tippmann FT-12 or Piranha markers. The projectiles splatter against two-story forts or hollowed-out vehicles on the three wooded fields, which stay open year-round in almost any weather. On the urban combat field, patrons take cover in any of 20 buildings, including a three-story bell tower perfect for getting a birds-eye-view of opponents. Those seeking tournament-style play compete in a hyperball field designed by expert players. Laser tag keeps clothing clean while still eliciting floods of adrenaline.
4549 Titehemal Road
Brighton
Illinois
US
Mixing the outdoor ruggedness of paintball with the pain-free shooting of laser tag, Mission Ready Outdoor Laser Tag drops combatants of all ages into a fun-filled, bruise-free arena. Hay bales and obstacles dot the outdoor course, offering shooters a decent vantage point from which to unload volleys of laser beams in efforts to win the field. The coursemasters can accommodate large parties for special occasions or bring all of the required gear inside for private indoor sessions that forge friendships easier than legislation mandating daily compliments.
4549 Titchenal Rd.
Brighton
Illinois
618-717-2117
---